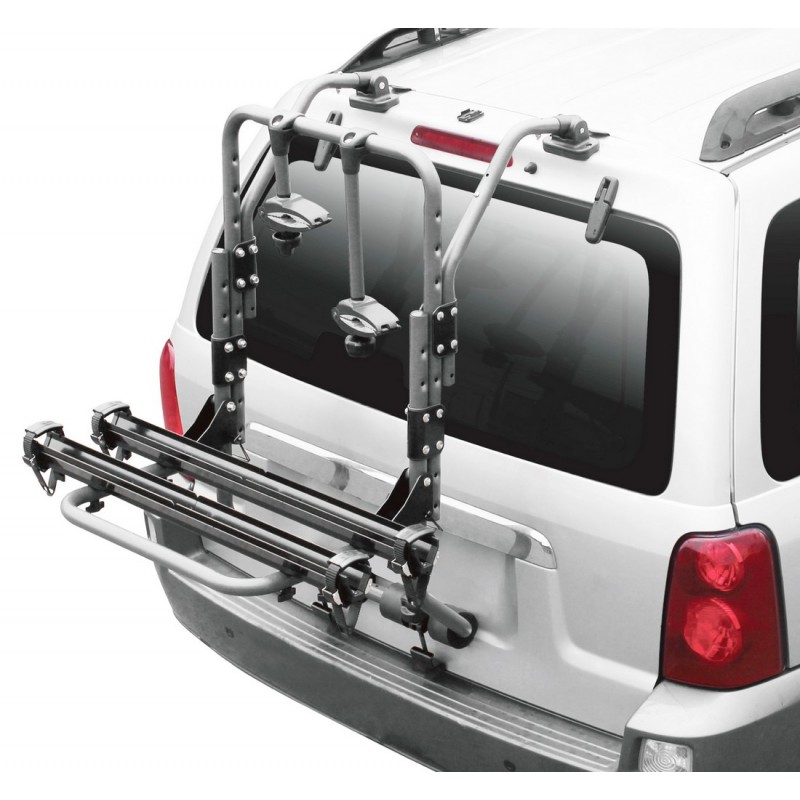 BnB Trunk Mount Carrier 2 Bikers bc-6417-2als
The BnB Trunk Mount Carrier bc-6417-2als is a premium series car rack that has capacity for two bikes. It mount's on to a S.U.V or a VAN with a metal spoiler. This rack is very sturdy and is built with air craft quality aluminium alloy and stainless hardware with a premium titanium powdered coated finish, it has a reinforced steel ratchet for maximum security. The rack is height adjustable from 100 cm to 140 cm and the bikes lock on to the carrier and carrier locks to car. The BC 6417 2als has a Limited lifetime warranty, it has a weight limit of 45 kgs and requires partial assembly. The total weight of the box is 13 kgs and has a full colour guide providing details of the product as well as how to set rack up.
About BnB Rack
BNB Rack is designed by a team of experienced engineers who enjoy spending most of their time in outdoor life – cycling, kayaking, canoeing, skiing, fishing, and camping. BnB racks are customized to carry and protect your gear and precious cargo. Ultimately, your interior space is maximized for your family and pets. With ingenious design, the racks will surely make your trip more convenient, safe, and exciting.
About Car Racks
When transporting your cycle by car its best to use a good car rack to carry your bike. Your bike is held safely and is protected on the outside by the rack. Also, it does not take up any room inside the vehicle and neither does the interiors of your car get dirty. The simplest racks to use fit onto the rear of the car. Most grip the vehicle with plastic-coated hooks which must be positioned where they can spread the load. With all these racks, it's vital that the rack is firmly attached to the car and it's best if you then fix the bikes to the car itself, not just to the rack. If you have a tow-ball, use it! That way, the rack won't even touch the car and the whole setup is really secure. If your car has roof rails, you can mount cycle carriers to them. This works well but be careful when entering car parks with height barriers! Whichever type you choose, make sure you lock the bikes to the car if you want to keep them secure.
Specifications
Full colored guide
Limited lifetime warranty
2 bikes capacity
100 lbs (45 kgs) weight limit
Partial assembly needed
Logistic information
1 set / 5.0 cuft / 9 kgs/ 13 kgs
BnB Trunk Mount Carrier 2 Bikers bc-6417-2als