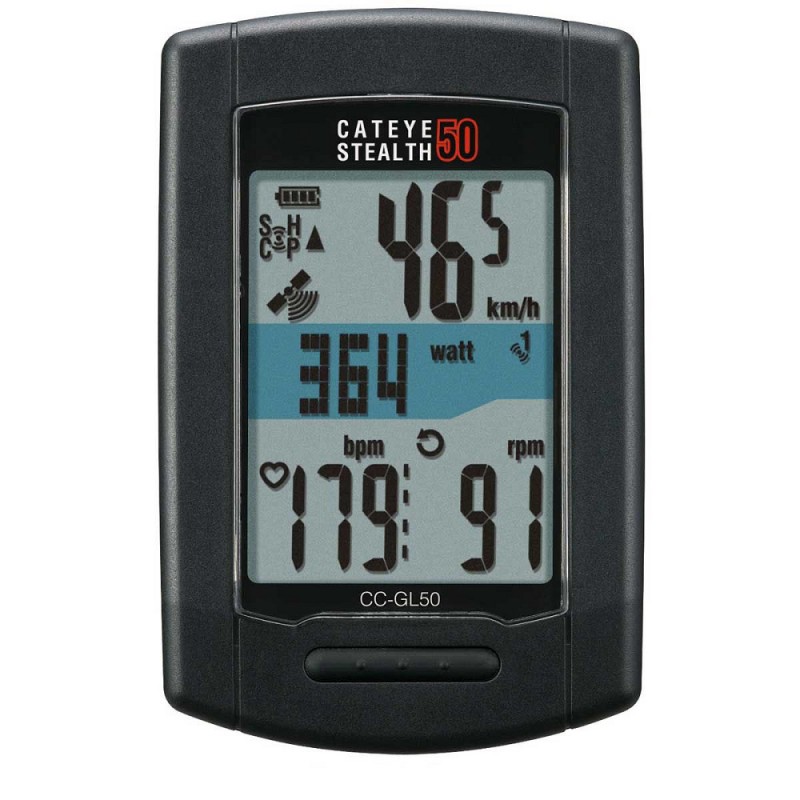 Cateye CC-GL50 Stealth 50 GPS Cycling Computer
The Stealth 50 is a simple power meter that is ANT+™ compatible, so it works with CatEye or third party ANT+™ power, heart rate, cadence and speed sensors. Track basic cycling data and combine with power, heart rate and cadence data to target and reach training goals. Upload ride data to web-based training sites, such as CatEyeAtlas.com and TrainingPeaks™, where you can visualize your activity, analyze performance and share your ride.
Other features include a full-time backlight, auto-stop/start and programmable odometer. The Stealth 50 is waterproof, USB rechargeable and can be used on multiple bikes, so you'll always be ready to ride.
Upper display:
Current speed 0.0 (3.0)~105.9km/h [0.0 (2.0)~65.9 m/h]
Middle display:
Clock 0:00 ~ 23:59 [1:00AM ~ 12:59PM]
(Both 12 and 24-hour modes can be selected. Automatic adjustment using GPS.)
Power (※1) 0 〜 9999 watt
Lower display:
Elapsed time 0:00'00" ~ 9:59'59"
Heart Rate (※1) 0 (30) 〜 199bpm
Cadence (※1) 0 (20) 〜 199rpm
Trip distance 0.00 ~ 999.99 km [mile]
Trip distance 2 0.00 ~ 999.99 km [mile] / 1000.0 〜 9999.9 km [mile]
Average speed 0.0 ~ 105.9 km [0.0 ~ 65.9 mph]
Maximum speed 0.0 (3.0) ~ 105.9 km/h [0.0 (2.0) ~ 65.9 mph]
Total distance 0.0 ~ 9999.9 / 10000 〜 99999 km[mile]
Date 1.1 〜 12.31 (Automatic adjustment using GPS)
Battery:Lithium-ion rechargeable battery
Battery recharge and data communication:
USB Cradle
Standard charging time:Approx. 5 hours (USB2.0)
Standard operating time:Approx. 10 hours
Recharge/discharge number of times:About 300 times (until the rated capacity drops to 70%)
Control system:Microcomputer (crystal controlled oscillator)
Display system:Liquid crystal display (EL backlight: Lights up constantly during the night-time)
Sensor signal transmission system:ANT+
Operating temperature range:0°F~104°F (0℃~40℃) (This product will not display appropriately when exceeding the operating temperature range. Slow response or black LCD at lower or higher temperature may happen respectively.)
Dimension:69.0 x 45.0 x 22.4 mm
Weight:60 grams
Cateye CC-GL50 Stealth 50 GPS Cycling Computer