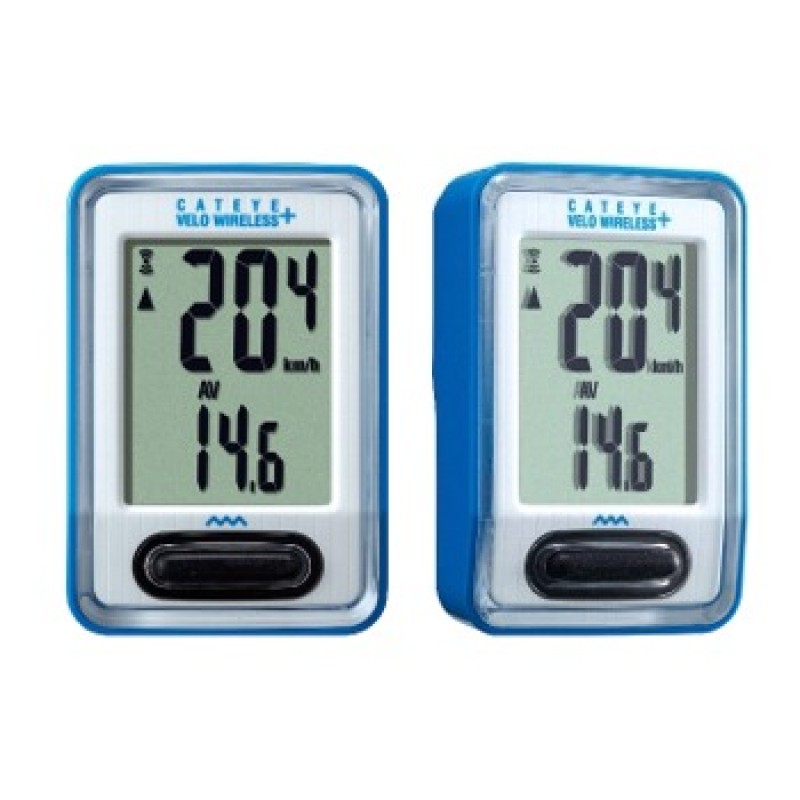 About Cateye Wireless CycloComputer Velo Wireless+ CC-VT 210W Blue
Features
The Velo Wireless+ is the wireless computer simplified. Nine basic functions illuminated in larger digits tell you all you need to know about your ride. Virtual caloric consumption and Carbon Offset information help you feel even better about choosing to go by bike.
Specifications
Current speed: 0.0(4.0)-105.9 km/h [0.0 (3.0)-65.9 mph]
Elapsed time: 0:00`00"-9:59`59"
Trip distance: 0.00-999.99 km [mile]
Average speed: 0.0-105.9 km/h [0.0-65.9 mph]
Maximum speed: 0.0(4.0)-105.9 km/h [0.0(3.0)-65.9 mph]
Calorie consumption: 0-99999 kcal
Carbon offset: 0.00-999,99 kg
Total distance: 0-99999 km [mile]
Clock : 0:00-23:59 [1:00-12:59]
Pace arrow: Yes
Wireless transmission: Speed [analog sensor]
Auto power saving: Yes
Auto mode: Yes
Tire size: 26", 700c, 27", 16", 18", 20", 22", 24 or 100 cm-299 cm (default: 26")
Battery: Computer: CR2032 x 1, Sensor: CR2032 x 1
Battery life: Computer: approx 1 year (1hr use per day), Sensor: approx 10,000 km [6,250 miles] in total distance
Dimension: 55.5 X 35.0 X 18.5 mm
Weight: approx 28 grams
* The factory-loaded battery life might be shorter than the specification above.
* Design and specifications are subject to change without notice.
Cateye Wireless CycloComputer Velo Wireless+ CC-VT 210W Blue