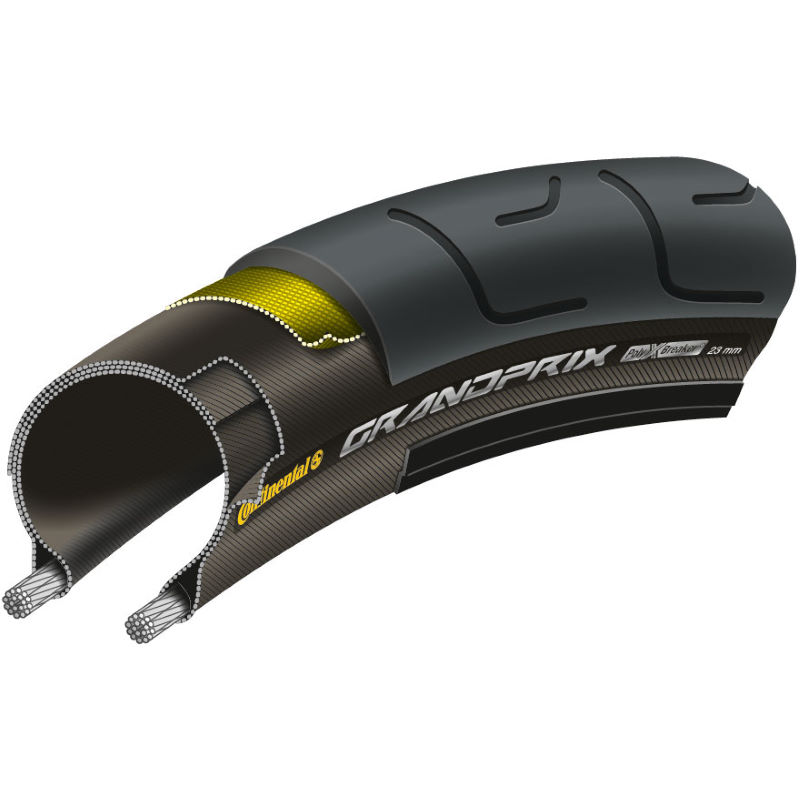 About Continental Continental Grand Prix 700X25c Folding Road Tyre
The classic all-rounder
neutral design and solid construction for sporting rides at the highest level
puncture protection, comfort and decent grip make every ride hassle free
excellent puncture protection thanks to PolyX Breaker® puncture protection
excellent grip, high mileage and efficient rolling thanks to BlackChili Compound
A new relationship between grip and rolling resistance
This unique tread rubber mixture which is only produced in our German factory has revolutionised bicycle tyres.
BlackChili Compound improves rolling resistance by 26 % and provides 30 % more grip than activated silica compounds.
Premium tyres with BlackChili Compound also impress with higher mileage and unlike many multi-compounds, provide a constant ride from the first to the last kilometre.
Puncture-defence
With our PolyX Breaker®, we bring our car expertise to the bicycle tyre segment: Polyester has been used successfully for years in car tyres and been tried and tested many times. The extremely resistant polyester fibre is woven tightly crosswise. In this way, a very high fabric density is reached which not only makes the Breaker more resistant to foreign objects but is also especially resistant to punctures. The rolling resistance is also not negatively affected by the PolyX Breaker®.
About Bike Tires
Investing in a good robust bike tire means no stopping over punctures, care-free ride over potholes, shards, and other picky objects sticking out of the road. Before you buy a bike tire, make sure you're aware of the correct bike size, your purpose of buying a specific tire and what kind of bike riding(road, urban, off-road) you're into. Road tires are sleek and smooth, can retain high pressure. Hybrid tires are suitable for everyday city rides whereas mountain bike tires come equipped with treads for firm grip and handling over the uneven surface.
About Continental
More than 100 years experience in the development and production of bicycle tires has made Continental a unique company within the industry. Continental is the only German bicycle tire manufacturer to produce its tires in Germany. Knowing this serves as a mighty incentive to our engineers and everyone else involved in the manufacturing process to constantly strive for further innovations. In our technology and development center in Korbach, we are constantly developing new revolutionary technologies such as the unbeatable Black Chili Compound and the ultimate Vectran™ Breaker anti-puncture technology, both used at the top end of race sport. These technologies demand sophisticated processes to ensure our legendary end-product quality, and these innovations as well as the new "ProTection" and "RaceSport" technology for MTB tires, can only be manufactured in our factory in Germany – "Handmade in Germany"
ETRTO : 25-622
Dimension : 700 x 25C
Technology : PolyX Breaker
Color : Black
Sidewall : Black Skin
Bead : Foldable
TPI : 3/180
Weight(g) : 230
PSI : 110-120
Continental Grand Prix 700X25c Folding Road Tyre