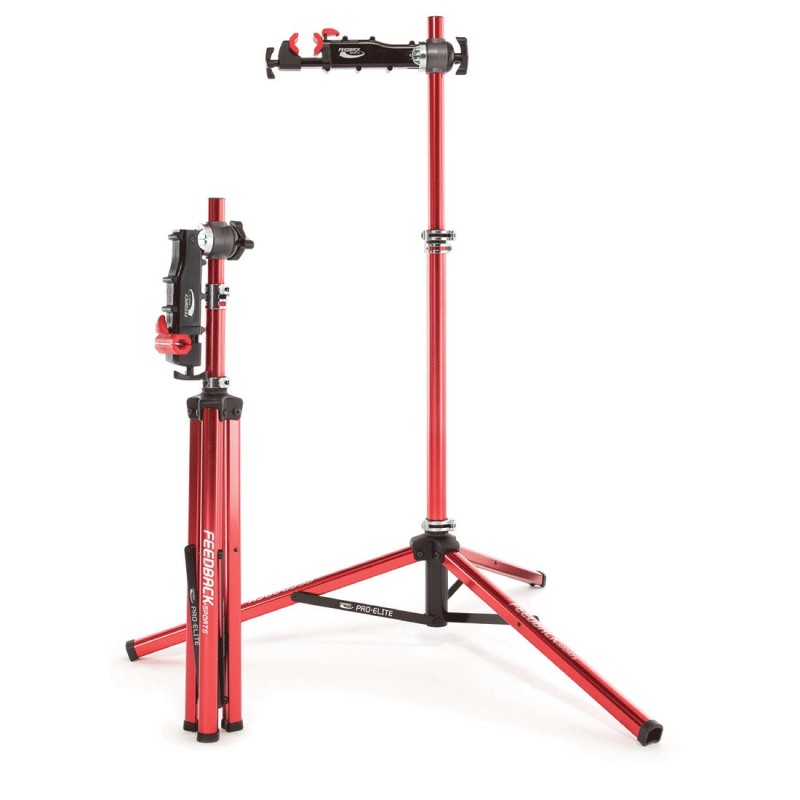 Feedback Sports Pro-elite Bike Repair Stand Without Totebag
With feather-light bikes around, it's hard to repair bikes which are parked ideal without any firm object to hold them on to. And you certainly don't want involve another person to hold your bike while you repair it. That's where the bike repair work stand is usually required.
Pro-Elite Bike Repair Stand is a tripod heavy-duty bike repair stand which holds the bike firm keeping safe the delicate bike parts and components during the repair. With quick-release clamp head and the rubber jaws to accommodate bikes up to 2.6" tubing, Pro-Elite Bike Work Stand offers flexible options for bike guys to repair it with ease.
Pro-Elite Bike Work Stand is stable on uneven surface while supporting 38kgs whilst offering adjustable working height from 42" to 71".
Top Features
Quick Release Clamp to adjust working height
360° Bicycle Rotation
Stable Tripod Base
Quickly Folds into a Compact Unit
About Storage Racks & Stands
Cycling storage is an issue when the space is limited. And that's when cycling storage stands and racks comes to the rescue. Cycling storage racks and stands offers effective storage utilization while keeping the bike safe and secure. At wizbiker.com, you'll find a range of floor stands, cycle stands, bike racks to help solve the storage problem.
About Feedback Sports
Based in Golden, Colorado, Feedback Sports was founded by avid cyclist/racer Doug Hudson in 2004 with his development of the Alpine Digital Scale to weigh bicycles. Early on, the scales were successfully distributed through another Colorado company named Ultimate Bike Support, which Feedback Sports acquired in 2008 to add bicycle work stands and storage stands to the Feedback product mix. Since then they've refined these proven, award winning designs and continue to develop new and innovative products. Their mission is to create products that they're proud of and believe in, while forging long-lasting relationships with their customers. Their passion for cycling led to an appreciation for high-performing, well-tuned machines and this flows into the products they make. Feedback Sports, as the name suggests, comes from an engineer's use of feedback loops and cycles to improve and stabilize systems.
Anodized 6000 series aluminum for lightweight and durability
Weight: 12.6 lbs (5.7 kg)
Clamp Height 42″-71″
Clamp Opening .75 – 2.6″ (19mm – 66 mm)
Jaw Width 3.25″ (82.5mm)
Base Diameter 54″ (1372 mm)
Folded size: 5.5″ x 8″ x 46″
Load Capacity 85 lbs. (38.6 KG)
3-Year Warranty
Feedback Sports Pro-elite Bike Repair Stand w/o Totebag