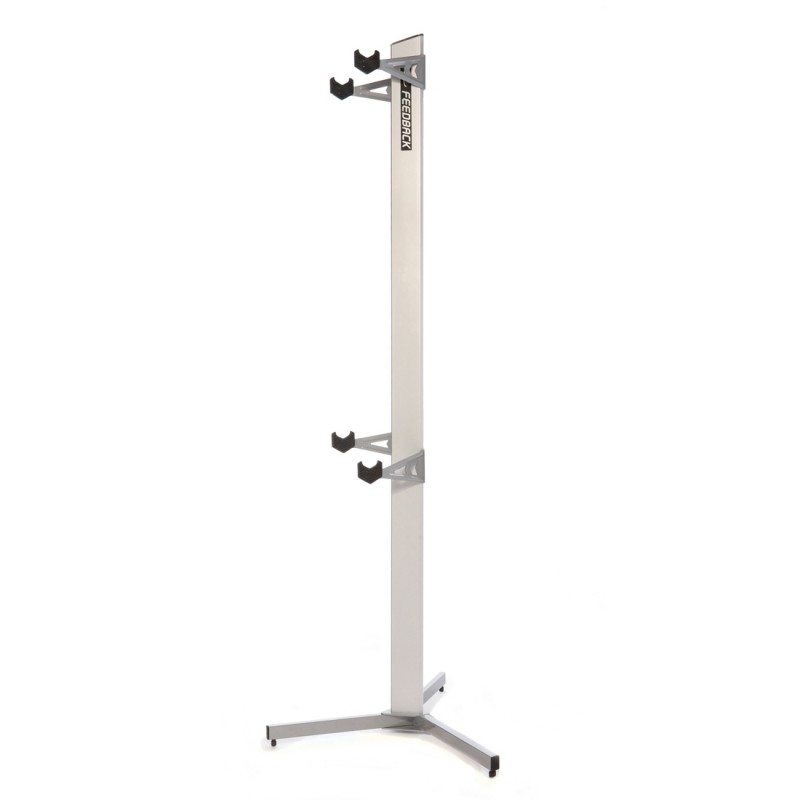 Feedback Sports Velo Cache Silver
If you've got more than one bike(say two) and struggling with the bike storage space in the already cluttered apartment, Feedback Sports Velo Cache Silver has got your floor storage space back.
It's an absolute solution to store more than one bike on free-standing, heavy-duty stable tripod which is going to take minimal space on the floor.
Free-standing bike rack means no wall or ceiling marks. And definitely no marks on your bike as well, for the cradle arms are provided with rubber temples to hold the bike by the frame. And you can move it from one place to another when required.
Velo Cache Silver standing bike rack can hold 2 bikes(or up to 36kg of weight) at a time. If you want to store more than two bikes at a time, you can expand the existing Velo Cache storage stand with the Velo Cache 4 Bike Expansion Kit which is sold as a separate unit.
Buy Feedback Sports Velo Cache bike storage stand online in India at wizbiker.com. Free shipping.
Top Features
Stable three-leg base holds up to 80 lbs.
Anodized aluminum column with heavy duty steel arms
Cradle arms can be independently height adjusted to hold all types and sizes of bikes
Soft rubber protects the frame's finish
About Storage Racks & Stands
Cycling storage is an issue when the space is limited. And that's when cycling storage stands and racks comes to the rescue. Cycling storage racks and stands offers effective storage utilization while keeping the bike safe and secure. At wizbiker.com, you'll find a range of floor stands, cycle stands, bike racks to help solve the storage problem.
About Feedback Sports
Based in Golden, Colorado, Feedback Sports was founded by avid cyclist/racer Doug Hudson in 2004 with his development of the Alpine Digital Scale to weigh bicycles. Early on, the scales were successfully distributed through another Colorado company named Ultimate Bike Support, which Feedback Sports acquired in 2008 to add bicycle work stands and storage stands to the Feedback product mix. Since then they've refined these proven, award winning designs and continue to develop new and innovative products. Their mission is to create products that they're proud of and believe in, while forging long-lasting relationships with their customers. Their passion for cycling led to an appreciation for high-performing, well-tuned machines and this flows into the products they make. Feedback Sports, as the name suggests, comes from an engineer's use of feedback loops and cycles to improve and stabilize systems.
Height 83″ (2108 mm )
Base footprint 23″ x 32.5″ (580 mm x 830 mm )
Support arm length 10″ (250 mm)
Load capacity 80 lbs. / 40 lbs. Per cradle set (18 kg per
Weight 22.5 lbs. (10.2 kg)
Shipping weight 30 lbs. (13.6 kg)
Feedback Sports Velo Cache Silver