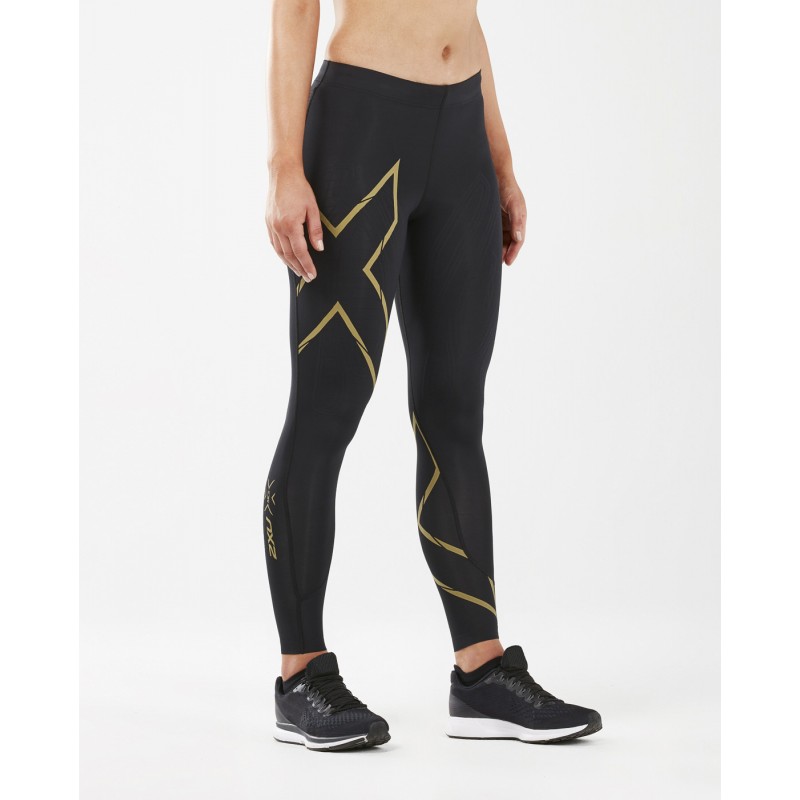 About 2XU MCS Running Compression Women Tights Black/Gold Reflective
2XU MCS Run Compression Tights Your running gear is as important as your running shoes. The MCS Run 2XU compression tights were developed with a detailed understanding of the impact of running on the leg. It is designed to provide anatomically targeted muscle support for better performance and recovery. The 2XU Run tights are equipped with MCS technology which is the new generation of compression. Compression helps support muscles and reduce muscle fatigue. Made with PWX material made of light and durable fibers, this tights is stretchy and made to last over time. Breathable fabric provides good ventilation and wicks away perspiration quickly to keep you dry. Elastic waist adjusts comfortably to the hips, while flat seams avoid friction. A back pocket allows you to take the essentials with you when you go running, while the reflective logo helps to signal your presence in low light conditions.
Targeted MCS mapping on quads and calves to help reduce tension and muscle pain.
Reflective logos for better visibility.
Graduated compression
Full leg compression support with PWX 70D on front panels and rear panels PWX 160D.
Three back pockets : large phone pocket, zipped pocket for cards and keys, mesh pocket for gels and other items.
Product type: Leggings
To best care for 2XU garments:
Machine wash in cold water with like colours.
Do NOT Tumble dry.
Hang to dry in a cool shady area away from sun.
Do not use bleach, fabric softeners or dryer sheets.
Do not iron.
About 2XU Brand
2XU (pronounced ""Two Times You"") was launched when former professional triathlete Jamie Hunt turned his passion for sport into an obsession with performance fabrics. Together with two business partners, Australian retail guru Clyde Davenport (founder and past owner of Davenport Industries) and marketing specialist Aidan Clarke, Hunt created 2XU in Melbourne, Australia in 2005.Starting out as a specialist run and triathlon brand, 2XU has grown to become the world's most technical sportswear company, driven by a relentless pursuit to multiply human performance engaged in the design, development and selling of sporting apparel including compression garments, triathlon, cycle, running, open water swimming and general fitness wear.

2XU MCS Running Compression Women Tights Black/Gold Reflective