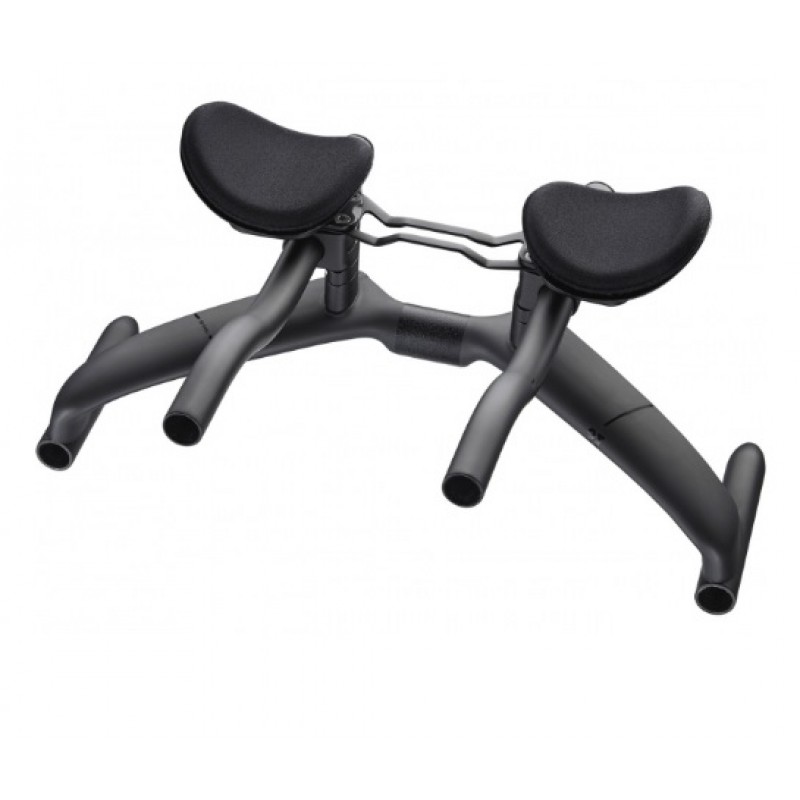 We are now shipping to all ALL ZONES across India. Further, NO DELIVERY is permitted in CONTAINMENT ZONES as of now.
About 3T Time Trail Carbon Basebar With Clipon S-Revo Team
The bullhorn bar was introduced to the cycling world by 3T on Francesco Moser's hour record bikes. Its design principle hasn't significantly changed since, until now. The Revo seems so obvious, now, providing a better, safer and more powerful grip for the rider. Then again, good ideas always seem obvious after the fact.
REVERSE BASE BAR
Revo is the first-ever aerobar to attach the basebar wing to the front of the grips instead of the back, literally changing aerobar design 180°. The advantages are clear:
The rider's hands cannot slide forwards off the grips, so it's safer and easier to use at all times
It offers better grip and handling on tough descents, rough roads and sketchy turns
It improves aerodynamics — the basebar wing has a sharper angle of attack with the free air flow than standard basebars
DESIGN IS IN THE DETAILS
ADJUSTABILITY: Extensions under the wing for superlow body position, or above for more comfort. Grip spacing can also be adjusted to fit your needs. Add to that a range of elbow pad width, pad height, extension length & shapes and every rider can find their perfect position.
COMFORT ELBOW PADS: Our new cradle and pads put your elbows exactly where you want them and once there, support them with so much comfort you'll be able to keep your aero position through the end of the race without a problem.
AERO WING: Aerodynamic wing design and horizontal grips for the fastest possible set-up. The wing is 3:1 UCI-legal but thanks to the sharply forward angle, they are close to 5:1 if measured in the direction of motion, a big aerodynamic advantage.
Specification

| | |
| --- | --- |
| Wing material | Unidirectional carbon |
| Extension material | Alloy |
| Cradle material | Alloy |
| Pad material | Neoprene |
| W1 base bar width (c-c) | 400mm |
| W2 Outside pad width | 240-340mm |
| W3 Center pad width | 130-230mm |
| S1 Pad stack | 30-97mm |
| R1 Pad reach | 20-70mm |
| R Grip inside reach | 72mm |
| D Grip drop | 46mm |
| Clamp diameter | 31.8mm |
| Extensions | S-bend |
| Cradle | New comfort |
| Weight | 770g (minimum stack) |
| Finish | Stealth black |
About 3T
3T is a global company with three regional customer service offices (Italy, Taiwan, California) and 20+ service centers. Founded in Turin in 1961 as Tecno Tubo Torino (Turin Tube Technology), 3T has always been renowned for the quality, simplicity, and beauty of its products. 3T has a track record of being 'first': first to introduce many modern alloys to cycling, first to produce a dedicated aerobar, first to win the ID design award, first to introduce dedicated gravel wheels and first to introduce an aero gravel frame.
3T Time Trail Carbon Basebar With Clipon S-Revo Team