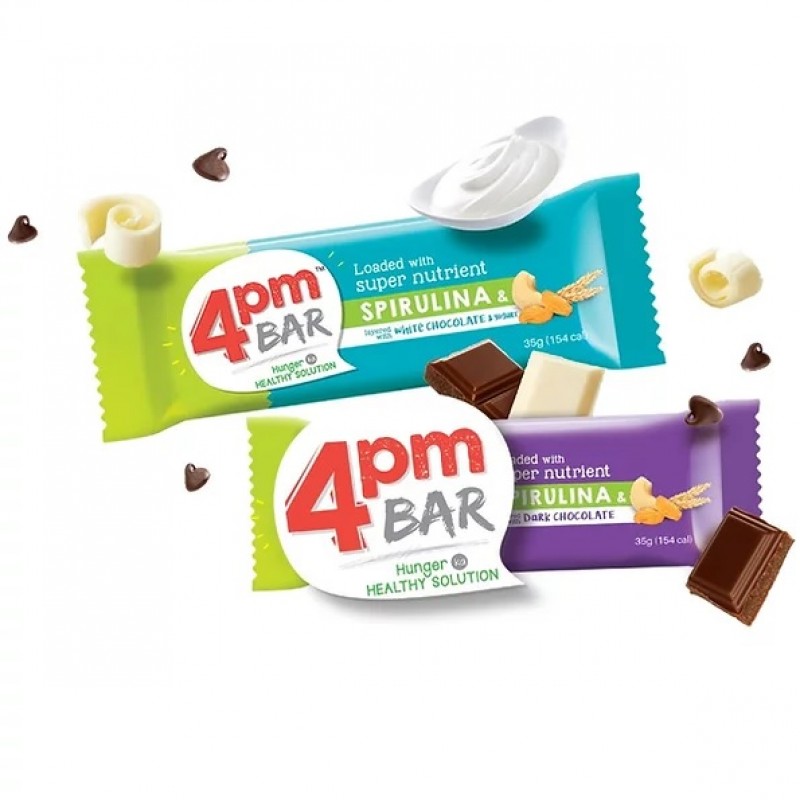 About 4PM Dark Chocolate Nutrition Bar Pack Of 12
The all new 4PM Nutrition Bars are loaded with super nutrient Spirulina, packed with nuts, raisins and oats and layered with either dark chocolate or white chocolate & yogurt for a power packed, yet tasty snack. The chewy consistency makes it very practical while cycling, trekking or other active lifestyles, so that the ingredients do not disintegrate when bitten into.
Made with the goodness of oats and cashews, using only natural sugars and spirulina-the super food, 4pm bar has everything required to give you a nutrient rich experience along with a delish to your taste buds.
4pm bar is made from all the natural, revitalizing and nutrient-dense food required to keep you healthy and strong. The key element of 4pm bar is Spirulina. Spirulina has incredibly high contents of protein, vitamins, iron and amino acids. Apart from these, it also helps in balancing blood sugar, is rich in antioxidants and reduces the toxins from the body.
Usage
Eat it while Driving
Trekking
Travelling
befor the gym
post gym
About 4PM Brand
4pm bar can outreach everyone such as professionals having deadlines and henceforth do not have time for food, health freaks having missed out their intake of nutrients, post-sports indulgence, rescuer to tricky situations like during travelling, during treks/hikes, long meeting hours, vehicle failure on highways and much more.
4PM Dark Chocolate Nutrition Bar Pack Of 12