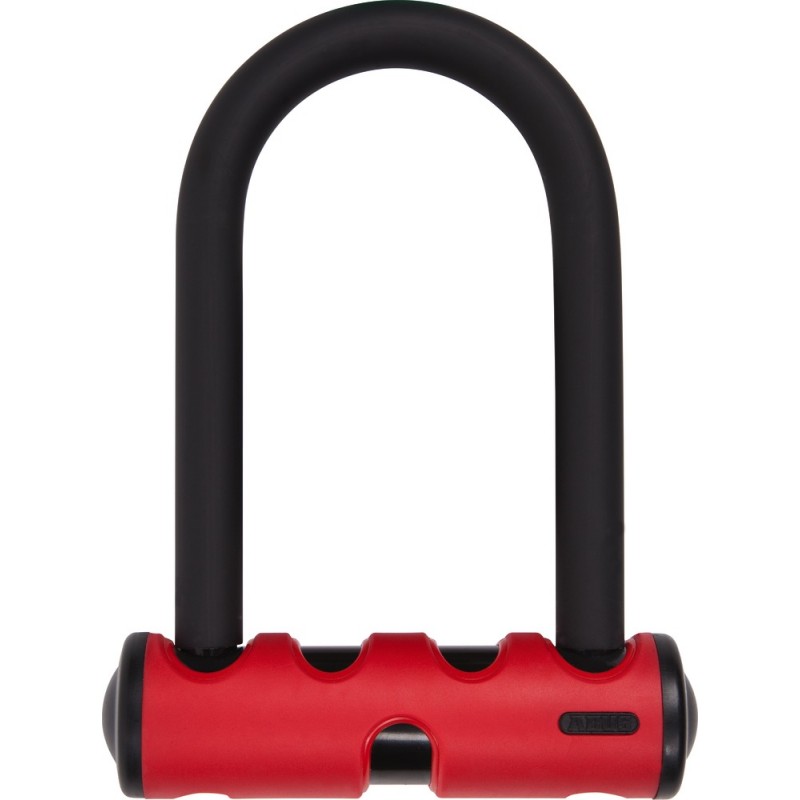 About Abus U-Mini Bicycle Lock Red
The U-Mini 40 U-Lock is a small and lightweight answer to your bike security problems. It offers a high level of protection for bike couriers, even in situations where the risk of theft is high.
MAXIMUM SAFETY COUPLED WITH A STYLISH DESIGN AND EASE OF USE
The U-Mini 40 U-Lock stands out from the crowd thanks to its customer-centred design and ability to offer a high level of protection despite its diminutive weight.
Thieves don't stand a chance against the U-Mini 40 U-Lock, thanks to the round shackle made from 14 mm hardened steel and the high-quality cylinder featuring Double Locking technology. Weighing in at a mere 980 g, the miniature powerhouse achieves a security rating of 11 (very secure) on the ABUS Level System. Another bonus: the U-lock is supplied with four keys. All family members, both young and old, will have easy access to a lock whenever they want to take a trip on two wheels. The U-Mini 40 U-Lock passed the ice spray test with flying colours, and has also been awarded the "Sold Secure" seal of approval in the United Kingdom.
Technology
Hardened 14 mm round shackle
Innovative soft-touch plastic casing around the lock body to prevent damage to paintwork
Special, modern design of the lock body casing allows for optimum handling
The shackle, the body and the load-bearing parts of the locking mechanism are
manufactured using specially hardened steel
Four keys included with the lock
Operation And Use
Great protection where there is a high risk of theft
Ideal for securing high-value bicycles
Lightweight courier's lock
Technical Data
Art. no. : 52313
Level : 11
Article group : 04
Carrier : without bracket
Height : 143 mm
Locking type : key
Weight : 980 g
Width : 80 mm
Bag : without transport bag
Color of facets : Red
Design color : Red
Diameter : 14 mm
U-locks
The U-lock is classics when it comes to securing bikes, and for good reason. Solid materials and no moving parts outside the lock mechanism are an excellent starting point for the strongest resistance possible. Decades of experience with the U-lock have made us experts in combining the most resistant materials with unique technology, and consequently one of the leading U-locks manufacturers. By the way: the police and insurance companies.
Abus U-Mini Bicycle Lock Red