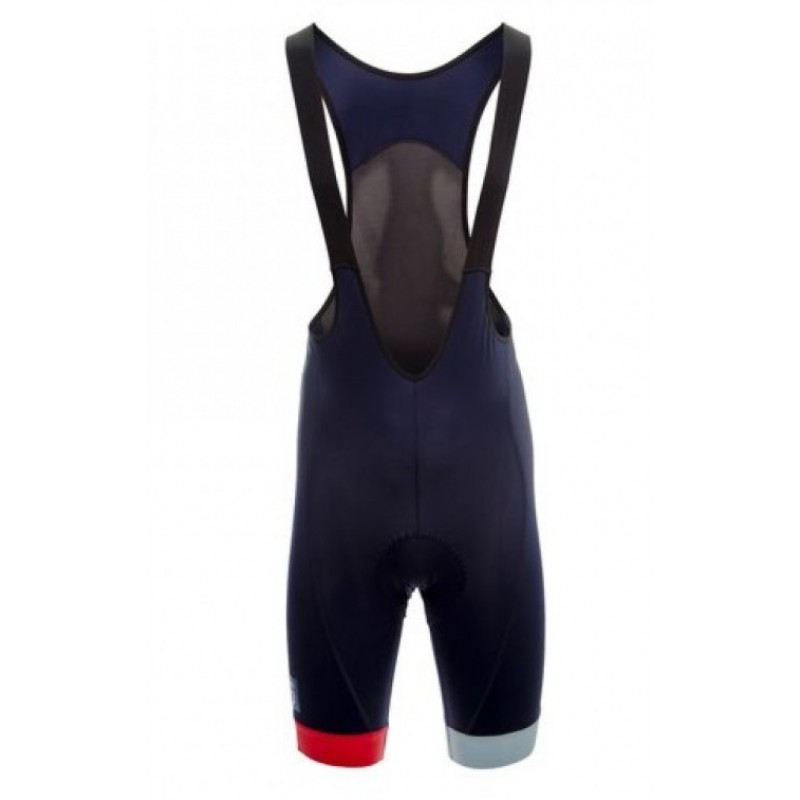 About AGU SIX6 Men Cycling Bib Shorts Blue
A good cycling bib is essential for riding pleasure. So the SIX6 BIBSHORT in our SIX6 collection is a top-quality cycling bib that fits perfectly with the shirts from this line.
The SIX6 BIBSHORT is constructed of multiple pre-formed panels of supple, elastic Power Lycra (in 210 g quality) that fit closely around your body. The suspenders are made of mesh material for the best possible temperature regulation, while the Power Lycra has a muscle-supporting effect to help battle fatigue. Laser-finished cuffs with silicone grippers on the inside keep the pants legs in place. The stitched seams are flatlock – which ensures that "imprinting" into your skin is kept to a minimum.
The new Black 320 chamois is the ultimate chamois that AGU offers. It uses the unparalleled shock absorbing characteristics of the Hybrid Cell System. This padding is thin, light, extremely breathable and wear-resistant. The top layer of the chamois is made of CoolCube, a material that prevents irritation and abrasions and that also wicks sweat away from your skin. The Black 320 chamois continues to provide comfort under the most extreme situations so that you can ride longer and more often.
The SIX6 BIBSHORT is available in six sizes in the colours Black, Blue and Grey.
The Six 6 collection refers to 1966, when AGU first saw the light of day and reflects the era when AGU was active in the professional peloton. The design reflects the same elements as in the familiar Panasonic outfits made by back then. With comparable diagonals, stripes on the shoulder, the use of colour and different colour sleeves, the Six6 collection is a bridge to the past.
Product details
Material: 210 gr Power Lycra
Multiple-panel, pre-formed bib
Mesh suspenders
Flatlock seams
Laser-finished band with silicone grip
Black 320 chamois
Collection : Heritage (SIX6)
Gender : Men
Season : Summer
Made in Italy
About AGU Brand
AGU Founded in 1966 Alkmaar (Netherland). Every bike ride requires the right clothes or bags. AGU has been putting together every collection since 1966 with a special eye for technology, comfort and appearance. Carefully developed from high-quality materials. Whether it concerns cycling or rainwear, or lightweight bicycle bags, AGU sends every cyclist with a good feeling. In all circumstances. AGU has grown beyond the borders of our home country, and our products are finding their way to countries all over the world. Products that have been improved in every way imaginable, adopting the latest insights in body dynamics and material technology, but also designing ever more beautiful and above all more durable products. Designed to feel good!
AGU SIX6 Men Cycling Bib Shorts Blue