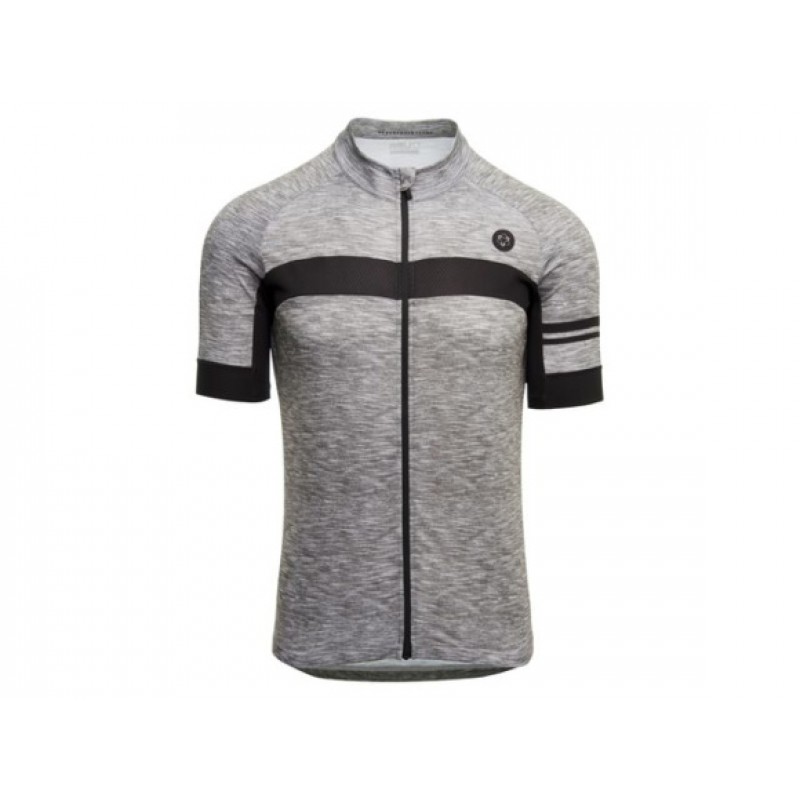 About AGU SS Essential Men Jersey Cycling Melange Dove Grey
The Dove Grey Essential Melange Jersey is noticeable not only from its subtle design in two tints, but also due to its tight fit. And we have indeed paid extra attention to this: laser-finished Lycra sleeves and silicone gripper in the waistband keep the Melange Jersey perfectly in place. Thanks to its tight fit around your body, this shirt has you ready for every athletic and competitive challenge.
The 100% Polyester Interlock material dries quickly and is highly breathable, making overheating nearly impossible. Thanks to a YKK zipper over the entire length, the shirt is easy to put on and take off. And on hot summer days, the zipper can also provide extra ventilation. A zipper slot protects your neck, and the three rear pockets give you more than enough stowage space. This quality shirt is available in three stylish colours and six different sizes, so you'll always find an Essential Melange Jersey that fits you perfectly.
All Essential clothing is designed for wear-resistance, functionality and affordability. The collection doesn't get replaced every season, but can last longer. Just like the other items in the Essential line, the Essential Melange Jersey has a simple, timeless design that combines easily with other AGU cycling gear. Elements from the past are translated in a modern way into today's fashion. The double stripe on the sleeve, for example, is a direct reference to the very first textile product that AGU brought to market: the classic raincoat.
Product details
Material: 100% polyester Interlock, rapid-dry and breathable.
Full YKK zipper
Laser-finished Lycra sleeve cuff
Chin protector
Silicone gripper
3 pockets
Collection : Essential
Gender : Men
Season : Summer
About AGU Brand
AGU Founded in 1966 Alkmaar (Netherland). Every bike ride requires the right clothes or bags. AGU has been putting together every collection since 1966 with a special eye for technology, comfort and appearance. Carefully developed from high-quality materials. Whether it concerns cycling or rainwear, or lightweight bicycle bags, AGU sends every cyclist with a good feeling. In all circumstances. AGU has grown beyond the borders of our home country, and our products are finding their way to countries all over the world. Products that have been improved in every way imaginable, adopting the latest insights in body dynamics and material technology, but also designing ever more beautiful and above all more durable products. Designed to feel good!
AGU SS Essential Men Jersey Cycling Melange Dove Grey