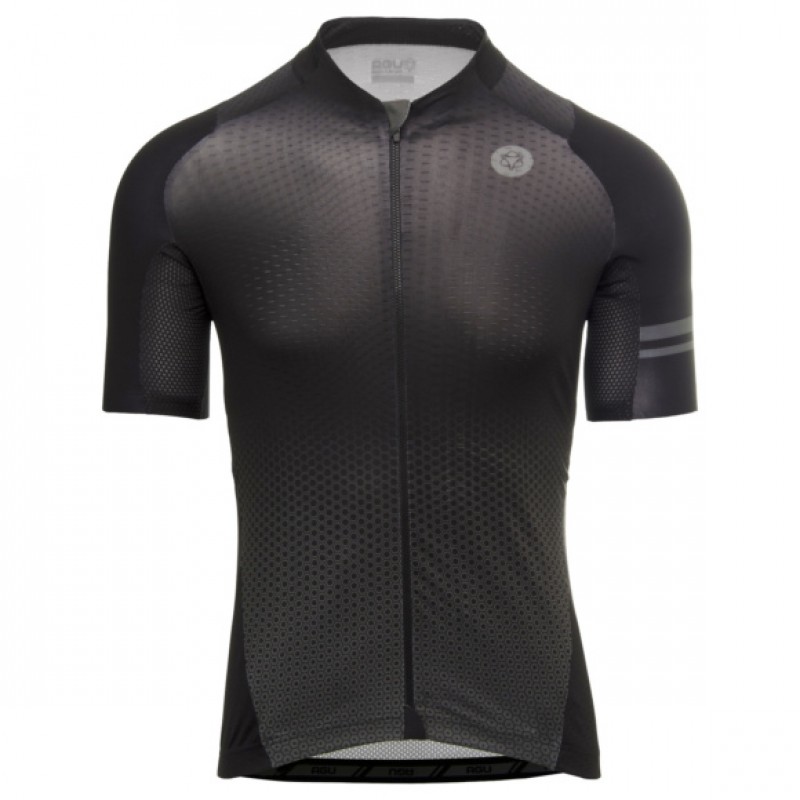 About AGU SS Gradient Trend Men Cycling Jersey Black
The black GRADIENT JERSEY is a tightly cut cycling shirt for cyclists at top speed. The close fit and excellent performance of the shirt in our limited-edition Trend collection make it a real racing shirt. We sum things up: laser-finished Lycra sleeves are like a second skin on your arms and a silicone gripper in the waistband keeps the GRADIENT JERSEY perfectly in place; a "deep dive" collar provides extra wearing comfort. Thanks to its tight fit around your body, this shirt has you ready for every athletic and competitive challenge.
The polyester Lycra fabric dries quickly and is highly breathable. Thanks to the Time-Out mesh on the back, overheating is nearly impossible. The YKK Vision zipper runs over the entire length and has a camlock closure so that the zipper stays "locked" in place while biking. Zipper slots at the top and bottom protect your neck and cycling bit, and the three rear pockets give you more than enough stowage space. One of the pockets has a zippered closure and there is also an audio cable outlet. The GRADIENT JERSEY is available in Black and Rebel Blue and in six different sizes. Your favourite version is certainly among these!
With the Trend line, AGU meets the demands of enthusiastic cyclists and those on the bike with a sense of style. The collection deals playfully with colour gradients and graphics and has a remarkably noticeable design – naturally, without making any concessions to technical quality. The Trend collection is produced in Europe using Italian and Spanish fabrics and remains exclusive due to small production volumes.
Product details
Material: Polyester Lycra mix: dries rapidly, breathable and tight fit.
Laser-finished Lycra sleeve
Time-Out mesh back for optimum ventilation
Full YKK Vision zipper with camlock closure
Deep dive collar for extra wearing comfort
Chin and pants protector
Silicone gripper
3 pockets +1 water repellent with audio-output and zipper.
Collection : Trend
Gender : Men
Season : Summer
About AGU Brand
AGU Founded in 1966 Alkmaar (Netherland). Every bike ride requires the right clothes or bags. AGU has been putting together every collection since 1966 with a special eye for technology, comfort and appearance. Carefully developed from high-quality materials. Whether it concerns cycling or rainwear, or lightweight bicycle bags, AGU sends every cyclist with a good feeling. In all circumstances. AGU has grown beyond the borders of our home country, and our products are finding their way to countries all over the world. Products that have been improved in every way imaginable, adopting the latest insights in body dynamics and material technology, but also designing ever more beautiful and above all more durable products. Designed to feel good!
AGU SS Gradient Trend Men Cycling Jersey Black