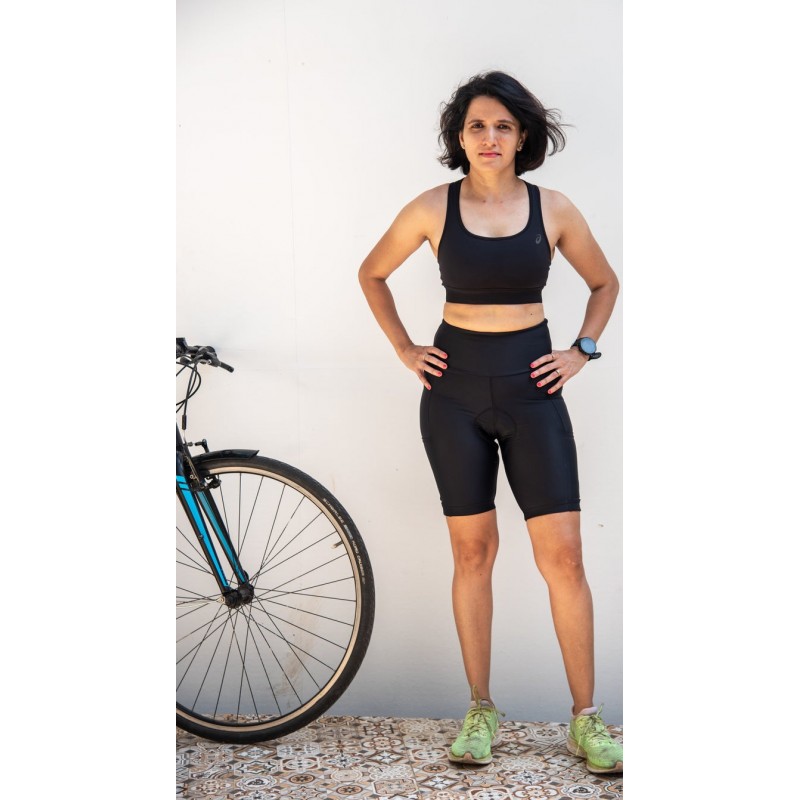 About Apace Evolve Women Cycling Padded Shorts Black
6 hour shorts with pockets
The Evolve Cycling shorts are an evolution of our best-selling cycling shorts - the perfect choice for cyclists who want long-hour comfort on the saddle in bibless form. With similar shake-proof pockets as the apace Explore cycling bibs, the Evolve features premium fabric, gel pad for upto 6 hours of comfort, and a comfortable mid-rise fit. The Evolve are the ideal riding partner for recreational rides to the long-distance cycling or brevets. It also makes an excellent buy for cycling enthusiasts, and fitness enthusiasts.
Features and Fabric
High-rise form fit with overlocked seams
Shake-proof pockets for storage, reflective logos
Gel pad for upto 6 hour comfort
Nylon Spandex blend fabric with Moisture Management

About the chamois (padding)
The apace Dolomiti Donna Gel cycling pad has been developed with open cell foam of 80 density (kg /m3) and a thickness of 12mm. It has strategically placed gel inserts for extra support and protection. The pad is rated for 6 hour comfort.
Apace Product Care
Every apace product is made with the highest degree of care. The product will continue to perform for a long time if cared for in the right way.Please follow the instructions below for proper product care.
Standard Care instructions for all apace products
Avoid contact with abrasive surfaces while using the product.
Do not wash the product in hot water
Do not bleach the product
Do not iron the product as far as possible
Hang-dry the product in shade
Specific Care instructions for all apace topwear and non-padded bottomwear
Do not iron on reflective stickers
Machine-wash cold, preferably on delicate cycle
If the product has a zipper, close the zipper before washing
Avoid wringing the product - this keeps the elastics in good condition
Specific Care instructions for all padded apace bottomwear
Do not iron on reflective stickers
Machine-wash cold, preferably on delicate cycle
Turn the product inside out while washing
Avoid spin-drying or tumble drying the product - this increases the life of the pad/chamois
Avoid wringing the product - this keeps the elastics in good condition
About Apace Brand
Founded in 2012 in Pune, India, apace is a fast growing sports apparel brand specializing in performance apparel for Running, Cycling and Triathlon. ... The well-designed and purpose-made apparel will satisfy the elite athlete, as well as the weekend warrior. apace was started in 2012
Apace Evolve Women Cycling Padded Shorts Black