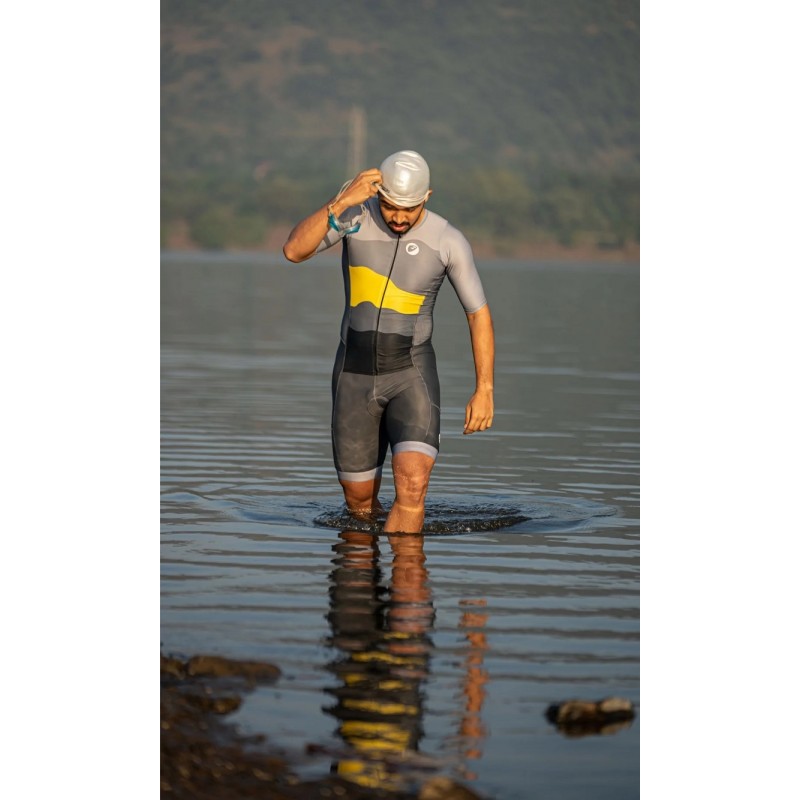 About Apace Full Distance Streamline 2.0 Mens Triathlon Suit Trisuit Foam Pad Gusto
The original Streamline launched in 2019 was a result of countless hours of testing, Streamline 2.0 is no different.
Description
Taking feedback from our customers & friends who went on to do full distance Ironman races we have redesigned the original, enhanced it & made it better than what it already was. Streamline 2.0 is a pursuit towards perfection.Constructed with premium Italian fabric ensuring the greatest possible compression, flexibility, ability to breath, aero advantage, while also providing comfort and quick-drying properties Streamline 2.0 has textural comfort that will help you glide through the race!Featuring butterfly opening top, rear pockets for easy use while racing or training, pockets on the leg panels to store gel/salts to not affect your performance or aerodynamics(4 pockets). Streamline 2.0 has all your storage needs covered whether it's a short training session or full Iron distance triathlon.A clean-cut leg hem with silicone gripper for additional comfort, gradual compression complimented with Dolomiti Full Distance Tri Pad makes Streamline 2.0 your best choice whether you are training for racing!
Features
Featuring butterfly front opening.
4 Pocket provide excellent storage.
Bottom 85% Nylon and 15% Spandex fabrics.
Top 90% Polyester and 10% Spandex Mesh fabrics.
Elastic leg gripper with silicon print for comfortable grip.
Flat-locked stitching for maximum strength and comfort.
Premium Fabric- UV Protection, Chlorine Resistant, Sunscreen resistant.
Excellent shape retention and fit.
About the full distance triathlon pad
Developed in a single density and a thickness of 6mm which allows excellent protection and at the same time an incredible elasticity.The addition of perforations allows the pad, after swimming, a quick drying and a high breathability. This helps to avoid abrasions / irritations during pedalling and running.
Foam density : 80 kg/m3
Wash Care
apace Product Care
Every apace product is made with the highest degree of care. The product will continue to perform for a long time if cared for in the right way. Please follow the instructions below for proper product care.
Standard Care instructions for all apace products
Avoid contact with abrasive surfaces while using the product.
Do not wash the product in hot water.
Do not bleach the product.
Do not iron the product as far as possible.
Hang-dry the product in shade.
Specific Care instructions for all apace topwear and non-padded bottom wear
Do not iron on reflective stickers.
Machine-wash cold, preferably on delicate cycle.
If the product has a zipper, close the zipper before washing.
Avoid wringing the product - this keeps the elastics in good condition.
Specific Care instructions for all padded apace bottomwear
Do not iron on reflective stickers.
Machine-wash cold, preferably on delicate cycle.
Turn the product inside out while washing.
Avoid spin-drying or tumble drying the product - this increases the life of the pad/chamois.
Avoid wringing the product - this keeps the elastics in good condition.
About Apace Brand
Founded in 2012 in Pune, India, apace is a fast growing sports apparel brand specializing in performance apparel for Running, Cycling and Triathlon.The well-designed and purpose-made apparel will satisfy the elite athlete, as well as the weekend warrior. apace was started in 2012 by Mihir Divekar.
Apace Full Distance Streamline 2.0 Mens Triathlon Suit Trisuit Foam Pad Gusto