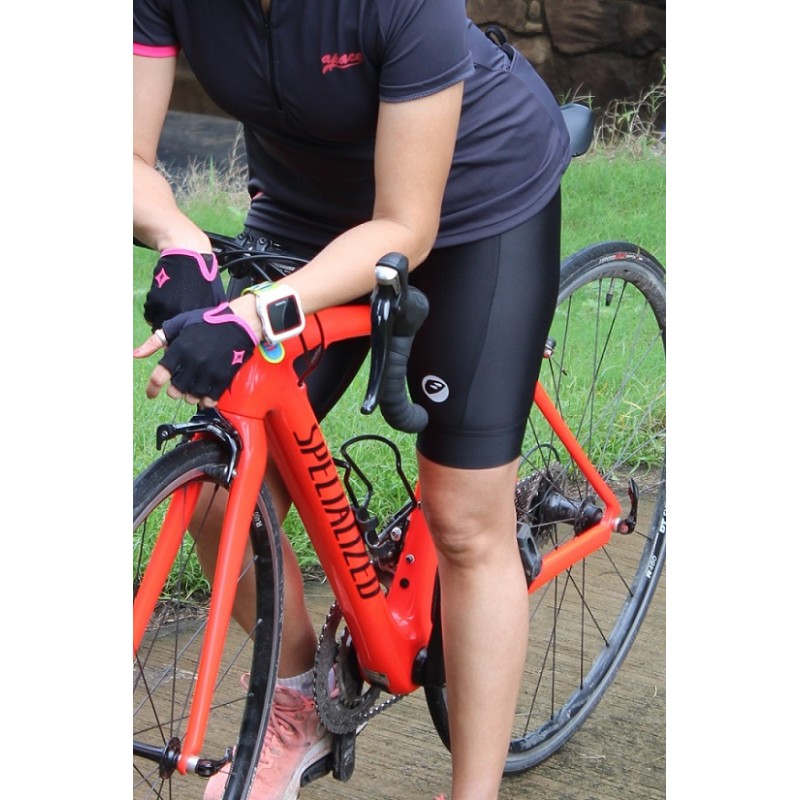 We are now shipping to all ALL ZONES across India. Further, NO DELIVERY is permitted in CONTAINMENT ZONES as of now.
About Apace
Gel-Padded Slingshot Womens Cycling Shorts Black
The apace Slingshot Womens cycling shorts delivers comfort and performance. The quick-wick fabric takes moisture away from the skin, and keeps you dry and light. The stretchable knit and the tested tight fit allows free range of motion that your ride demands. The wide hem band grips the legs to hold the shorts in place, while the wide waist band makes the shorts comfortable to wear. The thin and light weight Dolomiti gel cycling pad provides the necessary cushioning and support. The reflective logo in the front provide safety and visibility.
FABRIC AND CARE
Polyester Spandex blend fabric

Moisture Management
Lightweight
Quick-wicking
Machine wash cold
No iron on print
Do not wring
FIT AND FEATURES
Form fit

Knee length, wide waistband
Comfortable hemband
Simple construction for comfort
High-density foam pad
Reflective logos
Overlock seams
APACE DOLOMITI DONNA PAD - 6+ hour Endurance Pad
The apace Dolomiti Donna Gel cycling pad has been developed with open cell foam of 80 density (kg /m3) and a thickness of 12mm. It has strategically placed gel inserts for extra support and protection. The pad is rated for 6+ hour comfort.
About Apace Brand
Founded in 2012 in Pune, India, apace is a fast growing sports apparel brand specializing in performance apparel for Running, Cycling and Triathlon. ... The well-designed and purpose-made apparel will satisfy the elite athlete, as well as the weekend warrior. apace was started in 2012 by Mihir Divekar and Aditya Kelkar.

Apace Gel-Padded Slingshot Womens Cycling Shorts Black