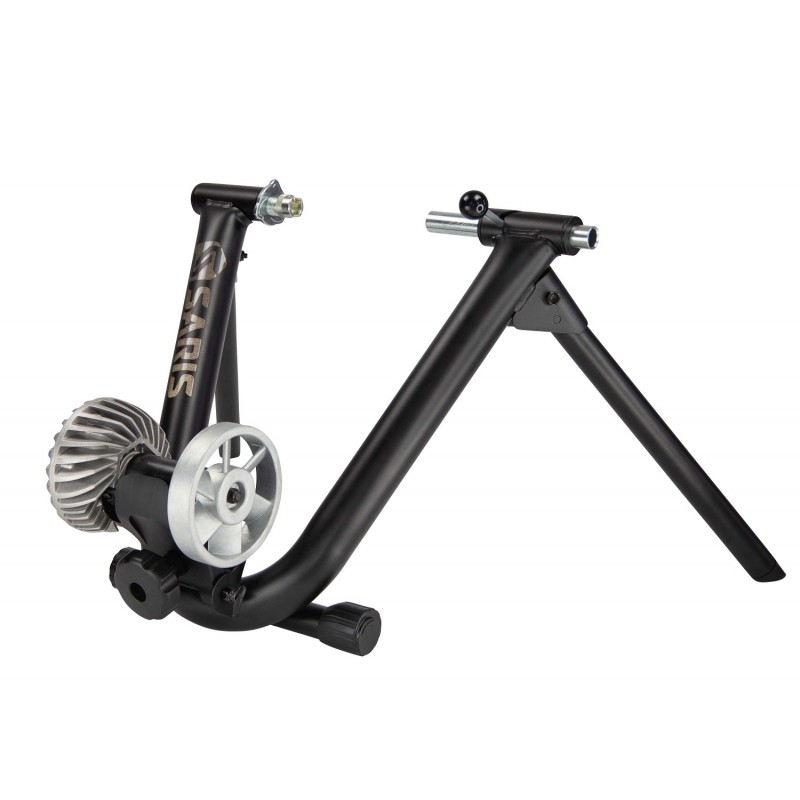 We are now shipping to all ALL ZONES across India. Further, NO DELIVERY is permitted in CONTAINMENT ZONES as of now.
About Saris Fluid Basic Trainer
Fluid resistance unit provides a quiet and consistent ride.
Get On Your Bike and Ride
JFK once said, "Nothing compares to the pleasure of riding a bike." Here at Saris, we couldn't agree more. That's why we're committed to helping bicyclists of all types get on their bikes and ride.
The Fluid bike trainer can help you do just that, no matter the season, schedule or time of day. Its fluid progressive resistance matches your effort without hardly making a sound, no adjustments needed. Plus, the Fluid comes with a durable, foldable and easy-to-store trainer frame.
Want to train with Zwift or Rouvy? All you need is a speed sensor.
Product Features
Fluid resistance unit provides a quiet and consistent ride.
Progressive resistance offers the widest resistance range and road-like feel.
Comes on an easy-to-store, foldable bike trainer frame.
Compatible with Zwift and other indoor training apps.
Tech Specs:
Noise level: 68-72 decibels at 20 mph.
Resistance Unit: Fluid, creates a quiet and consistent ride.
Resistance Curve: Progressive, broad resistance range and road-like feel.
Maximum Weight (rider and bike): 300 lb.
Design:
Wheel-On: Connects to rear wheel of bike, no need to remove wheel or disassemble bike.
Trainer Frame: Foldable Classic frame with spring loaded, bolt-action lever.
Resistance Knob: Standard, resistance roller-to-tire connection adjusted with turn knob.
Roller: Alloy, precision-machined alloy resistance roller reduces tire wear and slippage.
Leveling Feet: Yes, for easy adjustment on uneven surfaces.
Cooling System: External, self-cooling mechanisms, including patented fan design, keep unit performing better, longer.
Thru Axle Adapter: Sold separately for 142x12mm and 148x12mm bikes.
Compatible with indoor cycling apps when paired with your favorite speed or cadence sensor.
Bike Compatibility:
Steel quick release skewer included for common road and mountain bike frames.
Three settings for rear dropout spacing:
2" resistance unit roller compatible with the following wheels and tire widths:
650b
700c
27.5", up to 2.0" wide
29", up to 1.5" wide and without tread.
The Fluid is not compatible with the following wheel diameters and tire widths:
650c
29" with tread and/or wider than 1.5"
26"
FYI:
Some assembly required.
Trainer Tire: Recommended, not included.
Magnetless speed or cadence sensor sold separately.
Formerly branded as the yellow CycleOps Fluid Trainer.
About Saris Brand
When Chris and Sara Fortune purchased bicycle rack manufacturer Graber in 1989, they envisioned building a global business. With the help of renowned Italian designer Fabio Pedrini , they developed a line of easy-to-use, stylish bicycle racks.
In 1991, Saris - A combination of Sara and Chris' names – released its first bicycle rack, the Mountaineer, in independent bicycle dealers. The Mountaineer received rave reviews, and the company's sales started growing overnight.
Saris Fluid Basic Trainer