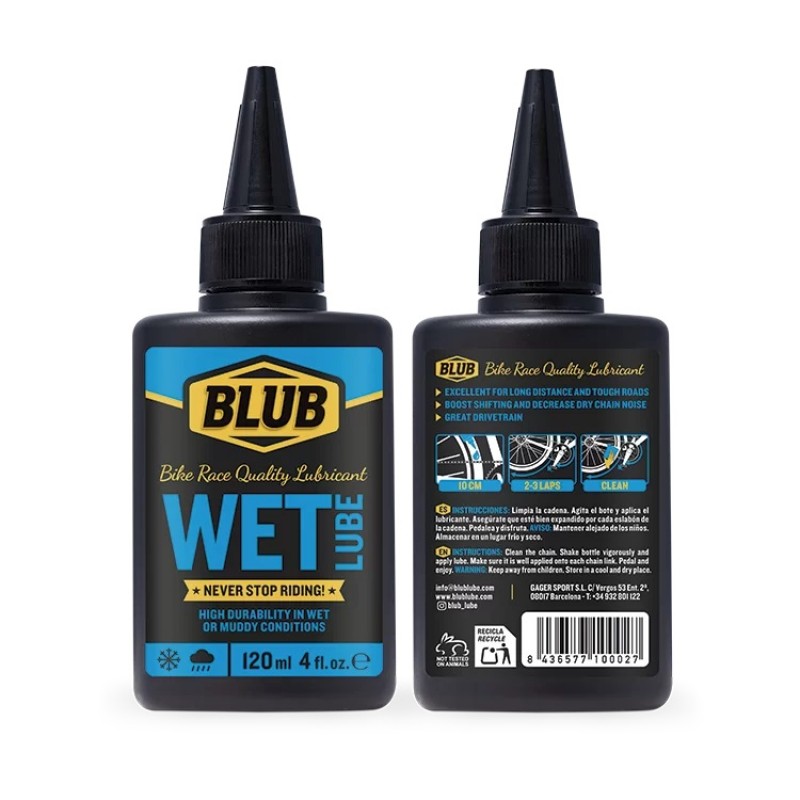 About Blub Wet With Exhibitor Box 120 ML
It is the perfect lubricant for very extreme conditions. Ideal for situations of mud, humidity, rain or snow.
It is our most resistant, durable and strong lubricant. Totally water repellent, capable of withstanding any type of terrain and conditions.
With an oil base, it is a denser and more adherent lubricant.
Unbeatable for long distances and bad conditions.
Does not require continuous re-lubrication.
Contains anti-corrosive additives preventing oxidation of the chain even when the user is in snow, sleet, thick fog or sea salt.
It is a very popular option for those users who face muddy mountain conditions.
Necessary to clean with our Degreaser.
Hold departures between 150-200km.
Description

When to use it?
Use in both road or mountain conditions, where rain or mud is the main ingredient. For example, competitions where it is already raining and the circuit is total mud; road exits with a lot of rain; competitions or outings in which the previous day has rained.
How to use it?
Clean the chain with our Degreaser.
Shake and apply the dry lubricant. One drop per link, two turns of chain and remove what is on. That allows hundreds of kilometers to maintain its properties.
Let dry for 2 minutes.
Go for the ride.
About Blub Brand
BLUB is a brand that offers a set of lubricants and sealants that allow you to pedal and keep your bike in perfect condition.Bicycle lovers. Professionals and enthusiasts of this sector. Enjoying each ride as if it were the last. We hate to rest.
Blub Wet Lube With Exhibitor Box 120 ML