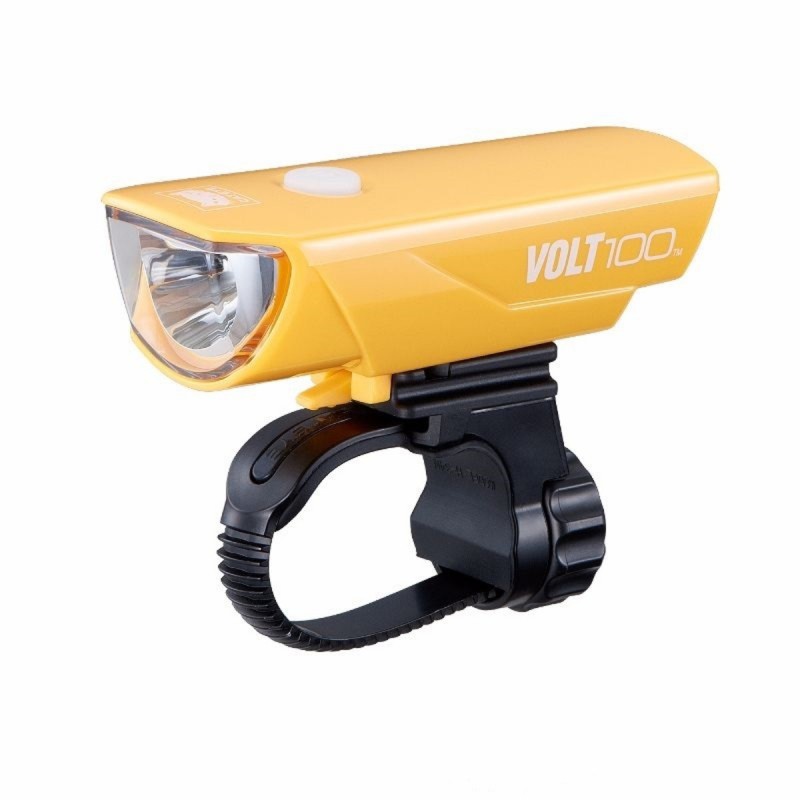 About Cateye Cycle Light Volt 100 HL-EL 150RC Yellow
The Volt100 is an affordable USB rechargeable headlight with 100 lumen output.
The USB rechargeable Volt100 headlight features a 100 lumen output and three modes: High, Low, and
Flashing. Handlebar and helmet mountable, the Volt100 is compact and easy to remove from the bracket, so you can take it off at your destination and stash it away until the ride home. The smartly designed bezel provides excellent side visibility. The Volt100. Designed for Urban Riding.
Dimension: 34.0 x 90.0 x 35.0 mm
Weight: 65 grams (light unit and battery)
Light source: High intensity white LED X1
Run time:
High mode 100 lumens: 2hrs
Low mode 30 lumens: 6hrs
Flashing mode 150 lumens: 30hrs

Battery: Li-ion rechargeable battery (3.7V-800mAh)
Recharge time: approx 3hrs (USB2.0)
Recharge/discharge number of times: about 300 times(until the rated capacity drops to 70%)
Other: Low battery indicator. Lighting mode memory function. Helmet mount (optional)
*Design and specifications are subject to change without notice.
Cateye Cycle Light Volt 100 HL-EL 150RC Yellow