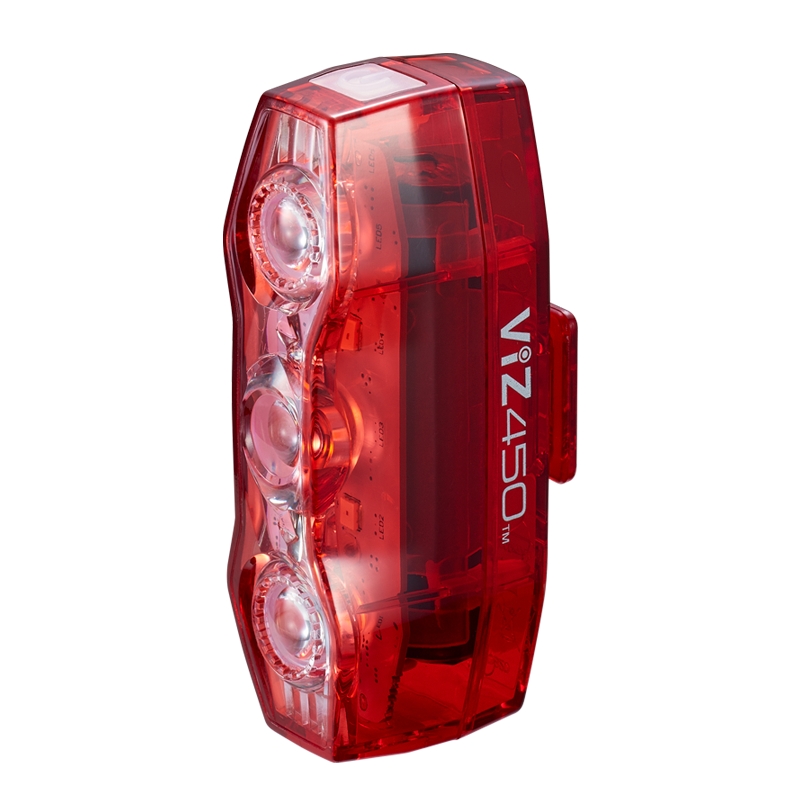 About Cateye VIZ450 Rechargeable Bicycle Tail Light
When you absolutely, positively need to be seen, day or night, rain or shine, trust CatEye's brightest rear safety light. The ViZ450 features 5 LEDs, 300-degree visibility, OptiCube™ lens technology, and makes sure you stand out with the power of Daytime Hyperflash™ mode.
Features :
5 LEDs (450 lm)
Highly visible during daytime
300 degree visibility
Long rear beam projection
OptiCube™ lens technology
Lithium-ion rechargeable battery
USB rechargeable (Micro-USB cable included)
Low battery indicator
4 modes *Charging time: 3.5h
Mode memory function
Battery Auto Save (The mode automatically changes to flashing when the battery power gets low.)
New seat post bracket SP-15 which fits contemporary (kammtail) aero seatpost
Snap System™
Specifications :
Dimension :75.5 x 25 x 34mm
Weight : 45g (with batteries)
Light source : Red LED X5
Battery : Li-ion USB rechargeable
Runtime : Constant (40 lumens):5 hrs
Flashing (40 lumens) : 65 hrs
Group Ride (130 lumens) : 10 hrs
Daytime Hyperflash (450 lumens) : 14 hrs
Recharge time : 3.5 hrs (0.5A)
Mount size : 21.5-32.0mm. Fits up to 130mm outer circumference. (SP-15)
Other : Battery auto save, Low battery indicator, Light mode memory



About Cateye Brand
Design, Manufacturing, Sales and Servicing of Bicycle Accessories Such as Cyclocomputers and Lights; Heart Rate Monitors; Pulse Meters; Altitude Meters; Reflectors for Bicycles, Automobiles, Motorcycles and Roads; E Mark Headlamps for Automobiles; Triangular Stop Signs for Automobiles, Security Equipment Such as Construction Lights, and Traffic Safety Equipment Such as Delineators; and Servicing of Health Equipment.
Cateye VIZ450 Rechargeable Bicycle Tail Light