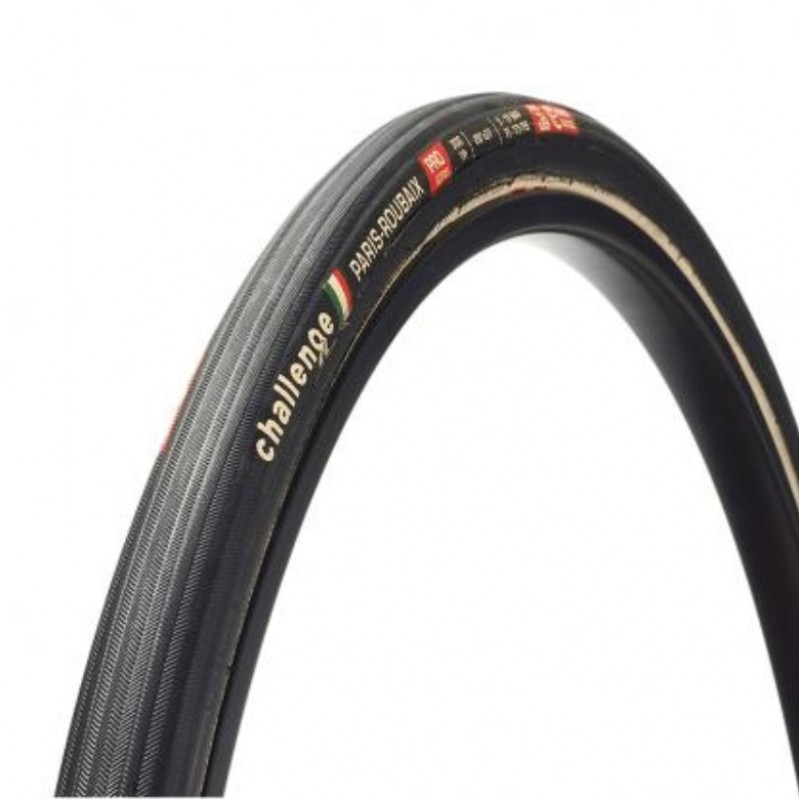 We are now shipping to all ALL ZONES across India. Further, NO DELIVERY is permitted in CONTAINMENT ZONES as of now.
About Challenge 700x27c 320TPI Handmade Paris Roubaix Pro Road Bike Tubular Tyre Black
World-class, fast rolling and cornering, comfortable, maximum control, higher volume, all-condition tyre for rough or cobbled roads
Having supplied multiple Paris-Roubaix winners and cyclocross world champions over the years Challenge tyres are ready to stand up to rough and unforgiving terrain. The Challenge Handmade Paris Roubaix Pro Road Tyre is no exception with many of the same superb features that have made their tubular tyres the 'go to' for Roubaix and other cobbled races.
This tyre version has a 320 TPI(threads per inch). This high TPI count makes the tyre super-smooth rolling and soft, allowing it to easily glide over rough terrain.
Durability is ensured by the combination of the SuperPoly bead casing and PPS2 puncture protection. These two features act to help prevent punctures, gashes and rips while you traverse adverse terrain. This tyre's 27mm width is ideal for conquering gravelled, paved or cobbled terrain, as the wider footprint of the tyre acts to smooth out bumps and vibrations.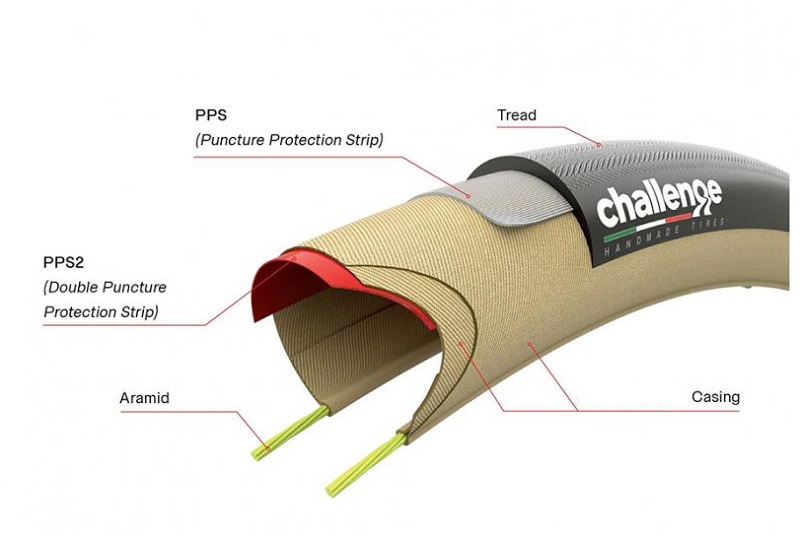 Polyester Pro Casing
Polyester is the least expensive handmade casing. It is a synthetic that is quite strong and impervious to water but not as soft and supple as either cotton or silk. It is far softer and stronger than nylon. We use Polyester or SuperPoly (higher tread count polyester) to make our workhorse, more cost efficient Pro level tires.
Rolling Resistance
The benefit of super supple attributes – treads, casings - is to make Challenge Handmade Tyres optimally deform over road imperfections – greatly reducing rolling resistance.
Puncture Protection System (PPS)
The Puncture Protection System is a special fabric placed between a tire's tread and casing to increase resistance to punctures. Some Tyres designed for use on rough roads, cobbles and gravel receive PPS2, an additional layer of PPS between the casing and the inner tube.
Why Challenge Handmade Tyres?
The only touch point that a bicycle has with the road is with its Tyres. So why compromise the feel of your wonderfully put together expensive bike, by using cheap quality, non-performing tyres?
Challenge Tyres can help reduce shock and reduce rolling resistance, leading to an overall more comfortable, faster and longer ride!
Also of great importance is the type of casing used in combination with the quality rubber tread -
A high-end, flexible casing provides more grip as it allows more tread adherence with the ground.
A high-end, flexible casing provides more comfort due to greater shock absorption.
A high-end flexible casing provides more speed, as its greater adherence provides lower rolling resistance.
Better grip and handling, more speed and comfort also allow for a longer lasting ride.
Important Note On Handmade Tyres
Challenge Handmade Tyres are made with the highest quality materials and processes. Like a fine wine, they must stored and treated with care to have a long life and provide the highest level of performance, comfort and control.
Challenge Handmade Tyres are molded flat, not in a horseshoe like a Vulcanized Tyres. This shape allows the casing to naturally deform over surface imperfections and minimize rolling resistance.
Product Features
Series : Paris Roubaix Pro
Use : Fast Rolling, Maximum Comfort, Paved or Cobbled Road Use
Colour : Black
TPI : 320
Casing : Super Poly
Size : 700c x 27mm
Weight : 290gm(approx.)
Bead Type : Aramid
Flat Protection : PPS2
Code : 00551
About Challenge Brand
Why choose Challenge? What's the point in training till you drop if you're going to be losing efficiency and speed in your tires?
Ride quality is paramount, and no other tire offers the supple, responsive traction of a Challenge tubular, eliminating barriers in achieving your maximum speed and potential. Supple tires not only offer a sublime ride, they reduce rolling resistance, and enable more precise handling and a greater range of pressures. They adapt quickly as the tire changes shape while cornering and rolling, which increases road surface contact and grip while cornering, plus shock absorption as you pass over irregularities in the road. We make Challenge Handmade Tires 100% in our family-owned factory in Thailand, 90 minutes down the coast from Bangkok. We are in Thailand because that is where our natural rubber and latex is sourced, where we can control the raw materials and where the world's rubber and latex experts work.
Challenge tires' high-end, flexible casing provides superior grip and comfort with higher speed due to its lower rolling resistance. Challenge offer clincher or tubular options for Road, Gravel and Cyclo-Cross and in 2019 introduce some Tubeless (TLR) options in their range.
Challenge 700x27c 320TPI Handmade Paris Roubaix Pro Road Bike Tubular Tyre Black