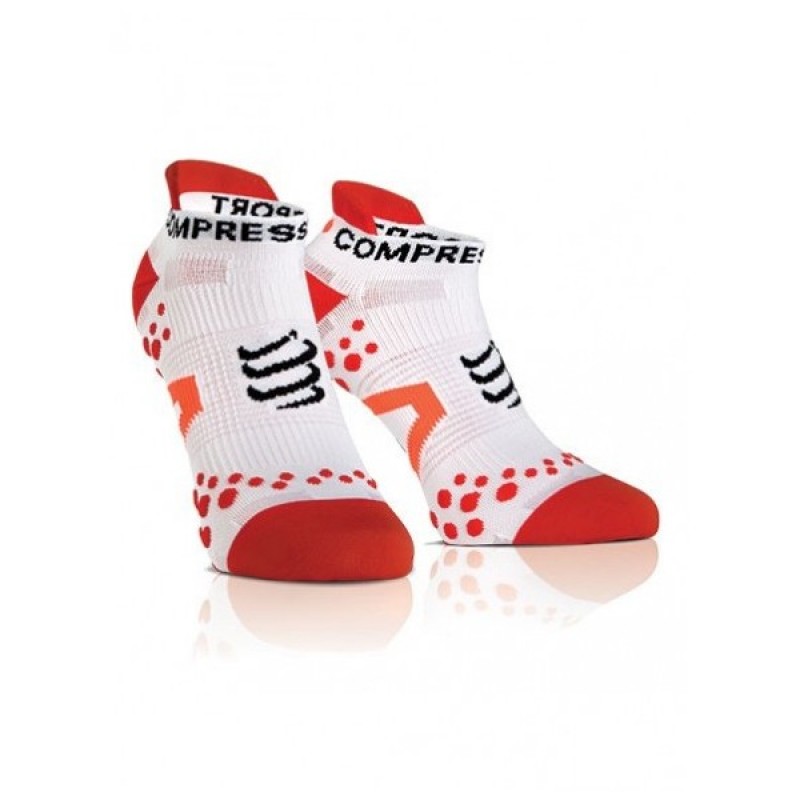 We are now shipping to all ALL ZONES across India. Further, NO DELIVERY is permitted in CONTAINMENT ZONES as of now.
About Compressport Racing Socks V2.1 Run Lo White/Red
Years of research & development and cutting edge technology packed into a racing sock, they have quickly become the must have foot accessory for any serious endurance athlete.

"Super feelin in my toes"
- JAUME LEIVA, Spanish Half Marathon Champion - 01:03'35" and COMPRESSPORT® Socks Addict.


Ultra Ventilation mesh
Mesh areas around the ankle, the top of the foot and the toe box give an amazing feeling of lightness and freshness. By removing moisture and humidity quicker, it makes the sock more breathable. The foot will not overheat and thus prevent blisters. These ventilation zones have been modified to add ergonomy and strength.
100% Seamless toe Box
The ProRacing Socks V2.1 innovates once again by adding a 100% seamless toe box. This feature will add more comfort to your run and prevent any friction/blisters in the toe area.

The 3D.dots on the inner part of the malleolus help with the prevention of shocks.

1 1 HEMLESS LAYER
Seamless and without elastic, the upper part of the sock does not compress the leg, thus relieving the pressure in that area.

2 PROTECTION ACHILLESTENDON
The cushioning effect of the 3D.dots at the rear of the sock protect the Achilles tendon from friction and pressure.

3 ARCH STIM
Located in the arch of the foot, it also provides for venous return and recovery.

4 ULTRA LIGHT VENTILATION MESH
Large surfaces of semi-transparent mesh ensure a maximum ventilation of the foot & ankle during exercise and keep the foot still light, dry and cool.

5 Grip 3D. DOTS
The 3D.DOTS are multidirectional and ensure maximum grip in shoes thereby preventing feet from slipping during effort.

6 MALLEOULUS PROTECT
For shock absorption, 3D.DOTS have been added to the interior of the malleolus.

7 SHOCK ABSORBER
The 360° compression dampens the "shock wave" effect on muscles, veins and joints.

8 ERGOFIT TECHNOLOGY
The toe piece contours and covers the toes without creasing, compressing or smothering the foot.

9 TOTAL WATER EXTRACT
The 3D.dots do not retain water (rain, hydration, perspiration) and facilitate its discharge. Feet stay dry.

ANATOMICALLY CORRECT
Specially designed for right and left foot in order to adhere to the anatomy of the foot and maintain your performances.

THERMO AERATION
Air enters the 3D.dots which prevents the sole of the foot from overheating during effort.

ACUPRESSURE
"The massaging acupressure" is designed to activate blood circulation by multipoint massaging of the sole area.

Note: For maximum commpression and recovery benefits, it is imperative you are fitted with the correct size. Look at the sizechart in pictures how to select the correct size for you.


Material 74% polyamide, 19% polypropylene, 7% elastane
Compressport Racing Socks V2.1 Run Lo White/Red