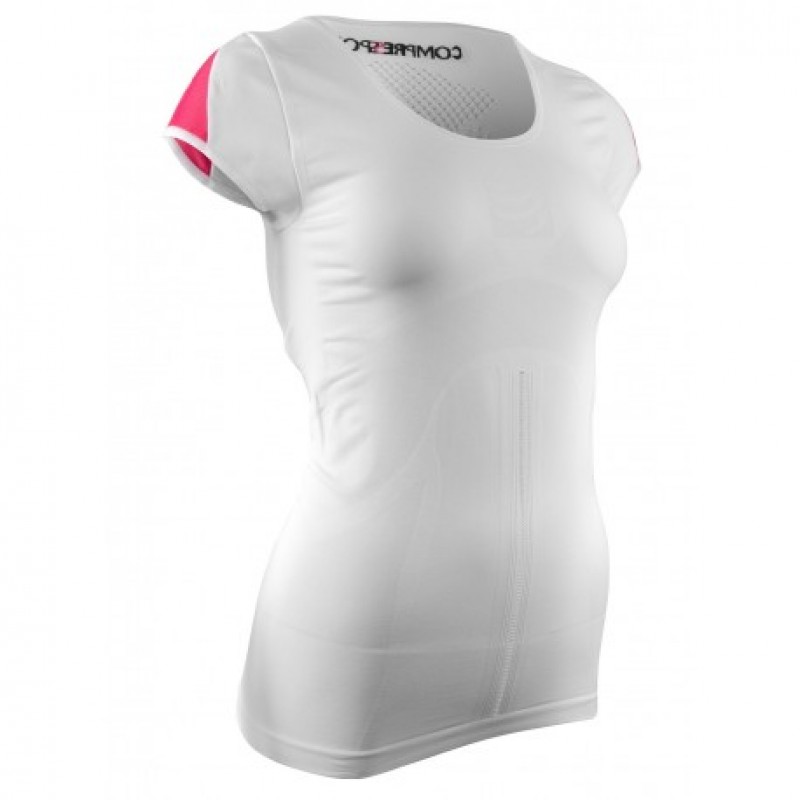 We are now shipping to all ALL ZONES across India. Further, NO DELIVERY is permitted in CONTAINMENT ZONES as of now.
About Compressport Woman Trail Running Shirt V2 Ultra Tank
The Trail shirts of Compresssport are now availabe for women. They are lightweight, breathable and innovative. The new Trail Running Tank V2 Women gives you a unique ergonomic support during physical exertion. Because of Spin Control and Posture Alignment at the back helps keeping the torso upright even in case of fatigue.
Additionally the tank has the new ON/OFF Ventil'action fiber. This fiber increases the oxygen supply during intensive workout by opening its numerous pores. When the pores are closed it protects against wind and reduces muscle vibration. The Trail Tank is a comfortable shirt which fits perfect and supports you even after 10 hours of running.
SHOCK ABSORBER BACKPACK
The silicon prints on the shoulders stop any backpack movement when running. It absorbs any shocks from the straps on the shoulders to prevent any muscle tensions or fatigue.
VENTILATION ZONE
The targeted positioning of the mesh structures on the shoulders evacuate body heat and sweat meaning you stay dry regardless of the outside temperature and the intensity and duration of the effort.
ULTRA VENTILATION MESH
New mesh areas have been added around the ankle, the top of the foot and the toe box to give an even greater feeling of lightness and comfort. These ventilation zones make the socks more breathable, by removing humidity and moisture quicker. The foot will not overheat and thus prevent blisters.
BREATHING POSTURESPIN CONTROL
"Spin-control" helps you to reinforce your posture during effort for perfect maintenance.
ERGO FIT
The body of your ProRacing TRIATHLON TANK is knitted to fit every curve of your body perfectly, maximising its efficiency and comfort (no chafing).
ERGO SHAPE
Its ergonomic shape, longer in the back than in the front along with its silicon inner lining, keeps the back well covered.
SILICON BAND
The silicon band around the waist will ensure the tank always stays in place, whatever position you are in (climbing, descending).
6 PICK POCKETS
3 pockets in the front and 3 in the back... Properly structured for better organization, they are easy to reach and have been designed to prevent any bouncing. They also prevent unnecessary twisting and help you conserve energy to stay focused on your stride.
ON / OFF VENTIL'ACTION FIBRE
Based on an ON/OFF T-shirt (one of COMPRESSPORT®'s latest innovations) the Tri Tank feature interactive Fibres that breathe with you and adjust your ventilation according to the intensity of your workout.
POSTURE ALIGNMENT
This light compression area is directly woven into vthe fabric to:
Ensure you have correct body-positioning during long lasting effort. Ensure your shoulders stay aligned. And thereby boost breathing and improve oxygenation during effort as well as after to enhance your recovery.
THERMO REGULATION
The special knitting protects you from the cold and windchill whilst still providing maximum breathability for your skin. The activation of microcirculation assists and supports the skin's thermo-regulating mechanism, therefore allowing you to save energy.
ULTRALIGHT
Wet or dry, COMPRESSPORT probably remains the most lightweight (does not retain water).
BACTERIO STATIC
100% hygienic. This treatment helps to prevent the growth of bacteria and naturally fights odours. It ensures a feeling of freshness all day long.
SEAMLESS
For optimum comfort, the microfibre body of the Trail Tank is 100% seamless, lightweight and very soft.
HYDROPHOBIC
The water-repellent fibre wicks moisture away and evacuates sweat without absorbing it, even when excessive. No more uncomfortable heavy, damp clothing that irritates and doesn't dry.
MASSAGING EFFECT FIBRE
Every movement triggers a micromassage providing well being and lightness. Patented fibre.
Material 70% polyester, 22% polyamide, 8% elastane
Compressport Woman Trail Running Shirt V2 Ultra Tank White