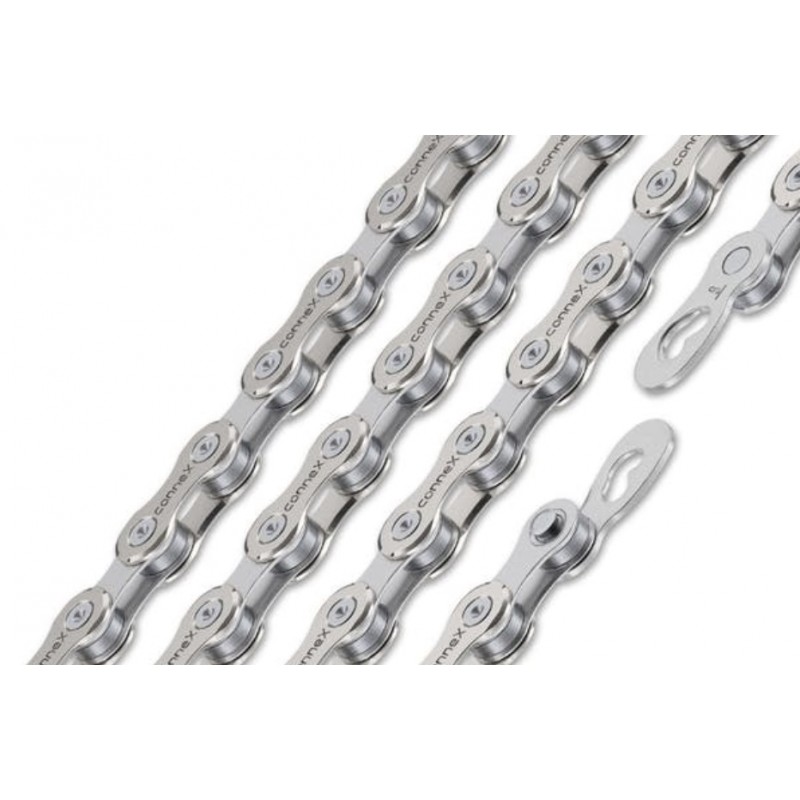 We are now shipping to all ALL ZONES across India. Further, NO DELIVERY is permitted in CONTAINMENT ZONES as of now.
About Connex 904 9 Speed Bike Chain (Nickel)
Our 9-speed chains are compatible with all common road bike, touring bike and mountain bike gear systems. The innovative high performance plate geometry gives all types of this series the very best gear-changing properties. And for highest resistance to wear and maximum strength, we have implemented an innovative process for radial riveting.
The Connex 9sX bestseller with an inner link made of high-grade stainless steel withstands wear and tear up to 20% longer. The high-grade coatings of the Connex 9sG and the Connex 9sB offer optimum protection against corrosion. Always included with all 9-speed chains: the unique Connex Link.
With its nickel coated outer plates, the 904 offers optimum value for money. Top gear-changing properties are ensured thanks to the high performance plate.
Dimensions : 1/2" x 11/128"
Pin length : 6,60 mm
Roller width : 2,20 mm
Pin ejection pressure : >2000 N
Pin hardening : XHB
Links : 114
Weight : 279 g
For all 9-speed systems
Suitable for ATB/trekking, city/touring, mountain bike and road bike
About Connex Brand
Wippermann jr GmbH is a roller chain manufacturer located in Hagen, Germany, and founded by Wilhelm Wippermann in 1893. They make the Connex brand of bicycle chains and master links. Their bicycle chains include such high-end features as nickel-plating, hollow pins, stainless steel, titanium rollers, and cutout plates.
Connex 904 9 Speed Bike Chain (Nickel)