About Continental (700x28c) Grand Prix 5000 TL Folding Tubeless Road Bike Tyre
The new era in cycling
The best allrounder in the field, brought to a whole new performance level.

Ride faster, more comfortable, and with increased puncture protection.

Made to make you better.

Technical Details
Black Chili
It's all about how you mix it

With our unique tread compound, which is produced only in Germany, we have revolutionised the sport of cycling. With the legendary BlackChili Compound we have answered the eternal question of the best balance of grip and rolling resistance for cycling.

Regular test wins confirm the measureable and noticeable advantages for the cyclist, established in the laboratory and on the road. The latest polymers as well as specially developed carbon black particles and filler materials guarantee unique performance.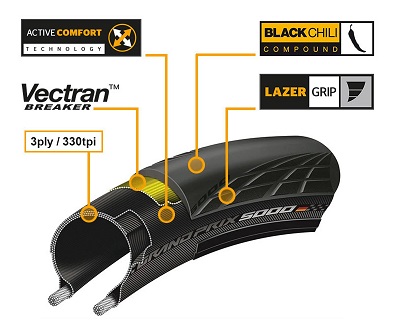 Further details



Tubeless

- The user-optimised Tubeless System

The TL technology is specifically designed to offer Tubeless for road cycling demands. Easy to install and reliable in use.

Tubeless Bead
Specifically developed the Tubeless bead seals through its unique shape and provides stable fitting on the rim.
They recommend the usage of corresponding TL-Sealant.
Active Comfort Technology
The revolutionary approach in cycling. Embedded in the tire construction the Active Comfort Technology absorbs vibrations and smoothens your ride.

Lazer Grip
Lazer Grip, to make you one with the road. The lazered micro profile structure expands over the tire's shoulder and provides outstanding cornering.

Vectran
The benchmark in puncture protection

Vectran™ is a synthetically manufactured high-tech fibre from a natural model. Like spider silk, Vectran™ is a liquid-crystalline polymer (LCP). Vectran™ is spun from the melted liquid polymer Vectra and processed further to a multi-strand thread. Spider silk like Vectran™ has an enormous tear resistance at a very low weight: Exactly the right properties to process into a premium Continental bicycle tire as a puncture protection insert. A Vectran™ Breaker is lighter, more flexible and protects more effectively against cuts than the comparable nylon breaker. Vectran™ Breaker does not adversely affect the rolling resistance.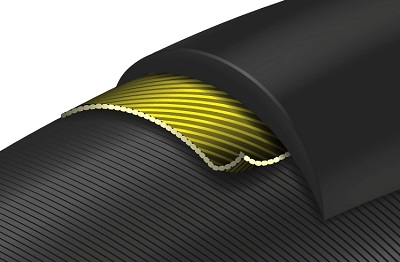 About Continental Brand
More than 100 years experience in the development and production of bicycle tires has made Continental a unique company within the industry. Continental is the only German bicycle tire manufacturer to produce its tires in Germany. Knowing this serves as a mighty incentive to our engineers and everyone else involved in the manufacturing process to constantly strive for further innovations. In our technology and development center in Korbach, we are constantly developing new revolutionary technologies such as the unbeatable Black Chili Compound and the ultimate Vectran™ Breaker anti-puncture technology, both used at the top end of race sport. These technologies demand sophisticated processes to ensure our legendary end-product quality, and these innovations as well as the new "ProTection" and "RaceSport" technology for MTB tires, can only be manufactured in our factory in Germany – "Handmade in Germany".

Continental (700x28c) Grand Prix 5000 TL Folding Tubeless Road Bike Tyre