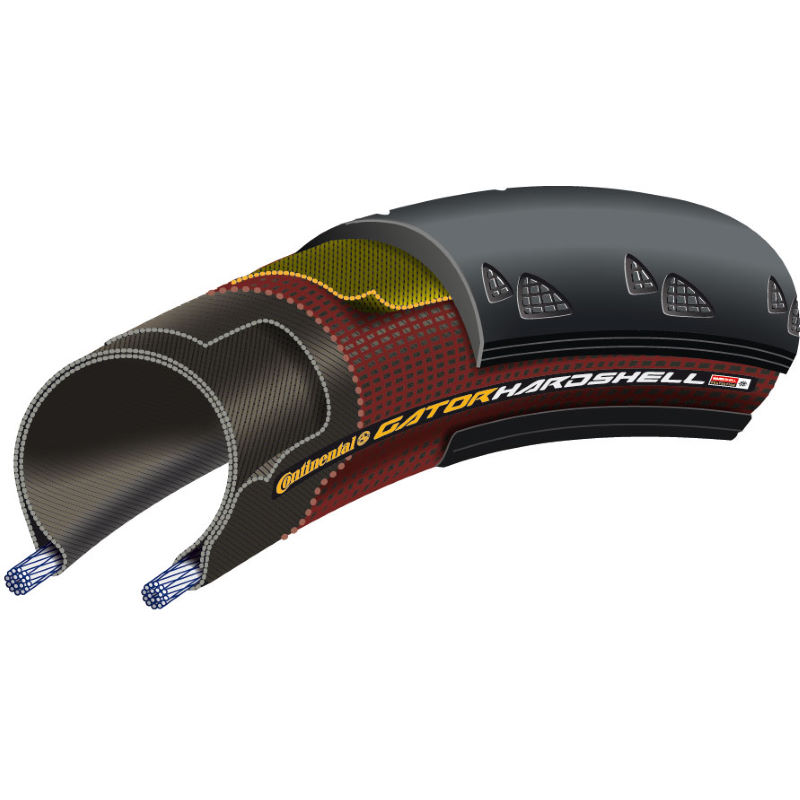 About Gator Skin 700x25C Road Bike Tyre
Continental Gator Skin road bike tire isn't called "the reptile" just for nothing. Continental Gator Skin rolls just like the snake scales along the country road. Smooth and firm and under control. Continental, a tire company founded in 1871 has poured its experience and insights in designing the world's best road bike, the Gator Skin.
Why the Gator Skin road bike tire is lauded as one of the best tire in the world sure has its reasons. One is PolyX Breaker, the puncture proofing technology that's used in car is now used to reinforce road bike tires too. PolyX Breaker is another name for tightly woven high density polyester fibre in cross fashion to strengthen the puncture proofing abilities of Continental Gator Skin road bike tire, without affecting the rolling prowess of the tire. Sharing its puncture proofing abilities with a car tire, you can roll mindlessly over shards and other harmful foreign objects sticking out of the road.
To strengthen the sidewall, DuraSkin, a high-quality polyamide fabric is used which is as good as its puncture proofing abilities. Think of tough tests like Paris-Roubaix, where Gator Skin road bike tire stands true to its name.
PolyX Breaker, DuraSkin and wear-optimised tread compound are some boasting features indicating its extremely long service life.
Top Features
Lightweight yet strong and durable.
PolyX Breaker and DuraSkin to strengthen its puncture proofing abilities.
To give you the idea of its power and performance abilities, GatorSkin is used in Grand Tours and other racing events.
About Bike Tires
Investing in a good robust bike tire means no stopping over punctures, care-free ride over potholes, shards, and other picky objects sticking out of the road. Before you buy a bike tire, make sure you're aware of the correct bike size, your purpose of buying a specific tire and what kind of bike riding(road, urban, off-road) you're into. Road tires are sleek and smooth, can retain high pressure. Hybrid tires are suitable for everyday city rides whereas mountain bike tires come equipped with treads for firm grip and handling over the uneven surface.
About Continental
More than 100 years experience in the development and production of bicycle tires has made Continental a unique company within the industry. Continental is the only German bicycle tire manufacturer to produce its tires in Germany. Knowing this serves as a mighty incentive to our engineers and everyone else involved in the manufacturing process to constantly strive for further innovations. In our technology and development center in Korbach, we are constantly developing new revolutionary technologies such as the unbeatable Black Chili Compound and the ultimate Vectran™ Breaker anti-puncture technology, both used at the top end of race sport. These technologies demand sophisticated processes to ensure our legendary end-product quality, and these innovations as well as the new "ProTection" and "RaceSport" technology for MTB tires, can only be manufactured in our factory in Germany – "Handmade in Germany".
Article No - 0118539
ETRTO - 25-622
Dimension - 700x25C
Technology - PolyXBreaker
Color/sidewall/Bead - black/black Skin
TPI - 3/180
weight - 310g
PSI - 95-120
Continental Gator Skin 700x25C Road Bike Tyre