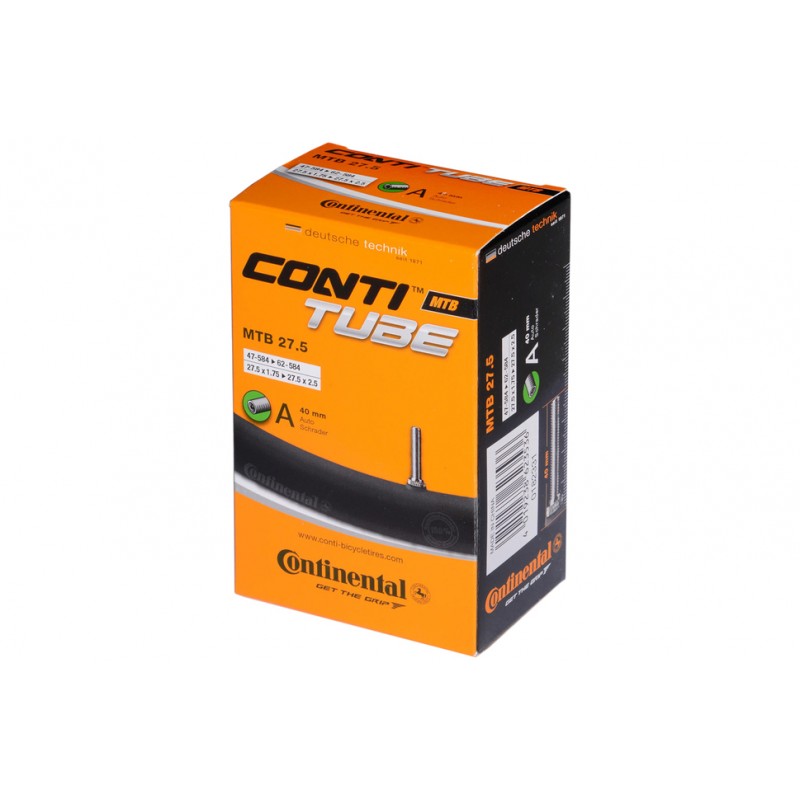 About Continental Schrader 27.5 Mountain Bike Inner Tube
The new ContiTube bicycle tube program makes it easier for you to find the ideal tube for your cycling demands. The user-friendly tube system is suitable for any size, length, design, type of valve and perfect for any tyre dimension and riding occasion. Varying tube types can affect your tyres' handling characteristics: the Standard tube, available in all dimensions is the best choice for everyday cycling whilst Light & Supersonic varieties give racers the option of lower rotating weight, therefore increasing speed. The lightweight tubes have a lower thickness and so it is imperative that inflation pressures are maintained to prevent the risk of pinch flats.
For worry free cycling, we recommend the Hermetic Plus tube. Its improved formula is lighter and more compact, which renders it very puncture resistant in the presence of higher butyl amounts and greater wall thickness. Since it retains air longer, it's a favourite among bicycle rental agencies. Our Freeride and Downhill tubes are especially strong and bulky, which make it one of our favourites, since their extra wall thickness effectively protects against punctures.
About Bike Tubes
Without a good bike tube, the bike is not functional. Though all the components and bike parts go hand in hand. But it's the tube that keeps your tires hard/inflated and helps them roll smoothly. Choose a bike tube that matches your bike tire and diameter for a correct fit. Presta and Shrader valves are most common valve types available in the market.
About Continental
More than 100 years experience in the development and production of bicycle tires has made Continental a unique company within the industry. Continental is the only German bicycle tire manufacturer to produce its tires in Germany. Knowing this serves as a mighty incentive to our engineers and everyone else involved in the manufacturing process to constantly strive for further innovations. In our technology and development center in Korbach, we are constantly developing new revolutionary technologies such as the unbeatable Black Chili Compound and the ultimate Vectran™ Breaker anti-puncture technology, both used at the top end of race sport. These technologies demand sophisticated processes to ensure our legendary end-product quality, and these innovations as well as the new "ProTection" and "RaceSport" technology for MTB tires, can only be manufactured in our factory in Germany – "Handmade in Germany".
ETRTO : 47-584>60-584
Dimension : 27.5x1.75>27.5x2.4
ContiTube Name : MTB 27.5
Auti Schrader : 40mm
Weight(g) : 235
Continental Schrader 27.5 Mountain Bike Inner Tube