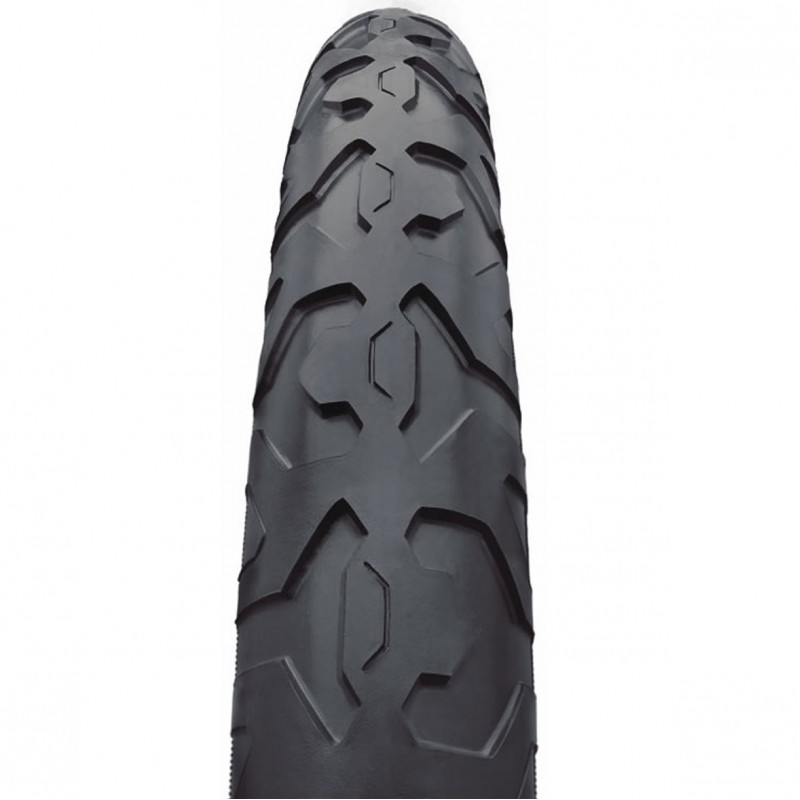 Continental Town & Country 26X1.9 MTB Bike Tire
Continental Town and Country mountain bike tire is one reliable tire to opt for. It's a tire meant for everyday use and commuting purpose.
With adequate amount of rubber where it's needed and the classic inverted tread design, this mountain bike tire is known for its reliability.
What's meant for everyday use can also be used for sporty leisure rides credit goes to its durable casing and long-lasting inverted style tread.
Top Features
Mesh Sidewall design for extra protection from shards and thorns and other harmful foreign material sticking out of the road.
Inverted tread design accounts for its durability.
About Bike Tires
Investing in a good robust bike tire means no stopping over punctures, care-free ride over potholes, shards, and other picky objects sticking out of the road. Before you buy a bike tire, make sure you're aware of the correct bike size, your purpose of buying a specific tire and what kind of bike riding(road, urban, off-road) you're into. Road tires are sleek and smooth, can retain high pressure. Hybrid tires are suitable for everyday city rides whereas mountain bike tires come equipped with treads for firm grip and handling over the uneven surface.
About Continental
More than 100 years experience in the development and production of bicycle tires has made Continental a unique company within the industry. Continental is the only German bicycle tire manufacturer to produce its tires in Germany. Knowing this serves as a mighty incentive to our engineers and everyone else involved in the manufacturing process to constantly strive for further innovations. In our technology and development center in Korbach, we are constantly developing new revolutionary technologies such as the unbeatable Black Chili Compound and the ultimate Vectran™ Breaker anti-puncture technology, both used at the top end of race sport. These technologies demand sophisticated processes to ensure our legendary end-product quality, and these innovations as well as the new "ProTection" and "RaceSport" technology for MTB tires, can only be manufactured in our factory in Germany – "Handmade in Germany".
Article No - 0122294
Dimension - 26x2.0
Weight - 550g
PSI - 45-58
Color/Sidewall/Bead - Black/black Skin
Technology - Sport
Continental Town and Country 26x1.9 MTB Bike Tyre