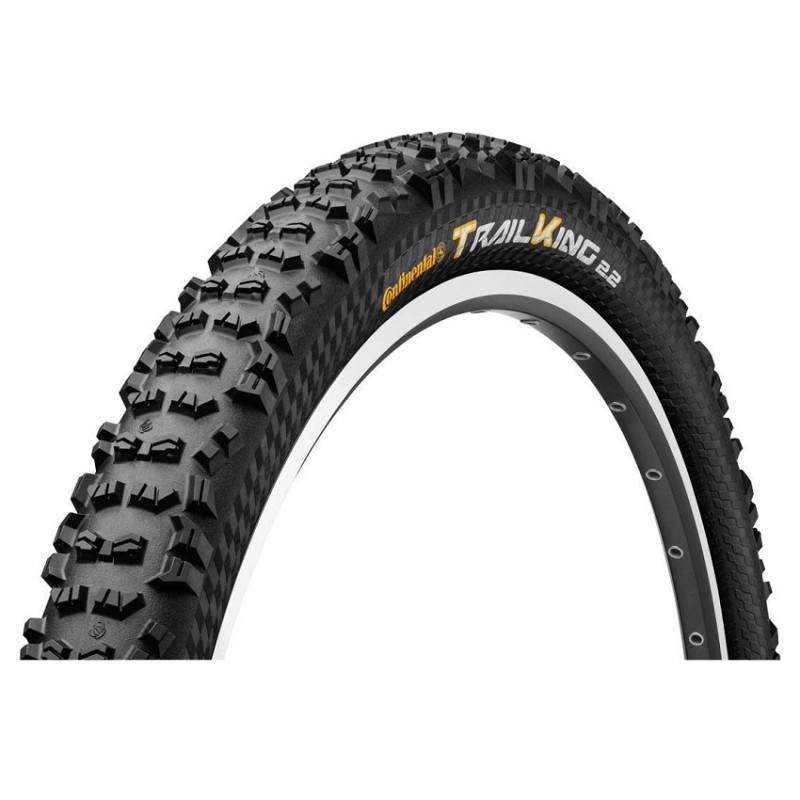 Continental Trail King 26x2.2 MTB Bike Tyre
If you're looking for a mountain bike tire that knows no limit, Trail King is something you should opt for.
Do a wheelie, jump(and then land safely) or slide your bike at the speed you can manage, Continental Trail King ensures faithful companionship in competitions, all kinds of terrain and race formats. Most of the mountain bike legends swear by its high performing abilities.
Equipped with BlackChili compound, trail king maintain a subsequently higher ratio between grip and rolling resistance. BlackChili ensures 30% more grip than advanced silica compounds which is used in many Continental tires available at wizbiker.com.
Explore trails new or old, or tame the unnerving mountain bike competition that's been on your mind since ages, Trail King with multitude of small knobs equally distributed on the face of the tire ensures best traction, best landing, best rolling abilities on any difficult trail. It's not the tire meant for roads, but for stealth performance in the mountainous trails and for flying high.
Top Features
BlackChili Compound ensures faithful grip, rolling resistance whilst adding life to the tire.
Good companion for mountain bike with or without suspension.
Multitude of small and hard knobs all over the surface of the tire ensures best traction.
About Bike Tires
Investing in a good robust bike tire means no stopping over punctures, care-free ride over potholes, shards, and other picky objects sticking out of the road. Before you buy a bike tire, make sure you're aware of the correct bike size, your purpose of buying a specific tire and what kind of bike riding(road, urban, off-road) you're into. Road tires are sleek and smooth, can retain high pressure. Hybrid tires are suitable for everyday city rides whereas mountain bike tires come equipped with treads for firm grip and handling over the uneven surface.
About Continental
More than 100 years experience in the development and production of bicycle tires has made Continental a unique company within the industry. Continental is the only German bicycle tire manufacturer to produce its tires in Germany. Knowing this serves as a mighty incentive to our engineers and everyone else involved in the manufacturing process to constantly strive for further innovations. In our technology and development center in Korbach, we are constantly developing new revolutionary technologies such as the unbeatable Black Chili Compound and the ultimate Vectran™ Breaker anti-puncture technology, both used at the top end of race sport. These technologies demand sophisticated processes to ensure our legendary end-product quality, and these innovations as well as the new "ProTection" and "RaceSport" technology for MTB tires, can only be manufactured in our factory in Germany – "Handmade in Germany".
Article No - 0100304
ETRTO - 55-559
Dimension - 26x2.20
Technology - Sport
Color/Sidewall/Bead - black/black Skin
TPI - 3/84
Weight - 1000g
PSI - 45-58
Continental Trail King 26x2.2 MTB Bike Tyre