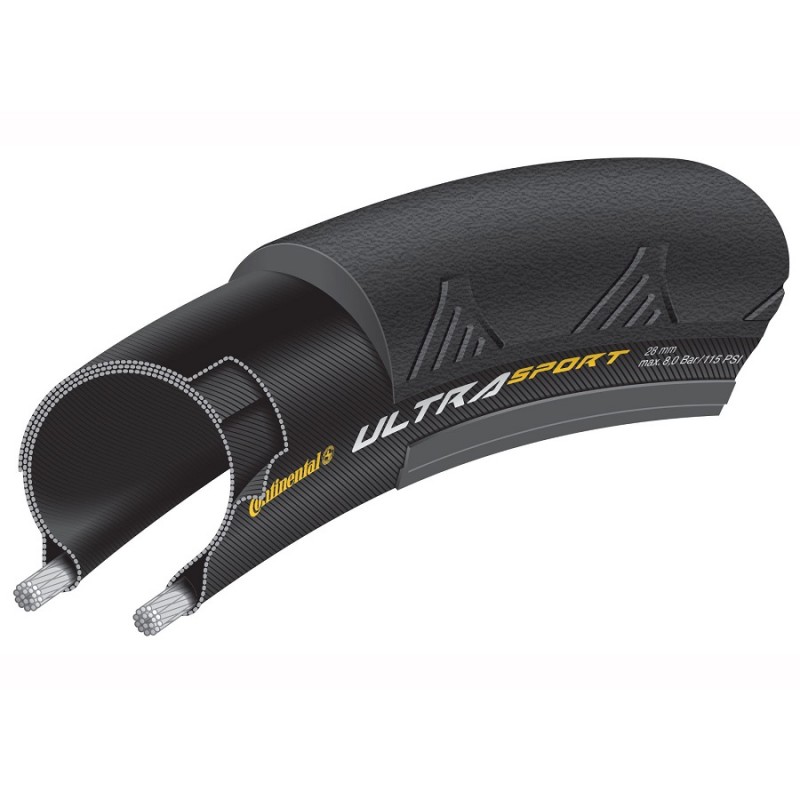 Continental Ultra Sport II 700X25C Road Bike Tire
Looking for a top-rated all-round road bike tire, with unlimited features in mind, but with limited budget to spare? It's hard to find an ideal road bike tire, but Continental Ultra Sport II road bike tire is the closest you can come to what we call "ideal".
Designed by Continental Tires, Ultra Sport II 700 x 25C wired road bike tire is a performance driven boots for your bike, with grips as good as that of a mountain bike tire and responsive handling on unfaithful roads. PureGrip Compound, based on activated silica compounds, ensures great grip and responsive handling. It's not just the grip on cobbled stones and gravel laden roads, PureGrip Compound is also long lasting and highly durable in nature, adding life to Ultra Sport II 700 x 25C road bike tire.
Top Features
Solid grip, responsive handling and durable tire because of PureGrip Compound used.
An all-round tire for training as well as racing events
About Bike Tires
Investing in a good robust bike tire means no stopping over punctures, care-free ride over potholes, shards, and other picky objects sticking out of the road. Before you buy a bike tire, make sure you're aware of the correct bike size, your purpose of buying a specific tire and what kind of bike riding(road, urban, off-road) you're into. Road tires are sleek and smooth, can retain high pressure. Hybrid tires are suitable for everyday city rides whereas mountain bike tires come equipped with treads for firm grip and handling over the uneven surface.
About Continental
More than 100 years experience in the development and production of bicycle tires has made Continental a unique company within the industry. Continental is the only German bicycle tire manufacturer to produce its tires in Germany. Knowing this serves as a mighty incentive to our engineers and everyone else involved in the manufacturing process to constantly strive for further innovations. In our technology and development center in Korbach, we are constantly developing new revolutionary technologies such as the unbeatable Black Chili Compound and the ultimate Vectran™ Breaker anti-puncture technology, both used at the top end of race sport. These technologies demand sophisticated processes to ensure our legendary end-product quality, and these innovations as well as the new "ProTection" and "RaceSport" technology for MTB tires, can only be manufactured in our factory in Germany – "Handmade in Germany".
Article No - 0150009
ETRTO - 25-622
Dimension - 700x25C
Technology - Performance
Color/Sidewall/Bead - black/black Skin
TPI - 3/180
weight - 340g
PSI - 95-120
Continental Ultra Sport II 700x25C Road Bike Tyre