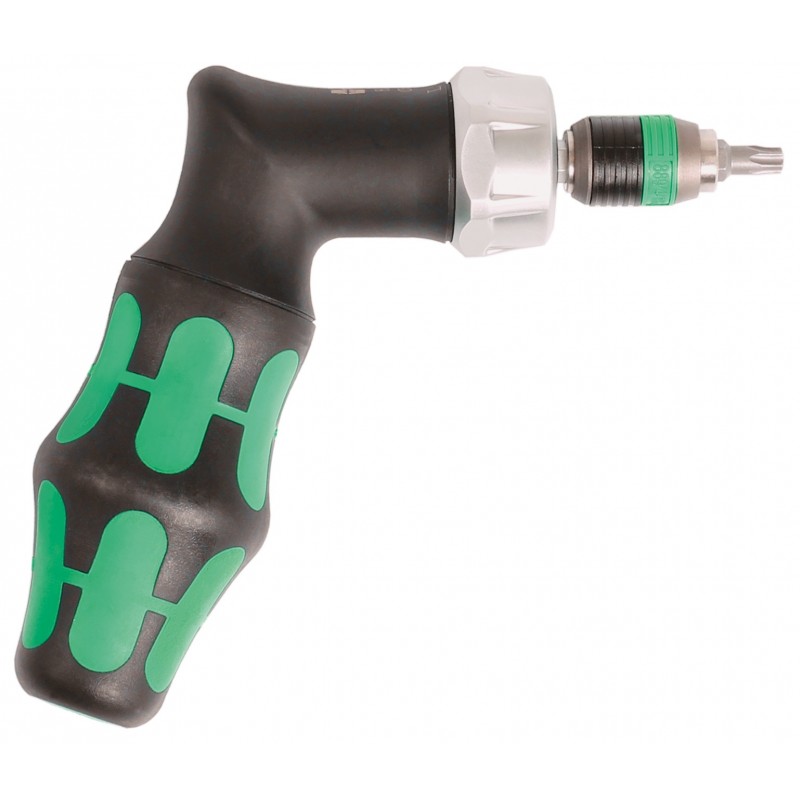 About Cyclus Wera Kraftform Pistol Bit Holder Tool
Description
WERA pistol format ratchet driver with 6 bit holder.A ratchet spanner with a pistol grip handle shape to enable comfortable and preceise work using the easily exchangeable assorted bits.The six bit storage area is integrated within the handle itself.The 44-part fine serration saves a lot of time when screwing. The direction switch is ergonomically designed. In addition, the lockable centre position makes it possible to carry out fine adjustment work without having to change the tightening directions every time.
Features
Ergonomic pistol handle shape for fast, safe and comfortable working,
Fine toothing ratchet for precise working,
Ratchet switch ring (clockwise, fixed, anti-clockwise),
High maximum torque capacity of up to 50 Nm,
Magnetic 1/4" standard hexagonal socket,
Single-hand function for lightning-fast bit changes,
Bit holder with 6 bits (25 mm length), suitable for holders according to DIN ISO 1173-D 6.3
Bits included
TORX - TX25 x 25 mm
TORX - TX30 x 25 mm
Hexagon socket - SW 3.0 x 25 mm
Hexagon socket - SW 4.0 x 25 mm
Hexagon socket - SW 5.0 x 25 mm
Hexagon socket - SW 6.0 x 25 mm
What is Cycling Tool ?
Various Cycle tools have evolved over the years into specialized tools for working on a bicycle. Modern bicycle shops will stock a large number of tools for working on different bicycle parts. This work can be performed by a trained bicycle mechanic, or for simple tasks, by the bicycle owner.
About Cyclus Brand
Cyclus Tools produce affordable, high-quality professional bike tools. Cyclus Tools are based in Germany and their cycle tools are used by professionals and home mechanics worldwide. Cyclus Tools aim to offer bicycle tools at competitive prices with no compromises in quality, making them equally perfect for both home cycle mechanics and workshop professionals alike.
Cyclus Wera Kraftform Pistol Bit Holder Tool