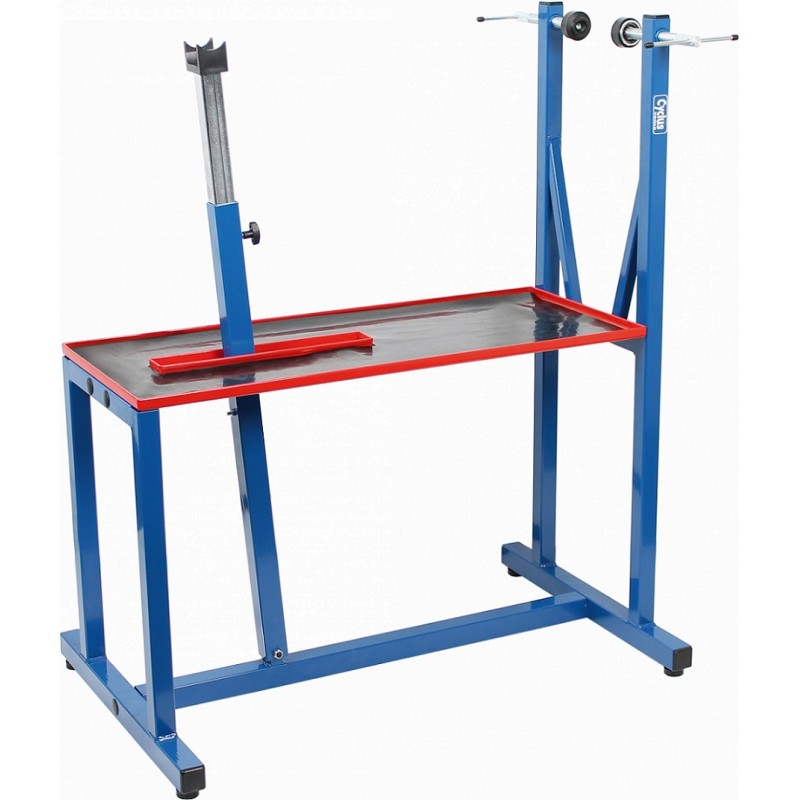 About Cyclus Workshop Repair Stand With Plastic QR Adapters
Description
The Cyclus Tools workshop stand has a solid frame that holds bikes up to 29" wheel size by the front wheel axle and supports the bottom bracket shell. This allows many repairs, assembly and maintenance work to be easily carried out. The ingenious under tray allows you to have the necessary tools/parts close at hand and helps keep the workshop cleaner. With the axle support adapters, all types of thru-axle and quick release system can be held securely and without damage. The axle support adapters are included in the delivery.
Advantages
Bicycle is securely fixed.
Wheels can turn freely.
Cables are free and easily accessible.
No frame clamping, so safer for paint and carbon frames.
The height and bike´s position is adjustable.
Incl. plastic axle support adapters (A,B,C,D).
Specifications
Clamping height: 37,40 inches (950 mm).
Tool tray's height: 22,65" (560 mm).
Length: 31,50" (800 mm).
Width: 19,69" (500 mm).
What is Cycling Tool ?
Various Cycle tools have evolved over the years into specialized tools for working on a bicycle. Modern bicycle shops will stock a large number of tools for working on different bicycle parts. This work can be performed by a trained bicycle mechanic, or for simple tasks, by the bicycle owner.
About Cyclus Brand
Cyclus Tools produce affordable, high-quality professional bike tools. Cyclus Tools are based in Germany and their cycle tools are used by professionals and home mechanics worldwide. Cyclus Tools aim to offer bicycle tools at competitive prices with no compromises in quality, making them equally perfect for both home cycle mechanics and workshop professionals alike.
Cyclus Workshop Repair Stand With Plastic QR Adapters