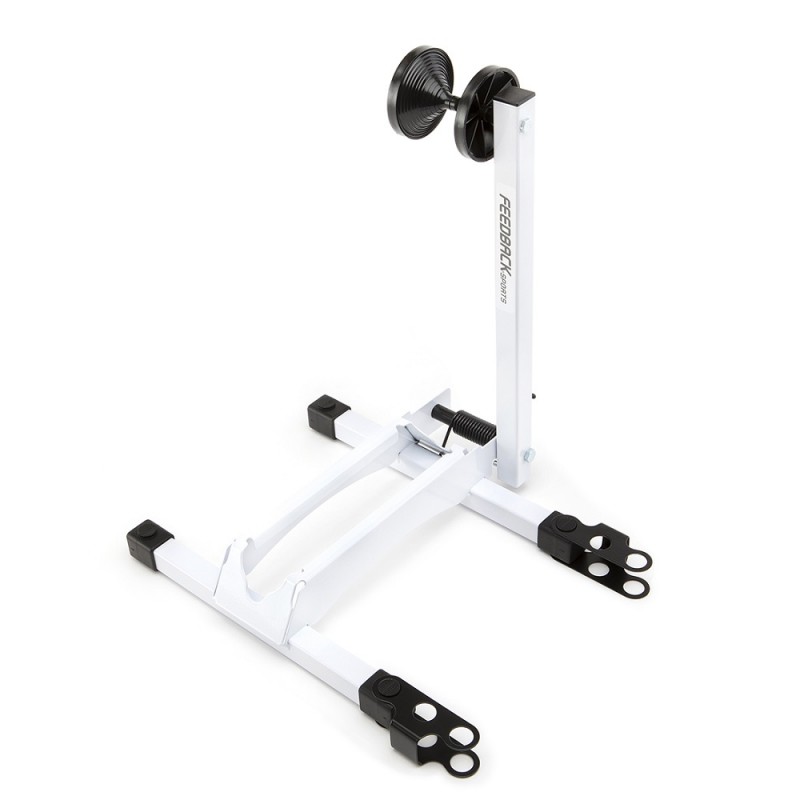 About Feedback Sports Rakk Bike Storage Stand White
Because you love your bicycles, when you're not riding them you want to protect them and you need a simple, non-permanent and effective bike parking solution. The often imitated, but never duplicated RAKK is a patented, versatile bike storage idea for front or rear wheel parking. Making contact with only your tire, the RAKK is an ideal bike parking solution for expensive road, cyclocross, mountain and electric bikes. And if you have several bikes, its modular design supports add-ons.
Features
Ideal bicycle storage space for apartments, garages, basements, sheds or retail bike shop.
Versatile design allows for bike parking with front or rear wheel without risk of scratching rims or spokes.
Storage system fits most any road bike, cyclocross bike, mountain bike, or electric bikes
Wheel slot accommodates 20mm road tires up to 2.4″ mountain bike tires.
Innovative design folds to a compact unit when not in use.
Spring-loaded design is hands-free – simply roll the bike into the wheel slot and the swing arm holds securely.
Modular attachments create 12″, 13.5″ or 15″ (30.5, 34.3, or 38.1cm) spacing and arranged in countless configurations.
Durable powder coated steel maintains a long-term clean finish.
Provides an awesome bike parking solution for even the heaviest of bikes
Available in black, white or silver
Available in RAKK XL for 2.5″ – 5″ tires
3-Year Warranty
About Feedback Sports
Based in Golden, Colorado, Feedback Sports was founded by avid cyclist/racer Doug Hudson in 2004 with his development of the Alpine Digital Scale to weigh bicycles. Early on, the scales were successfully distributed through another Colorado company named Ultimate Bike Support, which Feedback Sports acquired in 2008 to add bicycle work stands and storage stands to the Feedback product mix. Since then they've refined these proven, award winning designs and continue to develop new and innovative products. Their mission is to create products that they're proud of and believe in, while forging long-lasting relationships with their customers. Their passion for cycling led to an appreciation for high-performing, well-tuned machines and this flows into the products they make. Feedback Sports, as the name suggests, comes from an engineer's use of feedback loops and cycles to improve and stabilize systems.
Feedback Sports Rakk Bike Storage Stand White