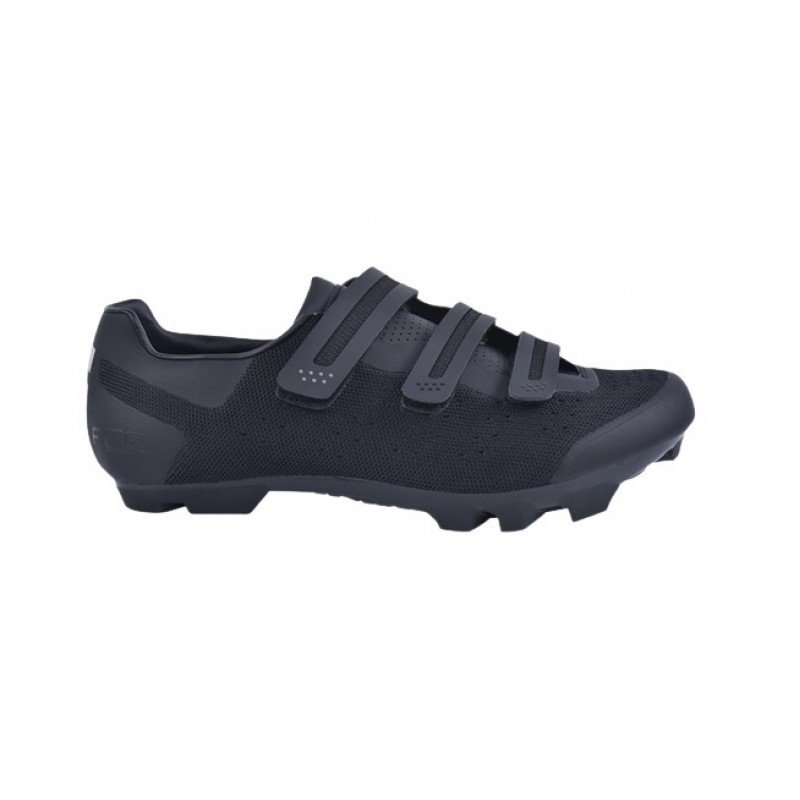 About FLR F-55 KNIT MTB Shoes Black
We remastered your favourite entry-level MTB shoe to be even better.This classic, yet affordable high-performance shoe is sleeker, more breathable and lighter than ever before.
Description:
Constructed with a high-quality triple layer of extra strong nylon yarn of XD-Knit to keep your feet secured but without ever getting too hot.
This super breathable shoe has a seamless upper constructed with TPU protection and features reinforced toe support.
The shoe features three Velcro straps to ensure a precise and secure fit that is easily adjustable while riding.
We upgraded the mesh heel lining and replaced it with leather to keep your heel safely secured in your shoes and gives
the remastered entry level shoe a more sophisticated look.The F-55 Knit features the M250 MTB outsole, constructed from nylon for superior power transfer.
This shoe has dual density sole lugs that increase your terrain grip, as well as removable toe spikes for cyclocross traction.
The full length arch support ensures your sole won't pack out over time.
Features:
M250 Road Outsole features new injected fiberglass and has widely spaced TPU walk pads with removable toe spikes
3 Layers of nylon yarn XD-Knit
3 Velcro straps
Molded EVA, breathable and removable insole
Spare MTB spikes included
What is Cycling Shoes?
Cycling shoes are shoes purpose-built for cycling. There are a variety of designs depending on the type and intensity of the cycling for which they are intended. Key features include rigidity, for more-efficient transfer of power from the cyclist to the pedals, weight, a method of attaching the shoe firmly to the pedal and adaptability for use on and off the bicycle. Most high-performance cycling shoes can be adjusted while in use, via a quick-adjusting system that has largely replaced laces.
About FLR Brand
FLR was founded on an intense passion for cycling, striving to provide every cyclist an opportunity to extend beyond their current aspirations and achieve their cycling goals. Each shoe is designed in close cooperation with professional cyclists around the world.
FLR F-55 KNIT MTB Shoes Black