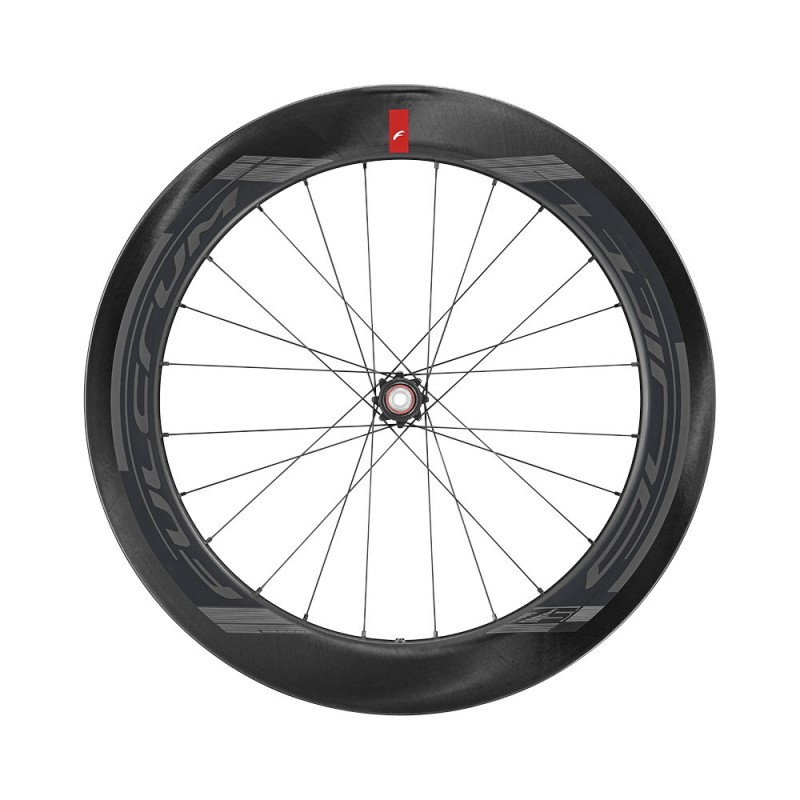 About Fulcrum Wind 75 DB Carbon Wheelset
The 75 DB model completes the WIND range. This high profile wheel is the best expression of all the aerodynamic research and development carried out by our engineers.The ultra-aero profile makes it the ideal wheel for time trials, triathlons and all situations where aerodynamics make the difference and you're pedalling at high speeds.
Description
The challenge of the project was focused on achieving high air penetration and speed numbers, without compromising the wheel's stability and handling, despite the height of the profile. This was achieved with thorough wind tunnel testing, that resulted in a new profile of the unidirectional carbon rim, whose internal and external dimensions are in line with current trends: rim width 27 mm and channel width 19 mm. The rim is 2-WAY FIT™, tubeless from the outset. It doesn't need any tape for sealing, simplifying and lightening the tyre-rim pairing, thanks to the rim machining with Mo-Mag™ technology. The rim is also stiffer and more resistant without holes. The spokes are double butted, rounded and straight pull (the best aerodynamic shape) and the nipples are in aluminium. As far as the internals are concerned, we have chosen sealed cartridge bearings housed in aluminium hubs, for both the front and rear wheel. Two extremely important aspects for the riders are the exceptional price/performance ratio, that makes this fast wheel more accessible compared to the SPEED range, and the possibility of buying only the rear wheel. The WIND 75 are the best choice for those looking for maximum speed and an access point to Fulcrum's carbon range. This beautifully designed wheelset, which will make your bike unique, are a precious ally when every second counts and the epitome of #FULCRUMFAST.
Features
Tyre Type : 2-Way fit (for clincher and tubeless)
Tyre Size : 28″
Discipline : Road / Triathlon
ASTM Category : 1
Weight : 1820g
Rim Material : Carbon
Rim Material Details : Full carbon, "UD" – carbon fiber finishing
Profile Height : High
Rim Height : Front and rear: 75mm
Rim Width : 27mm
Inner Rim Width (Channel) : 19mm
Tyre Width : From 23mm to 50mm
Braking System : Disc brake
Braking Surface/Brakes Options : AFS
Front Axle Compatibility : HH12-100
Rear Axle Compatibility : HH12-142
Front Wheel Spokes : 24 (16 left – 8 right)
Rear Wheel Spokes : 24 (8 left – 16 right)
Spokes: Material : Stainless steel, double butted
Spokes : Profile Rounded, straight pull Nipples Aluminum
Front Hub : Aluminum, Aluminum flanges
Rear Hub : Aluminum, Aluminum flanges
Bearings : Sealed cartridge bearings
Others : Aluminum Axle
Weight Limit : 120kg (bike, rider, equipment and luggage)
FWB Options : HG11, XDr, OptionalCAMPY N3W
About Fulcrum Brand
Since 2004, Fulcrum® has developed wheels for bikes with a sole, constant objective in mind: to deliver the best performance that modern technology can offer.A large part of this task is the responsibility of the R&D division engineering team in Italy. However, if you want to create ever faster wheels, you cannot focus solely on test bench results, you also need to gain feedback from top riders and cycling fans worldwide.And this is what we do: we race our bikes during lunch breaks or after work, we test our wheels by pushing them to the max, fitting them to the bikes of world champions, listening to suggestions and comments from the world of racing and from our clients.
Fulcrum Wind 75 DB Carbon Wheelset