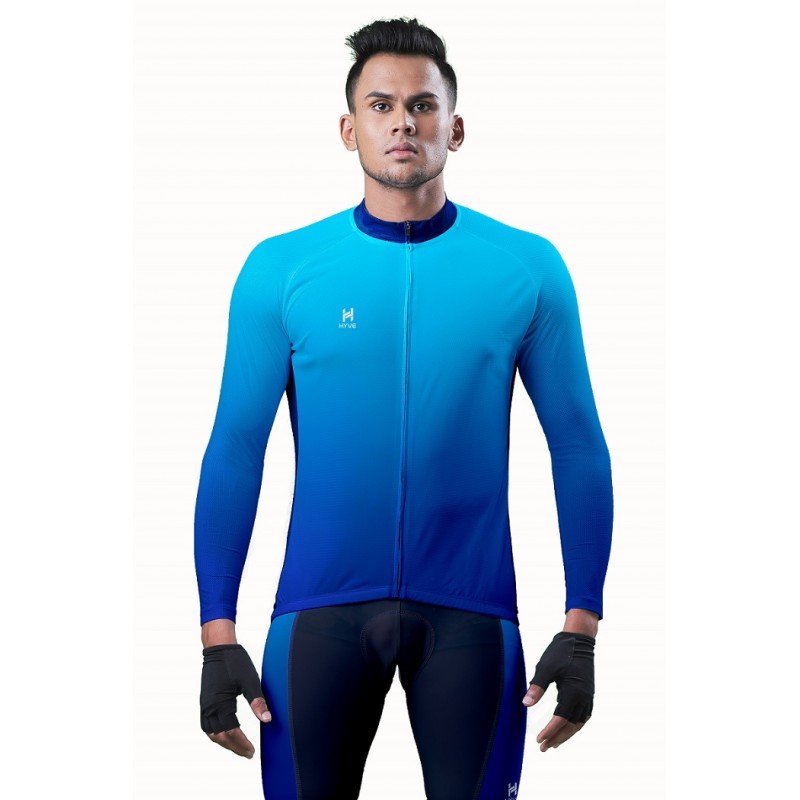 About Hyve Cycling jersey Aqua Blue
The product is made up of 100% Polyester fabric on body panels which have 2-way stretch and are equipped with Dry fit technology.
Poly elastane trim fabric is used on the sleeve which has a 4-way stretch property, this fabric is used for the sleeves and side mesh for super stretch and maximum mobility.
The entire construction of the cycling jersey is done to make the jersey highly breathable and Aerodynamic.
Specially designed Multifilament, Ventilated knit structured fabrics are used for higher breathability and moisture-wicking.
The jersey is equipped with heavy-duty 3 mm YKK, due to the use of a 3mm zipper the jersey is easy to put on and remove. The product has 3 back pockets and a safety reflector placed above the back pockets, at the bottom the jersey has Silicon elastic bottom hem finishing. This is jersey with club fitting as is to be strictly machine washed
Features
The front body and the back body panel are made out of a 2- way stretch.
100% polyester fabric which is lite and thin with soft texture.
The sleeve are made out of a 4 way stretch fabric for extra stretch and maximum mobility.
The jersey is also equipped with side mesh that is made of a special 4- way stretch porous material which increase the breathability of the jerseys.
About Hyve Brand
Hyve is India's first online customisation portal for active wear. Hyve was started by a group of sports enthusiasts from IIM Ahmedabad and NIFT with the idea ofmaking quality custom active wear easily accessible and a ordable. Hyve bringsto you at your fingertips, the best of customized sportswear to experience andenjoy every sport! Hyve has grown from a single room outlet to a leading custom wear manufacturer with fully owned manufacturing units in Kerala and Tirupur.
Through the online channel, Hyve has achieved a pan India presence and caters tothousands of clients yearly.
We are launching our 6 th generation cycling jersey which are designed to provide the aerodynamic support, wicking and added perfomence for the avid cyclist
Hyve Cycling jersey Aqua Blue