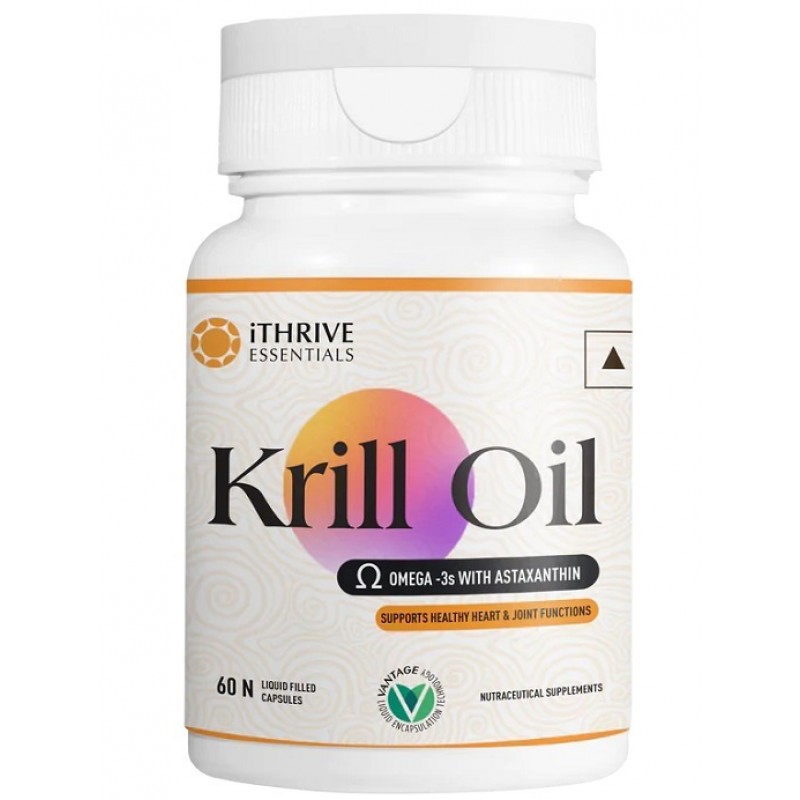 About Ithrive Krill Oil Omega 3 - (60 Capsules)
Specification:
iThrive Essentials presents Krill Oil Omega 3 supplement with EPA, DHA & astaxanthin (60 capsules).
iThrive Essentials Krill Oil Omega 3 supplement comes with phospholipid-bound forms of EPA (90 mg) and DHA (42 mg) from 750 mg Krill Oil per capsule along with 75 mcg astaxanthin which has also demonstrated exceptionally high bioavailability which provides support for heart, brain, and joint health.
Astaxanthin works in multiple ways, including suppression of free radical activity, inhibiting inflammatory factors and enhancing mitochondrial function. It also maintains krill oil's molecular stability.
'Warning: This product is derived from a Non-vegetarian source'
Benefits of taking Krill Oil:
Reduces inflammation.
Supports brain health & development.
Supports heart health.
Supports glucose metabolism.
Eliminates free radicals.
Supports healthy blood lipids.
Helps with joint health.
Helps support PMS symptoms.
Unique Features:
GLUTEN-FREE
NON-GMO
SUGAR-FREE
SOY-FREE
DIETARY SUPPLEMENT
QUALITY ASSURED
What is Krill Oil? Is it the same as fish Oil?
Krill oil is an oil derived from a tiny shrimp-like marine crustacean called krill. The omega-3-rich oil contains two of the same essential fatty acids as fish oil (eicosapentaenoic acid, or EPA, and docosahexaenoic acid, or DHA). The EPA and DHA in krill oil are said to have higher bioavailability (rate of absorption) compared to fish oil because much of the EPA and DHA in krill oil is bound to phospholipids.
Compared to fish oil, krill oil contains higher amounts of astaxanthin—a carotenoid pigment that gives krill and other crustaceans their characteristic red-pink colour. Astaxanthin is a unique lipid-soluble antioxidant, which may help protect cells from harmful free radicals which are not found in most fish oil supplements. Plus, you don't have to be concerned about potential contaminants and pollutants often found in fish oil and certain fish you might eat. Because krill are at the bottom of the food chain, they are virtually free from pollution found in fish and fish oil.
Suggested use for Adults: Take 2 capsules daily with meals or as suggested by qualified healthcare professionals.
Allergen Warning: contains crustacean shellfish (krill).
Not manufactured With: Milk, eggs, fish, tree nuts, peanuts, wheat, soy, or gluten.
What is so unique about iThrive's Krill Oil supplement?
iThrive Essential's Krill Oil provides 750 mg of Krill Oil in one serving which is more than enough amount of Krill Oil in one capsule as compared to other local Indian brands which provide around 500-600 mg. Plus iThrive supplements are relatively free of fillers, binders, and preservatives. Also, this supplement is sold at a very unique budget-friendly price at this premium quality.iThrive is dedicated to providing the highest quality health & wellness products, achieved through extensive research and the best ingredients. That's our commitment, from our family to yours.
About Ithrive Brand
For our body to be healthy and function optimally, it needs certain amounts of vitamins and minerals. Clean supplements are needed to overcome deficiency in these nutrients. To ensure that, we recommended our clients to buy foreign brand supplements. Frustrated with the Indian nutraceutical market we decided to develop our own supplements. We also plan to ship our supplements internationally.
After deep comprehensive research and experimentation, we have formulated the cleanest, most bioavailable, filler-free supplements. Our supplement are comparable to top foreign brands while being cost-effective. We aim to provide top quality supplements that are easily available in the Indian market.
Ithrive Krill Oil Omega 3 - 60 Capsules