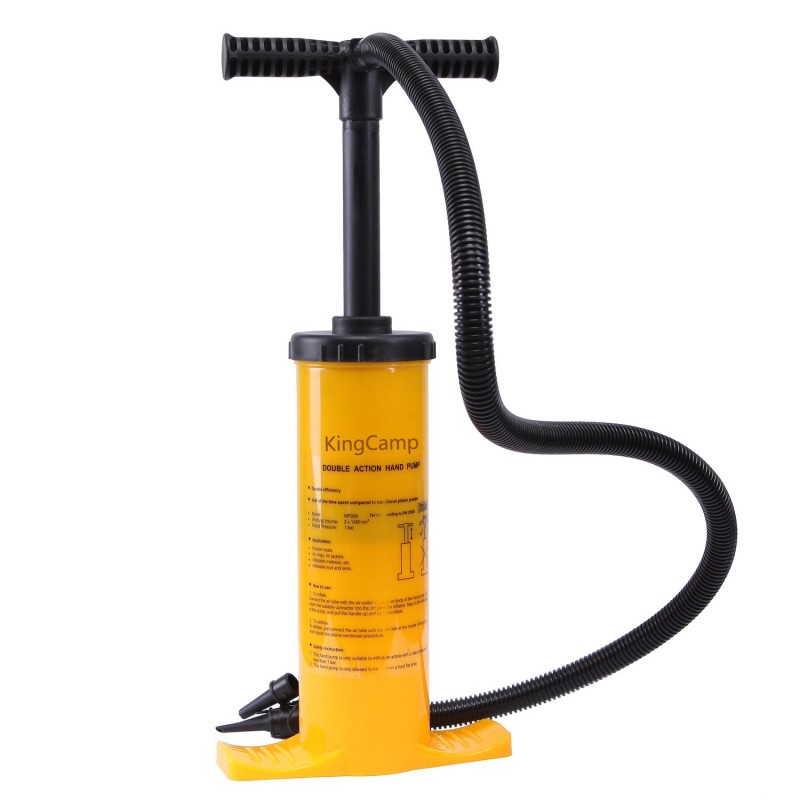 We are now shipping to all ALL ZONES across India. Further, NO DELIVERY is permitted in CONTAINMENT ZONES as of now.
About Kingcamp Double Action Hand Pump Yellow Black KA3633
This KingCamp double action air pump is hand pump can inflate and deflate, with 3 universal valve, can fit most of valve port, you buy one this pump can use for many inflatable products. Its hose is accordion design, the length can be stretched to 5 fits, very convenient to use. And also, the hose can interlock with handle and valve to avoid falling off while you are pumping. Both the handle and pedal are concave-convex design to add rub, make the pumping easily. As it is double action pump, when inflating, you fix the hose on handle INFLATE, when you need deflate, just to fix the hose on DEFALTE, very convenient tool. It is perfect for kayaks, boats, airbeds and other inflatable's.
It has 3 styles for valves, can use for many inflatable products
Hose can last up to 5 long suits, very convenient to use
Concave-convex design of the handle and pedal to add scrub
The hose can be interlocked with handle and valve to avoid falling while you are pumping
Package Incluedes :
Specification :
Material : PP + ABS
Capacity : 2 × 1400 CC
Color : yellow Black
About Kingcamp Brand
The KingCamp Brand was founded by Shu Guoking from China who in 1993 trekked across China into Europe where the freedom and beauty of the outdoors led to be making the decision to return to his native home to begin the process of building a company that would make accessing the beautiful outdoors globally easy and affordable without compromising quality or performance.Shu developed the corporate motto of; "LEARN TO LOVE OUTDOORS" as a result of his experiences.
Kingcamp Double Action Pump KA3633