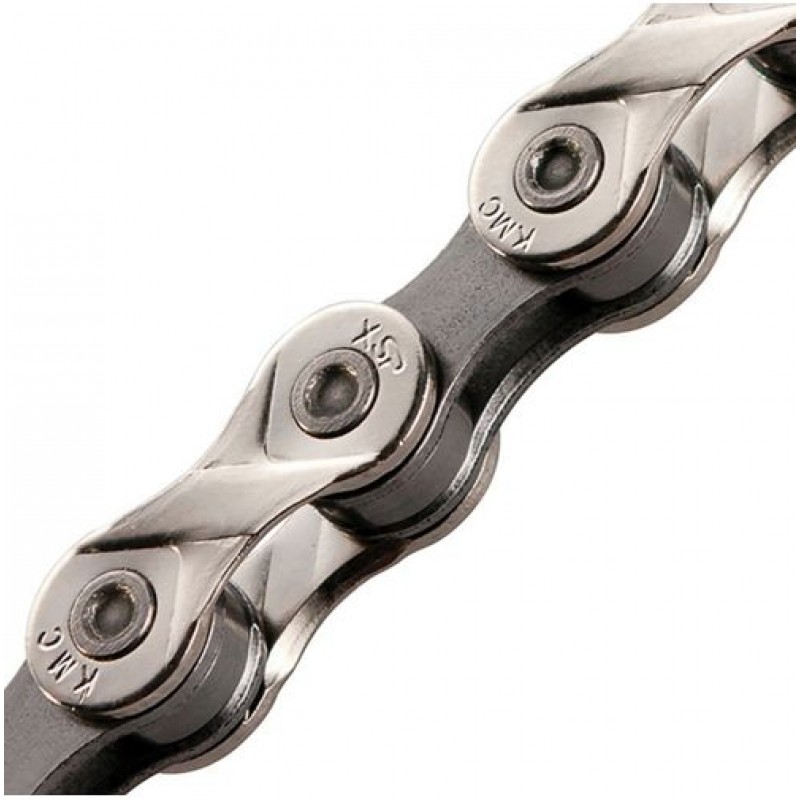 About KMC X9-93 Bike Chain 9 Speed Silver/Grey
SPECIFICATIONS
1/2×11/128″
116 Links
300 grams
COMPATIBILITY
BIKE APPLICATIONS
MTB,Road
FEATURES
DOUBLE X BRIDGE SHAPE -Super fast + smooth shifting.
STRETCH PROOF TREATMENT
MUSHROOMED RIVETING
OUTER PLATE CHAMFERING
INNER PLATE CHAMFERRING
HALF NICKEL PLATED
Cleaning
Clean your chain after every ride, especially after riding in the wet.
Always use a piece of dry cloth to clean the chain.
Do not forget the sprockets, front changer and derailleur pulleys.
To remove mud or sand, use the bristle brush (which comes with every 120ml packing of KMC's chain lube Pro), use light soapy warm water, if necessary.
Do not use acidic or alkali based detergents (such as rust cleaners), these can damage the chain and may cause breakage
Do not dip your chain in (aggressive) degreasers - they remove the remaining grease from the chain's bearings, and may cause cracks. They are also bad for our environment.
If the chain is really dirty and difficult to clean, besides using a brush for the inside, try putting some solvent on a cloth and use it to clean the chain's exterior.
Try to avoid a so-called 'chain washing machine' in combination with solvent. This will instantly ruin your chain.
Some lubricant brands advise you to completely degrease the chain, KMC does not recommend this.
Before re-connecting your chain, clean the chain ends inner bearings to make sure no dirt remains, then apply some grease inside and on the connector's pins.
Finally test the chain by running and shifting the gears, to make sure the system functions perfectly.
For road use, inspect your chain at least once every month or every 250 kilometres (150 miles).
For off road use, inspect your chain at least once every 100 kilometres (60 miles).
Inspection
Regularly inspect your chain for:
wear
damage
surface condition (rust etc.)
Tips for chain cleaning


About KMC
With over 40 years experience in manufacturing, KMC adopts the state-of-the art technology. However, we always know what is most important: the people behind the company and their connection to you and the product. Actively involved in cycling we always look to make the best possible products, which results in very interesting innovations and tremendous product improvements.
We thank you for your interest in our products, and invite you to try KMC - we will not let you down!
KMC X9-93 Bike Chain 9 Speed Silver/Grey