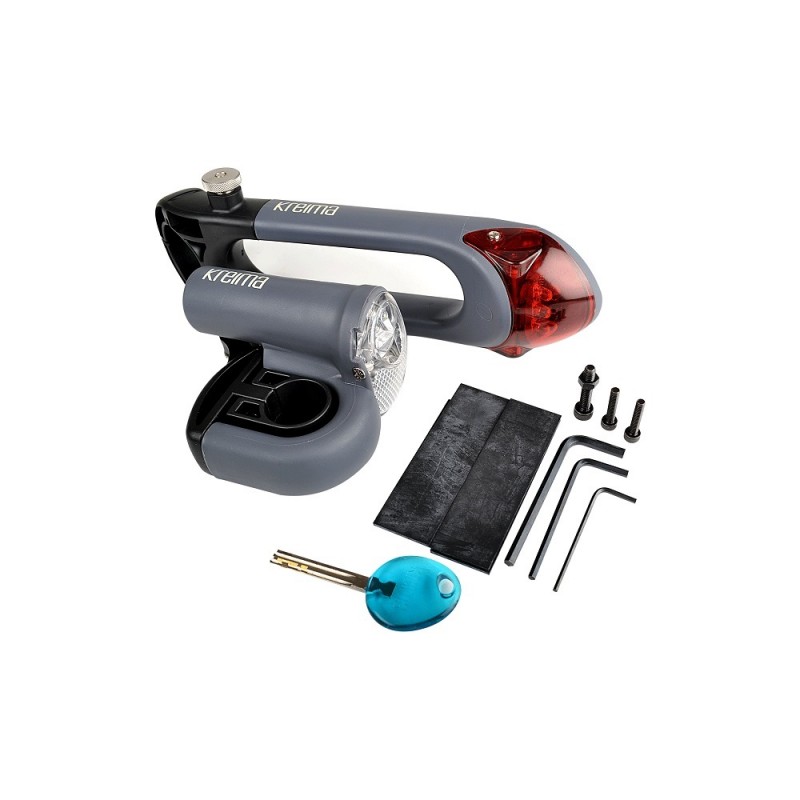 About Kreima Heimdallr KS-001 light U-lock
Dual function. Safety & Security in 1
Headlight and tail light lock
With anti-drilling, anti-picking and anti-cutting disc cylinder attributes
Solid 10mm thick stainless steel body
4 lighting modes
Easy to install and assemble/disassemble
High brightness illumination Headlight lock uses 5 white LED lights that run for 21 hours with alkaline battery.
The tail light uses 3 red LED lights that last up to 115 hours with alkaline battery.
Four lighting mode
One-touch button allows you to easily switch the light to four different modes: Constant, quick flash, slow flash and off mode.
About Cycling Lights
Cycling lights serve two purpose. One, to be seen on the road. Other, to see. Ideally suited for evening, night and early morning rides, cycling lights are an essential bike accessories riding without which is a risky affair. From powerful headlamps to flashy(and blinking) red rear lights enhance your visibility on the road. While a moderate headlamp would suffice to ride in an urban riding conditions, whereas you may need to clip the most powerful headlamp to your bike if you're going on an extended trail ride.
Solid 10mm thick stainless steel body
4 lighting modes
Easy to install. Easy to assemble and disassemble
5 white LED lights in headlight
3 red LED lights in tail light
4 lighting mode
One touch operation

Kreima Heimdallr KS-001 light U-lock