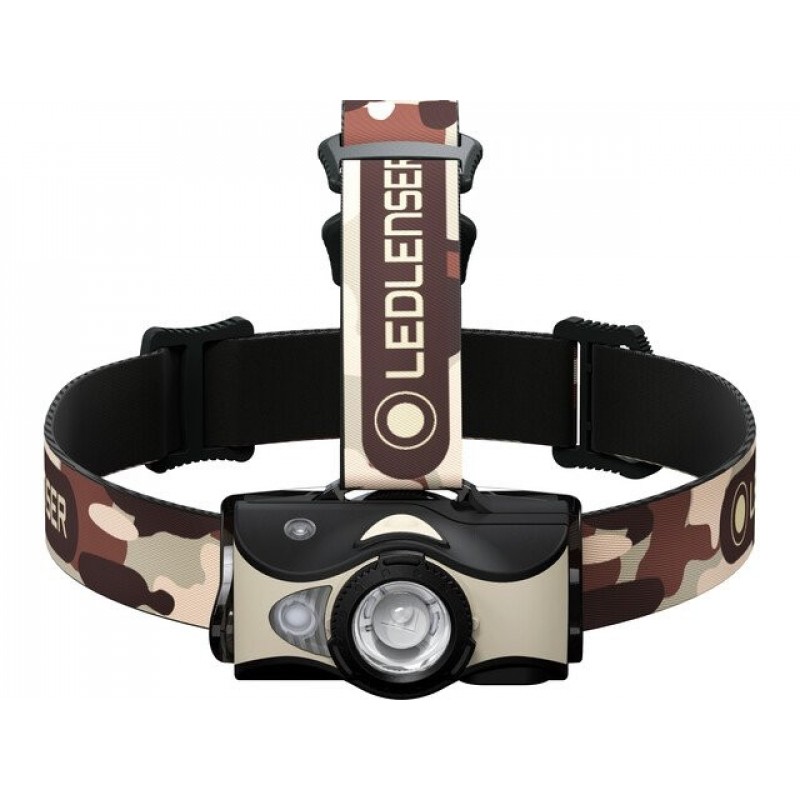 About LED Lenser MH8 Rechargeable Head Lamp Black Sand
With your MH5 you can enjoy maximum flexibility, even in the wilderness. Thanks to the removable lamp head, it can be used as a headlamp or handheld light. The integrated lithium-ion battery can be charged quickly at home using the magnetic USB charging cable – or onlonger trips without access to a power source, you can use conventional disposable batteries. Get through long nights using the energy saving mode, or choose constant light mode for especially consistent LED power. And for sure you can choose between red, green or blue light.
Power - high light output for every situation
Low Power - economical light for long battery life, glare-free reading and working
Mid Power - medium light output for every situation
Boost - short-duration maximum power for more brightness
Blink - automatic emission of light impulses at regular intervals
Turn, press or both - how to switch these Ledlensers on:
Front Switch - a switch on the head of the flashlight so you can use one hand
That special something about this Ledlenser:
Transportation Lock - prevents the light from being turned on inadvertently
Dimmable - seamless adjustment of the luminosity
Red Reading Light - Red LED
Safety features of this Ledlenser:
IP54 - Protection against water projected in powerful spray
Full control over your power status:
Low Battery Warning - it warns you when the battery is low
Charge Indicator - it shows the current charge status of the battery
By using rechargeable batteries, you're not just protecting your wallet, but also the environment. Regular batteries, after all, require up to 500 times more electricity to produce than they can release themselves. Combined with the energy consumption for transport and storage, the CO2 emissions are huge.
Specifications :
LED
LED Configuration 1 : x Power LED
Luminosity1 : MAX 600 lm - MIN 20 lm
Lighting Range1 : MAX 200 m - MIN 40 m
Battery Duration1 : MAX 60 h - MIN 7 h
Battery and Casing
Battery : 2x14500 Battery Pack 3.7V
Battery Capacity2 : 5.73 Wh
Water Resistance : IP54
Rechargeable : Yes
Height and Weight
Head Diameter : 31 mm
Weight : 140 g
About LED Lenser Brand
Discover the enlightening story of the Ledlenser brand – from its beginnings in the 1990s to today's international company.As a leading international brand of hand-held torches and head lamps, LED Lenser is renowned for superior German engineering, outstanding performance, and state-of-the art technologies, such as the patented Advanced Focus System and Smart Light Technology. Constantly driving innovation to provide class- leading lighting instruments, LED Lenser is the brand of choice for professional tradesmen, emergency services personnel, search and rescue teams and serious outdoor enthusiasts. LED Lenser hand torches and head lamps deliver breath-taking, bright homogenous white light that turns night into day and simply has to be seen to be believed. Using only the finest materials, such as energy-efficient CREE LED light chips, aircraft-grade aluminium and gold-plated contacts, they are renowned for quality and have a reputation for reliability that is second to none.
LED Lenser MH8 Rechargeable Head Lamp Black Sand