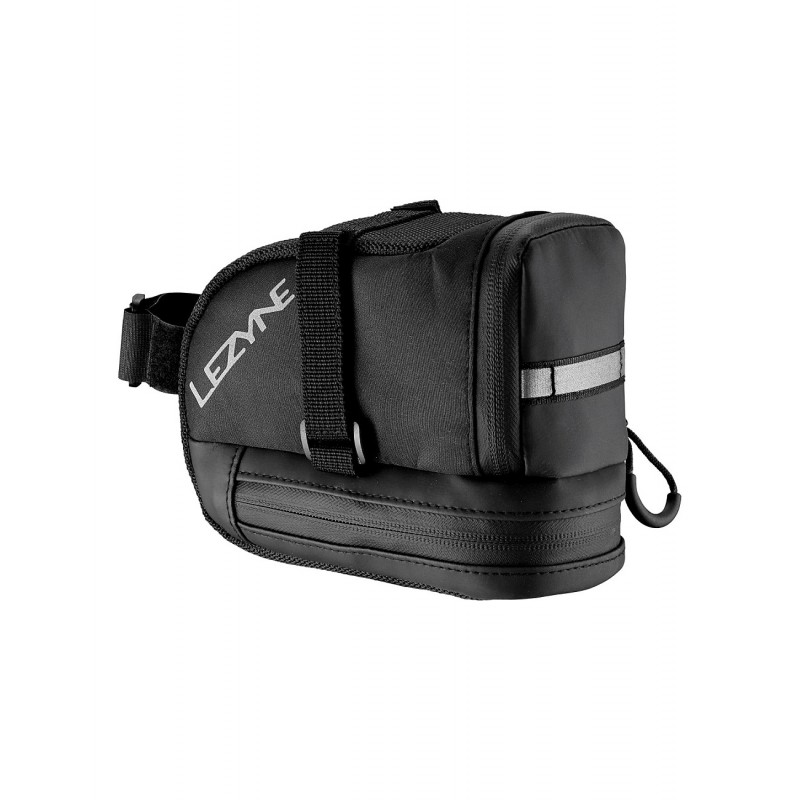 Lezyne L Caddy Saddle Bag Black
Almost a litre of space(0.95 to be precise) for you to use, Lezyne L-Caddy counter the storage spacing issues intelligently with its labelled organizational pockets when compared to other brands.
The bag comes with two compartments, large main with labelled organizational pockets and another sub compartment to store multi-tool or mobile phones. Labelled organizational pockets makes for an easy access to the things required in dire situations, while the sub compartment can store items which are used at a much frequent rate. All in all, it's the smartest usage of storage space provided.
With Velcro straps, it can be attached to saddle rails and seat post for a firm/snug fit. Woven nylon construction is one tough setup for a bike saddle bag you'll ever see.
Small yet mere details like reflective logo and the loop increases night visibility. The bag's meant for all weather use as it's water resistant(including the zipper).
Buy Lezyne L Caddy Saddle Bag online in India at wizbiker.com. Free shipping.
Top Features
Labelled Organizational Pockets for every item for storage purpose.
Water resistant design profile including the zipper
Reflective logo and detailing for the visibility check
Woven nylon construction – Shamelessly durable in nature
About Cycling Bags
Cycling bags are divided into few categories – frame bag, saddle bag, triangular bag, touring bag. Perfect for carrying spares, multi-tools, tubes, money and energy bars. Cycling bags available in the market are equipped with Velcro strap and silicone mounting material which offer a snug fit, also making it easier to attach/detach from the bike. As you go up the price range, you'll find reflective detailing or an LED light loop for better visibility.
About Lezyne
At a time when inexpensive, plastic, catalog-copied accessories that didn't work were the standard, Lezyne's goal was to engineer and produce premium quality accessories that meet the same high standards as high-end bicycle components. In few words, Lezyne's goal was Engineered Design. Today, the goal remains the same and Lezyne is now a cycling accessories industry leader with award winning products world-wide. Lezyne USA has been distributing cycling products worldwide since the end of 2007. They specialize in producing quality hand pumps, multi tools, tire repair kits and hydration packs.
Weight: 115g
Dimensions: 170x60x125 mm
Cargo: 58in³ | 0.95L
Color: Black
Article No:- 1-SB-CADDY-V1L04
Lezyne L Caddy Saddle Bag Black