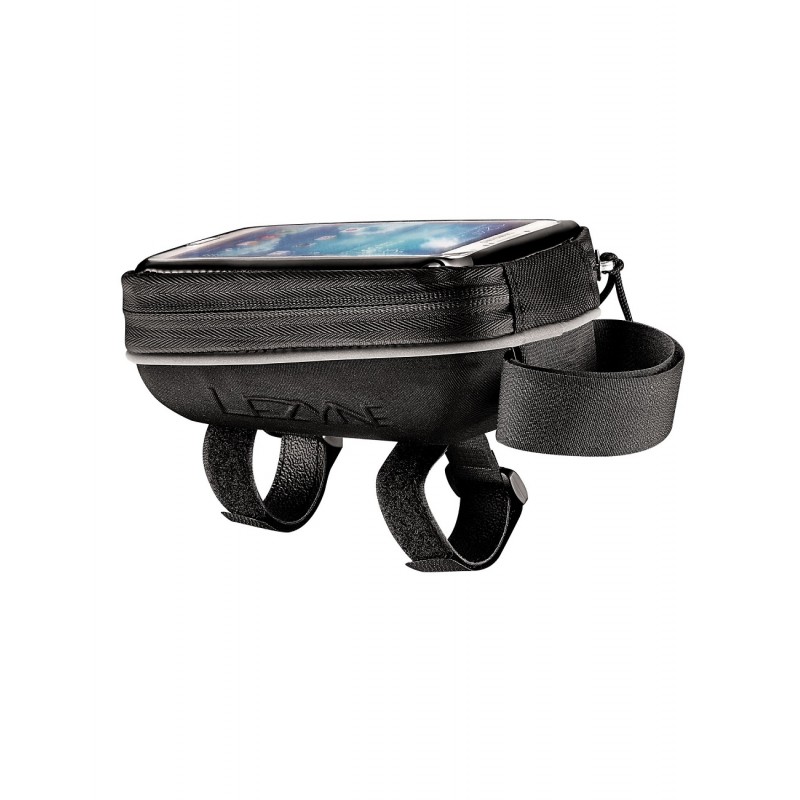 Lezyne Smart Energy Caddy Top Tube Bag
Lezyne Smart Energy Caddy is a top-tube bag cum smartphone holder. Formed of two roughly equal parts separated with a zipper, Smart Energy Caddy is a cure for all your storage issues. It's clamshell design consist of a smartphone holder with a touchscreen compatible cover. And the other part is a rigid storage space to store miscellaneous items.
The rigid part is made up of moulded EVA foam structure, where the top part(the smartphone holder get its durable nature from woven nylon). Smartphone pocket is good enough for popular 4-5 inch smartphone devices.
To prevent it from rolling over at the top-tube, three Velcro strap keep the bike bag in place. It's water resistant in nature, meant for all weather use, including the zipper.
Buy Lezyne Smart Energy Caddy online in India at wizbiker.com. Free shipping.
Top Features
It's a top tube bag cum smartphone holder at a price of one.
Clamshell design profile for easy access to items stored inside.
Clear, touchscreen compatible cover.
Smartphone pocket accommodates 4-5 inch smartphone devices.
Made up of moulded EVA Foam and durable woven nylon cover.
About Cycling Bags
Cycling bags are divided into few categories – frame bag, saddle bag, triangular bag, touring bag. Perfect for carrying spares, multi-tools, tubes, money and energy bars. Cycling bags available in the market are equipped with Velcro strap and silicone mounting material which offer a snug fit, also making it easier to attach/detach from the bike. As you go up the price range, you'll find reflective detailing or an LED light loop for better visibility.
About Lezyne
At a time when inexpensive, plastic, catalog-copied accessories that didn't work were the standard, Lezyne's goal was to engineer and produce premium quality accessories that meet the same high standards as high-end bicycle components. In few words, Lezyne's goal was Engineered Design. Today, the goal remains the same and Lezyne is now a cycling accessories industry leader with award winning products world-wide. Lezyne USA has been distributing cycling products worldwide since the end of 2007. They specialize in producing quality hand pumps, multi tools, tire repair kits and hydration packs.
Weight: 81g
Dimensions: 80x60x115mm
Color: Black
Article No:- 1-EC-SMART-V104
Lezyne Smart Energy Caddy Top Tube Bag