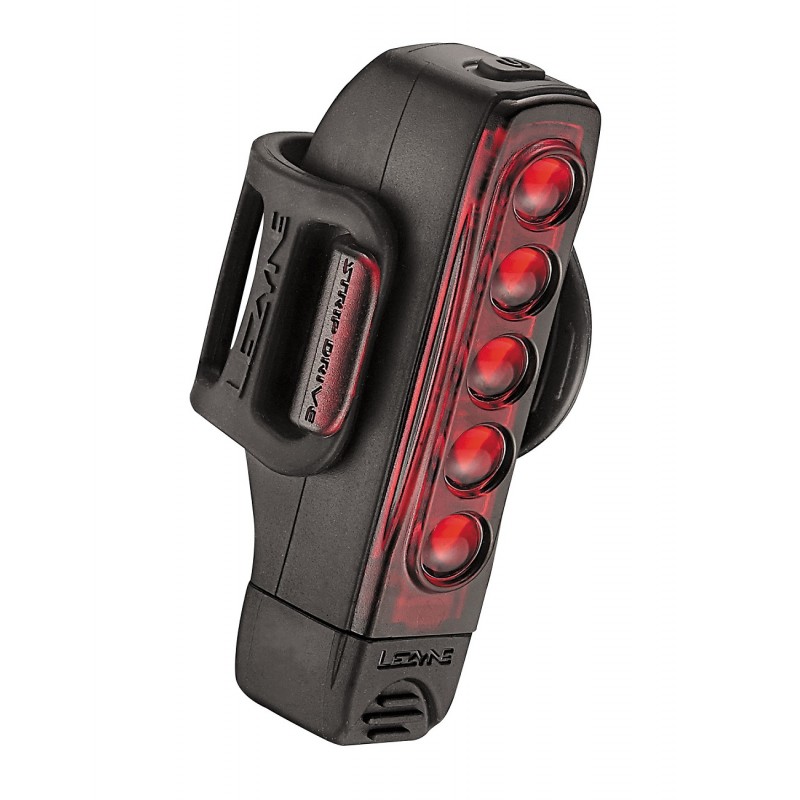 Lezyne Strip Drive LED Rear Bike Light, Black
Riding without a bright safety bike light, tail light is a terrific sight to imagine on a city road in the evening or when it's dark. It's better to be safe than sorry and invest in a light that's actually visible to the traffic, no matter the time of the day.
Lezyne Strip Drive LED Rear Bike light emits 25 lumens of bright red beam through its powerful 5 LED lights. The beam is further brightened by the technology MOR(Maximum Optical Reflection) with built in side reflectivity which ensures that you're visible to the people you're sharing the road with.
At 69g, it's well thought-out creation of technology coupled with durable co-moulded lens/body construction. Apart from the well constructed body, it's easy to operate too. Hold the power button for two seconds to power it on/off. Once run out of the charge, the bike tail light can be charged via the integrated cable-free USB charging stick given at one end of the light. Of course, you'll be notified of when to charge it via the battery indicators located on the light body.
Buy Lezyne Strip Drive LED Read Bike Light online in India at wizbiker.com. Free shipping.
Top Features
Unique aero and round bar compatible design – Can be attached to the seat post or handlebar.
Easy snap-on rear bike light. Mounting strip strap included in the package.
Mode Memory function - Returns to the selected mode after turning off.
About Cycle Lights
Cycling lights serve two purpose. One, to be seen on the road. Other, to see. Ideally suited for evening, night and early morning rides, cycling lights are an essential bike accessories riding without which is a risky affair. From powerful head lamps to flashy(and blinking) red rear lights enhance your visibility on the road. While a moderate headlamp would suffice to ride in an urban riding conditions, whereas you may need to clip the most powerful head lamp to your bike if you're going on an extended trail ride.
About Lezyne
At a time when inexpensive, plastic, catalog-copied accessories that didn't work were the standard, Lezyne's goal was to engineer and produce premium quality accessories that meet the same high standards as high-end bicycle components. In few words, Lezyne's goal was Engineered Design. Today, the goal remains the same and Lezyne is now a cycling accessories industry leader with award winning products world-wide. Lezyne USA has been distributing cycling products worldwide since the end of 2007. They specialize in producing quality hand pumps, multi tools, tire repair kits and hydration packs.
Max Lumens: 25
Weight: 69g (without strap mount)
Size: 87x37x34 mm
Recharge time: 2.5hrs (1A) / N/A (2A)
Color: Black
Article No:- 1-LED-21R-V104
Lezyne Strip Drive LED Rear Bike Light, Black - 25 Lumens