About Light & Motion Rando 500 Bike Headlight Black/Tan Extended Runtime


Description
Rando is designed for extended adventure perfect for dynamo setups, touring, commuting, and off-grid riding. Featuring all of the safety innovations of the Urban series, the high capacity lithium-ion battery has enough juice to power the light for a full 3 hours on high and a mighty 24 hours in daytime pulse mode! For those that find themselves on an extended adventure, Rando is the first high-visibility bike light that allows the light to trickle-charge while in use. Perfect for dynamo setups with a USB charger or an external battery pack, cyclists can now rely on powerful safety lighting even if conventional charging is unavailable. Reliable construction is a prime consideration for extended rides and Rando's waterproof lighting platform has a certified IP67 rating - meaning the light is certified to withstand water immersion up to a depth of 1 meter. Ride with the added assurance knowing rain or shine the light will keep performing. Whether competing in endurance racing, bike packing across the country, or commuting over 3 hours a day with no place to recharge - Rando is the ultimate long runtime lighting solution.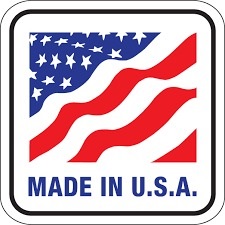 Key Features
500 Lumen Output certified to the FL-1 Standard with high powered premium CREE LED.
Rando will trickle-charge in low/pulse mode for all-day illumination if integrated with a USB generator hub or external battery pack.
Visibility is enhanced with bright amber side lighting providing maximum safety through intersections and high-traffic areas.
Micro-peened reflector optimizes the beam pattern providing a smooth, even spot void of distracting hard edges.
Multiple power settings include a one-touch High/Medium toggle to efficiently decrease intensity when full power is not needed.
Multi-color battery indicator is driven by custom firmware to provide accurate battery status throughout the entire runtime.
Mounting is simple and effective with ultra-grippy rubber ensuring light doesn't slip on regular or oversize handlebars.
Waterproof design eliminates the leading cause of bike light failure - water immersion.
Must be used with Rando specific Micro USB cable for optimum charging results and performance.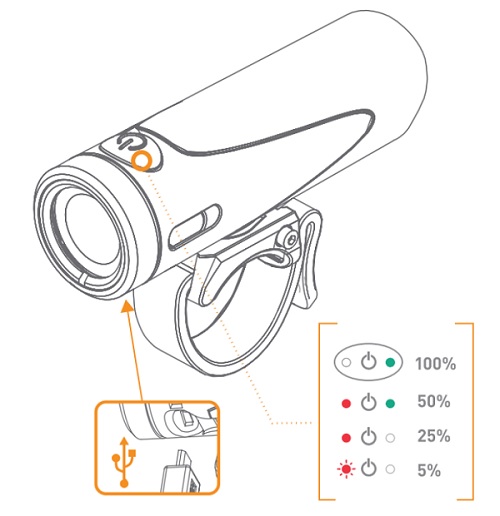 Tech Specifications
Lumen Output: High (500), Medium (250), Low (125), SafePulse (125).
Charge time: 360 Min (when used with Rando specific cable).
Beam Angle: 20° (spot)
IP Rating (FL-1): 67
Depth Rating (FL-1): 1 meter
Impact Resistance (FL-1): 1 meter
Thermal Management: Passive Cooling
Fast Charge: False
Product Dimensions: 1.2" x 1.2" x 4"



What's in the Box
Rando 500 Head Light
RANDO SPARE CABLE
VIS/URBAN BAR MOUNT

Warranty Policy


Light & Motion provides warranties against manufacturer defects for 2 years starting form the date of purchase. For more details on warranty please visit https://lightandmotion.com/pages/warranty-policy
About Light & Motion Brand
The Leader in portable lighting innovation since 1989. We are a dedicated team of creative professionals, with over 30 years of experience developing the best lighting for cycling, scuba, photography and cinematography. We understand all the ways lighting enhances and elevates our experience doing and recording the activities we love.
As an American manufacturer, we demonstrate through our dailiy work a committment to building products with integrity. We have been designing and building our products in Northern California as part of our commitment to invest in our people and our community.
Light & Motion Rando 500 Bike Headlight Black/Tan Extended Runtime