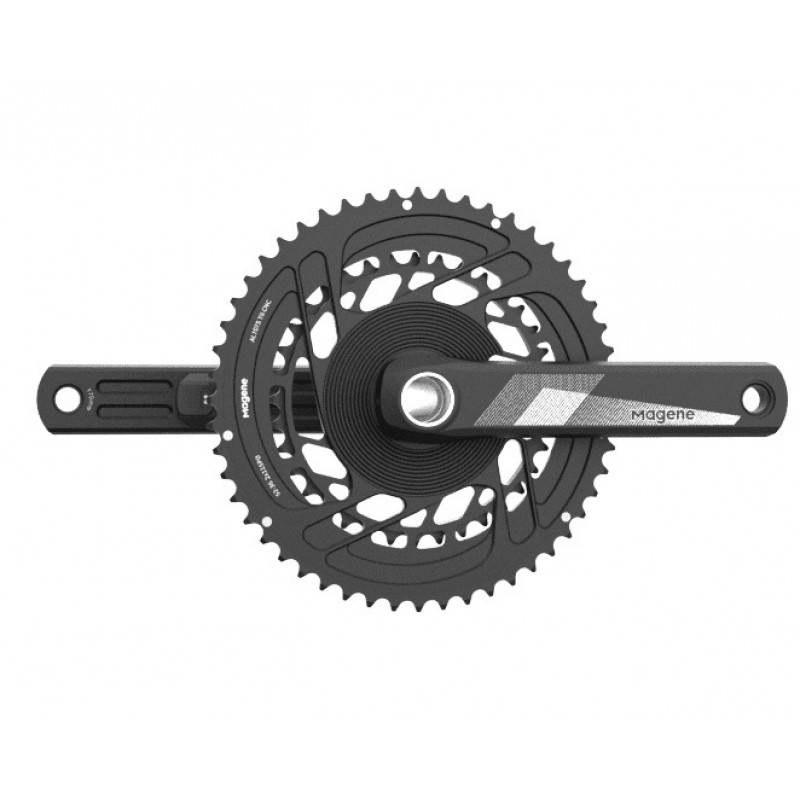 About Magene P325CS Dual Protocol Crank Power Meter
Magene P325 CS dual-sided crank arm power meter adopts independently-developed high-quality cranks and chainrings with a great level of accuracy, performance, reliability, and quality.
3-Hollowtech crank arms


We adopt a 3-hollow crank structure, making the crank more rigid and visually symmetrical to make it stronger integrity and higher stability to collect more accurate power data.
High compatibility


11-speed or 10-speed Applies to BB86 Friendly with Under-BB breaks
IPX7 Waterproof


Featuring an IPX7 anti-splash level, it can ensure riders to enjoy their journey safely under any circumstances
Integral-design chainring


Comprehensively optimization yields better performance
ACCURACY RATE OF ±1.5%


P325 CS Power Meter applies symmetrical left&right crank arms to provide better accuracy rate. With its ±1.5% accuracy, any vibrations barely affect the data collected by P325 CS.
SPECIFICATIONS :
Power accuracy : ±1.5%
Product type : Bilateral crank type
Average quality : 750g
Endurance : 200 hours
Connection protocol : ANT+ & Bluetooth Smart4.2
Waterproof grade : IPX7
Power range : 0-2500W
Cadence range : 20-240 rpm
Working temperature : -10~50 ℃
Data functions : Power, cadence, left-right balance, torque effectiveness, pedaling smoothness
Standard : crank arm(L)*1, crank arm(R)*1, chainring*1, power meter *1, product manual *1, charging cable *1
About Magene Brand
Qingdao Magene Intelligence Technology Co., Ltd. was established in December 2015. The company focuses on the research and development of cutting-edge scientific and technological products, manufacturing intelligent sports equipment, and providing sports intelligent solutions. It integrates research and development, combines with scientific innovation and sports technology coordinates with production and sales service. We are dedicated to improving the people's sports enthusiasm user experience, by providing high-end indoor riding equipment, customized hardware, and software support. Magene has gradually become the leading domestic enterprise in the indoor cycling field and will soon march in the field of mass fitness and international sports.
'Magene' is combined with 'magnetic' and 'gene', which symbolizes we are a technology company with attraction and innovation. The mission of Magene is to create first-class intelligent sports equipment for professional athletes and sports enthusiasts, with wonderful user experience and excellent product quality.
Magene P325CS Dual Protocol Crank Power Meter