About Magene T200 Full Function Smart Bike Trainer
T200 smart trainer, following the classic design of Magene GRAVAT series, breaks the performance margin of the same class of products and achieves a breakthrough again. It is designed to bring you a more enjoyable training experience and become your quiet, powerful and reliable indoor training partner.
±2.5% ACCURACY POWER PRECISION
With multidimensional power calculation methods based on PMS (power measurement system), the T200 smart trainer provides more realistic and reliable data, and measures your power accurately to within 2.5%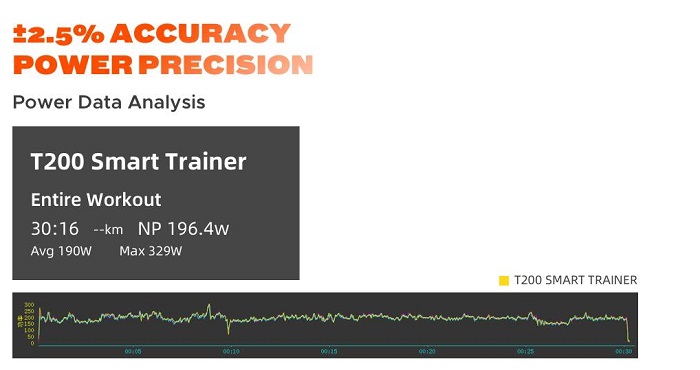 ERG MODE WITH 1800 WATTS MAX POWER
T200 equips ERG mode to allow cyclists to focus on each pedal and improve cycling performance. Also, it provides 1800W maximum power and 15% gradient simulation to satisfy cyclists' training demand.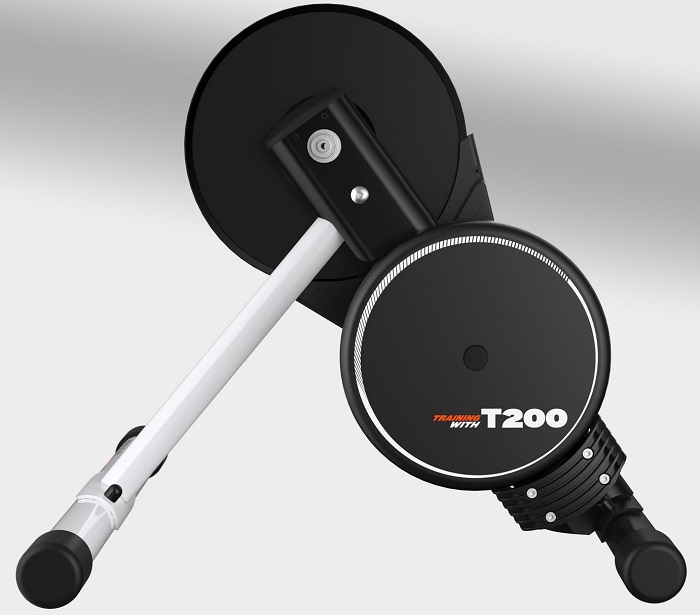 BETTER COMPATIBILITY

As well as quick release rim brake bikes.
The T200 is compatible with 12x142mm and 12x148mm thru axle bikes.
Compatible with Shimano/ Sram 8/9/10/11-speed cassettes. For XDR 12-speed cassettes, a freehub is needed (sold separately).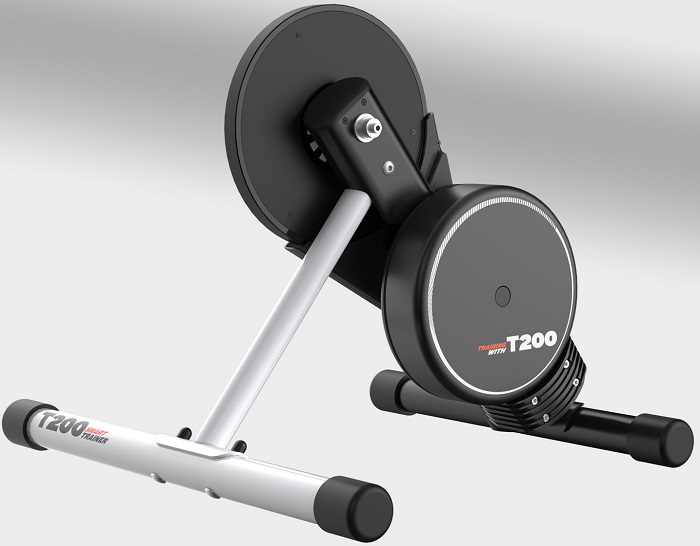 <56 DB (@1.5M & 30KM/H) VIRTUALLY SILENT
The T200 smart trainer is almost silent with a noise level of 56 DB, the only noise you'll hear is the sound of your wedge belt which Magene firstly applies on the bike trainer.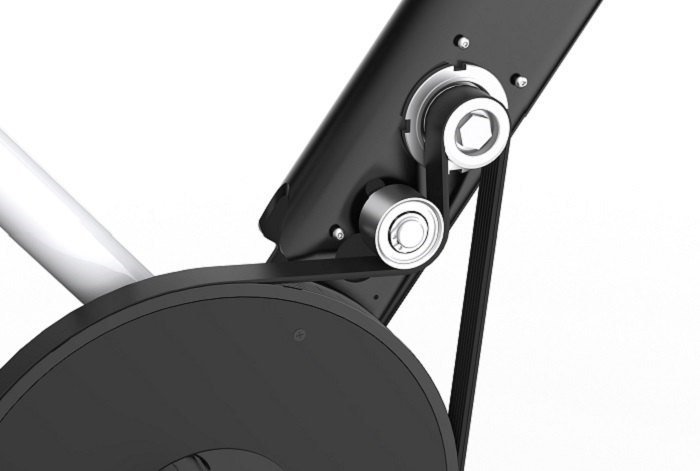 FOLDABLE & STABLE
T200 applies classic support structure to make it more stable. The frame, as thin as 21cm, can be quickly folded up and occupies very little space.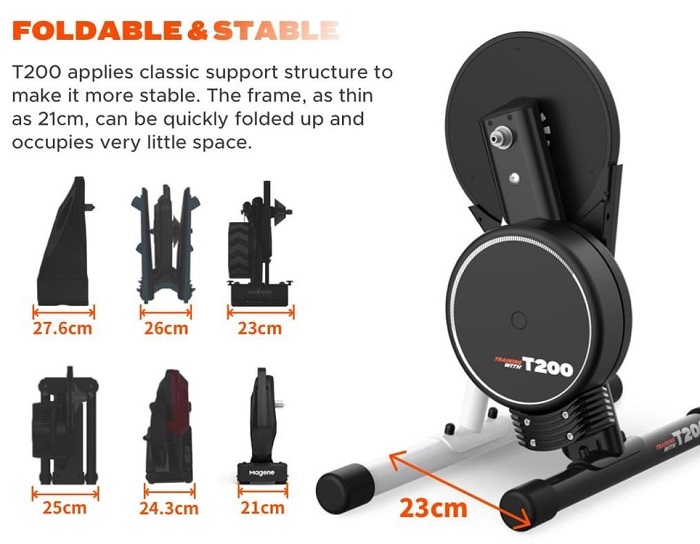 SPECIFICATIONS :
Weight : 13.6kg
Power Accuracy : ±2.5%
Maximum Power : 1,800W
Simulated Maximum Gradient : 15%
Noise Level : 56dB (@1.5m & 30KPH)
Moment of Inertia : 50,000kg*mm²
Wireless Interface : Ant+ / Bluetooth
Expanded Size : 480x750x500mm
Folded Size : 480x210x500mm
Intelligent Resistance Adjustment : FE-C, ERG protocol
Power Assist : Spindown, electromagnetic zero calibration, temperature compensation
Compatibility :
Compatible Cassette
Shimano/Sram 8 ~ 11 speed cassettes, Sram XDR 12-speed cassettes(Freehub sold separately)
Frame Compatibility
130/135mm quick release, 12*142mm/12*148mm thru-axle
About Magene Brand
Qingdao Magene Intelligence Technology Co., Ltd. was established in December 2015. The company focuses on the research and development of cutting-edge scientific and technological products, manufacturing intelligent sports equipment, and providing sports intelligent solutions. It integrates research and development, combines with scientific innovation and sports technology coordinates with production and sales service. We are dedicated to improving the people's sports enthusiasm user experience, by providing high-end indoor riding equipment, customized hardware, and software support. Magene has gradually become the leading domestic enterprise in the indoor cycling field and will soon march in the field of mass fitness and international sports.
'Magene' is combined with 'magnetic' and 'gene', which symbolizes we are a technology company with attraction and innovation. The mission of Magene is to create first-class intelligent sports equipment for professional athletes and sports enthusiasts, with wonderful user experience and excellent product quality.
Magene T200 Full Function Smart Bike Trainer