About Magicshine ALLTY 400 Rechargeable Bicycle Front Light
(400 Lumens)
Magicshine ALLTY 400 is an ultra mini bike front light, which is equipped with fast charging USB-C port, supports large current charging, it can also be used as helmet light.It can also be used as helmet light.
Features :
Ultra mini 400LM bike light with high efficiency LED
Anti-glare lens design, increase riding safety.
Enhanced side visibility with side lighting design
USB-C fast-charging port saves you more time
Easy-to-read multiple battery power indicator
IPX7 waterproof rate, capable to withstand water immersion up to 1 m depth.
Easy and multiple mounting methods with Garmin mount
Tough metal case, ensures longer life durability
Memory: memorize the last selected mode
Technical Specifications :
LIGHT OUTPUT : 400 LUMENS
WATERPROOF: IPX7
MATERIAL: ALUMINUM ALLOY
SIZE: 72X31X31MM
WEIGHT: 85G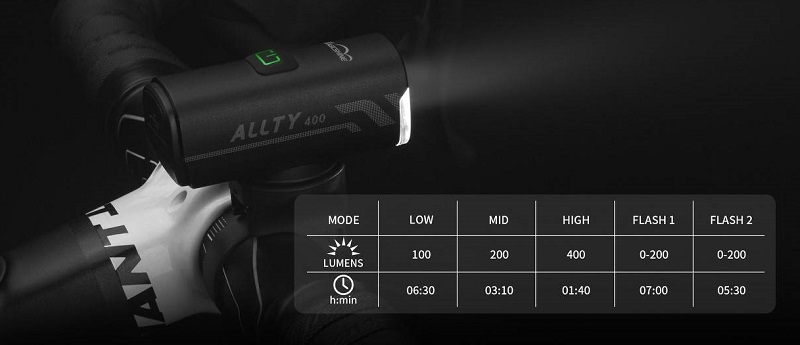 What's In The Box :
1 ALLTY 400
1 Handlebar mount
1 3mm Hex
1 Gopro mount
2 Aero bar compatible strap
1 Type-C cable
1 Use manual
1 Warranty card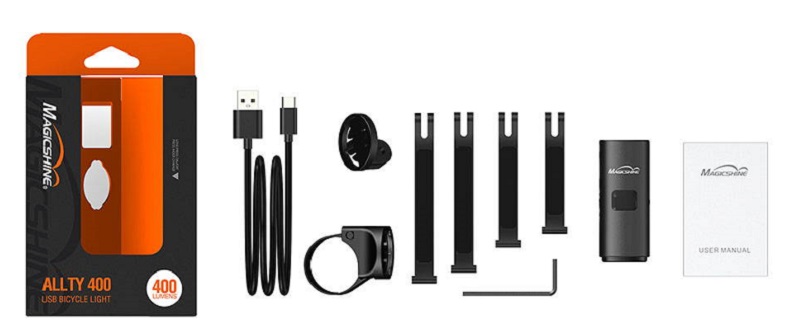 About Magicshine Brand
Since 1999, Magicshine has been focused on outdoor lighting area for 20 years, with the mission to provide high performance lights for professional night time outdoor activities, to keep people safe in darkness.
In 2007, MJ 808—Magicshine first generation bike light, hit the markets with revolutionary concept and function. Nowadays, we are continually refining our products, launching Bluetooth series, and high power lights with leading technology. Magicshine brand has become known to the world, and acknowledged as the top popular brand in cycling lights area.
Today, Magicshine provides a wider range of flashlights, headlamps, cycling lights, to serve hiking, running, hunting, law enforcement, mountaineering, and so forth. It connects international research team, specialists and builds up global customer service system, with markets stretching to over 50 countries.
Magicshine keeps bringing innovation to the industry, and encourages every outdoor sports enthusiast to discover more possibilities, break environmental limitation and expand their potentials.
We determined to strengthen people's confidence in darkness.
Magicshine ALLTY 400 Bicycle Front Light (400 Lumens)