About Magicshine Multifunctional TTA
Out-Front
Bike Mount
Multi-purpose bike mount from Magicshine, this TTA out front mount with extended arm allows you to easily monitor your bike computer in a safer and more comfortable position. Compatible with MJ 90X/MONTEER/ALLTY series.
DESCRIPTION DETAIL VIDEO REVIEW :
Included with this out front mount is a variety of mounting bases and base conversion pieces for Garmin devices, most models of Magicshine lights, speedometers, battery clips and cellphones etc. Designed with an additional, detachable mounting base, the bottom piece is angle adjustable and easily removed if needed. Phone+battery, light+battery or maybe a battery and GoPro camera combo to record your journey. Freedom is there, choice is yours.
Included are two pieces of rubber spacers designed for handlebar size 31.8mm and 35mm. When fully locked, max torsion should be 2.1 Nm or less.
Technical Specifications :
Length: 5.27 in / 122mm
Width: 2.32 in / 59mm
Height: 1.38 in / 35mm
Weight: 1.5 oz/ 41g (excluding GoPro adaptor, bolts and shims)
Computer compatibility:
Garmin™, Wahoo™, Bryton™, Polar™.
Garmin™: Edge 1030/Edge 1000/Edge 830/Edge 820/Edge 810/Edge 800/Edge 530/Edge 520/Edge 510/Edge
500/Edge 200/Edge 25/Edge 20/Edge Touring;
Wahoo™: Elemnt/Elemnt Mini/Elemnt Bolt/Elemnt Roam
Bryton™: Rider 750/Rider 420/Rider 410/Rider one/Rider 530/Rider 330/Rider 310
Polar™: V650/M460/M450
Accessory compatibility:
GoPro™ Hero series /DJI™ action/insta360™ ONE/Cellphone ,etc.
Bicycle light compatibility:
ALLTY 400/ALLTY 600/ALLTY 800/ALLTY 1000/ALLTY 1500/ALLTY 2000
MONTEER 3500S/ MONTEER 5000S/ MONTEER 6500S/ MONTEER 8000S
MJ-900S/MJ-902S/MJ-906S
Fully Machined CNC Aluminum body with a hard-wearing plastic resin insert.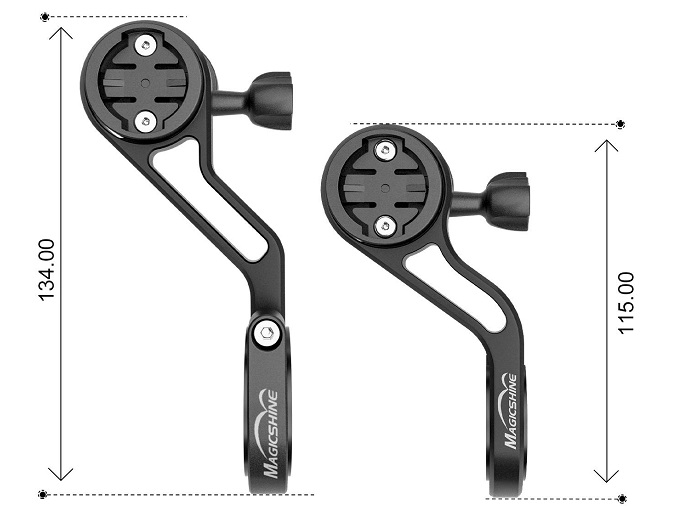 What's In The Box :


About Magicshine Brand
Since 1999, Magicshine has been focused on outdoor lighting area for 20 years, with the mission to provide high performance lights for professional night time outdoor activities, to keep people safe in darkness.
In 2007, MJ 808—Magicshine first generation bike light, hit the markets with revolutionary concept and function. Nowadays, we are continually refining our products, launching Bluetooth series, and high power lights with leading technology. Magicshine brand has become known to the world, and acknowledged as the top popular brand in cycling lights area.
Today, Magicshine provides a wider range of flashlights, headlamps, cycling lights, to serve hiking, running, hunting, law enforcement, mountaineering, and so forth. It connects international research team, specialists and builds up global customer service system, with markets stretching to over 50 countries.
Magicshine keeps bringing innovation to the industry, and encourages every outdoor sports enthusiast to discover more possibilities, break environmental limitation and expand their potentials.
We determined to strengthen people's confidence in darkness.
Magicshine Multifunctional TTA Out-Front Bike Mount