About Magicshine SEEMEE 20 Bicycle Tail Light
(20 Lumens)
High powered COB red LED light source producing a max output of 20 lumens, capable of 180 degrees of visibility. One constant and 2 flash modes in 3 different brightness settings. Micro USB plug under its waterproof silicone port cover allows the bike taillight to be charged almost anywhere. Built in Lithium battery provides one and a half hour runtime on brightest constant mode, and 3 to 4 hours of continuous use on either of the flash modes on brightest.The built in mounting base for the Seemee 20 rear bike light has a degree of slant so when installed, the lumens point straight backwards, securely held in place with silicone o-ring, the tail light is easily mounted and dismounted for each ride. Power button is big and built to the center of the unit, easily accessible with gloves.
Features :
USB RECHARGEABLE BIKE BLINKER - SEEMEE 20 bicycle tail light is rechargeable via Micro USB. A full charge will take 1.5 to 2 hours under 5V/500mA.
SUPER SMALL AND LIGHT WEIGHT - Weighing only 17g, and the size not much bigger than a quarter, SEEMEE20 is perfect for casual cyclists and even kid's bikes.
SPECIAL MOUNTING DESIGN - Mounting base on the rear light is built at an angle of 17 degrees, once mounted, the rear light points straight backwards and not towards the ground.* MODES--One constant and 2 flash modes in 3 different brightness settings .
What's In The Box :
1 SEEMEE20 TAIL LIGHT
1 USB cable
1 Silicone ring
1 Use manual
1 Warranty card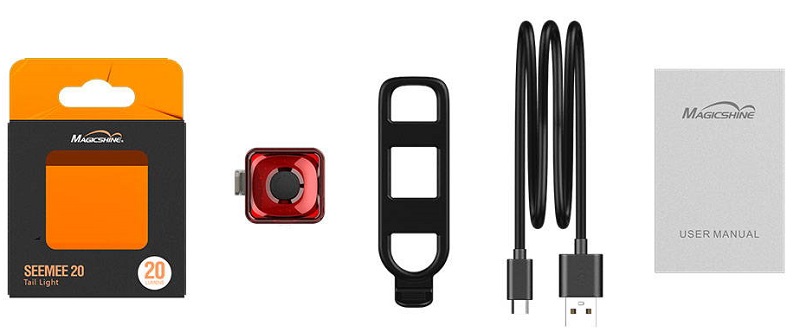 About Magicshine Brand
Since 1999, Magicshine has been focused on outdoor lighting area for 20 years, with the mission to provide high performance lights for professional night time outdoor activities, to keep people safe in darkness.
In 2007, MJ 808—Magicshine first generation bike light, hit the markets with revolutionary concept and function. Nowadays, we are continually refining our products, launching Bluetooth series, and high power lights with leading technology. Magicshine brand has become known to the world, and acknowledged as the top popular brand in cycling lights area.
Today, Magicshine provides a wider range of flashlights, headlamps, cycling lights, to serve hiking, running, hunting, law enforcement, mountaineering, and so forth. It connects international research team, specialists and builds up global customer service system, with markets stretching to over 50 countries.
Magicshine keeps bringing innovation to the industry, and encourages every outdoor sports enthusiast to discover more possibilities, break environmental limitation and expand their potentials.
We determined to strengthen people's confidence in darkness.
Magicshine SEEMEE 20 Bicycle Tail Light (20 Lumens)